16:52 - Our LIVE chronicle of Valentino Rossi's press conference in Valencia ends here, thank you for following it with us! Stay tuned to GPOne for all the statements of the protagonists from the paddock. And at this point, we say it too:
THANK YOU VALE!
16:50 - Photos also with all the journalists who have followed his career, including our very own Matteo Aglio and Paolo Scalera.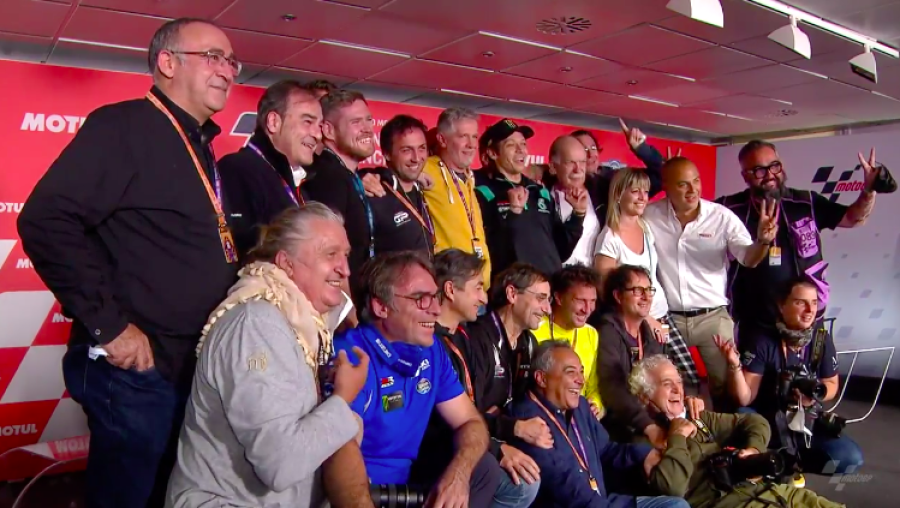 16:49 - A nice photo with Rossi also for our Carletto Pernat, the man who gave him his first contract with Aprilia!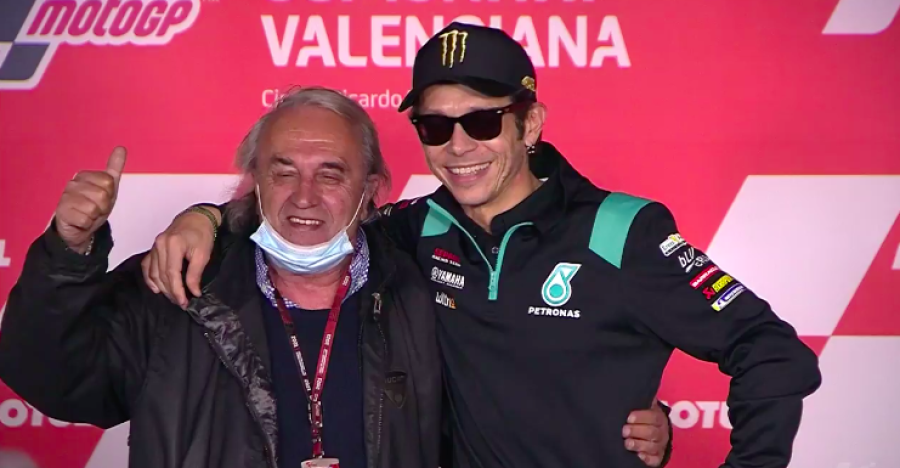 16:47 - Ezpeleta reassures Valentino: "We will give you a lifetime pass for both you and the motorhome. You have always been here, it is your home".
16:46 - Photos also for all the Yamaha men present with Valentino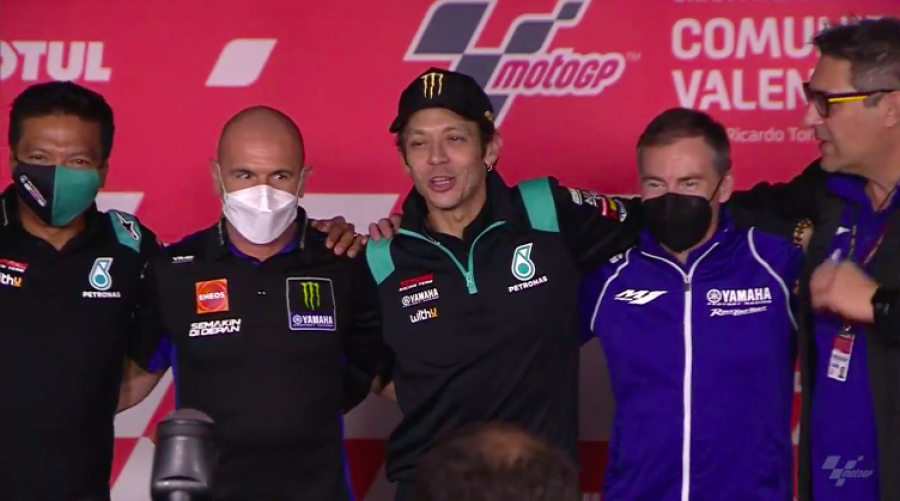 16:45 - There is undoubtedly a lot of emotion on the faces of everyone present, as much tribute as possible to a legendary career that is coming to an end, at least in MotoGP.
16:40 - Rossi calls all the riders present to the stage to take a photo!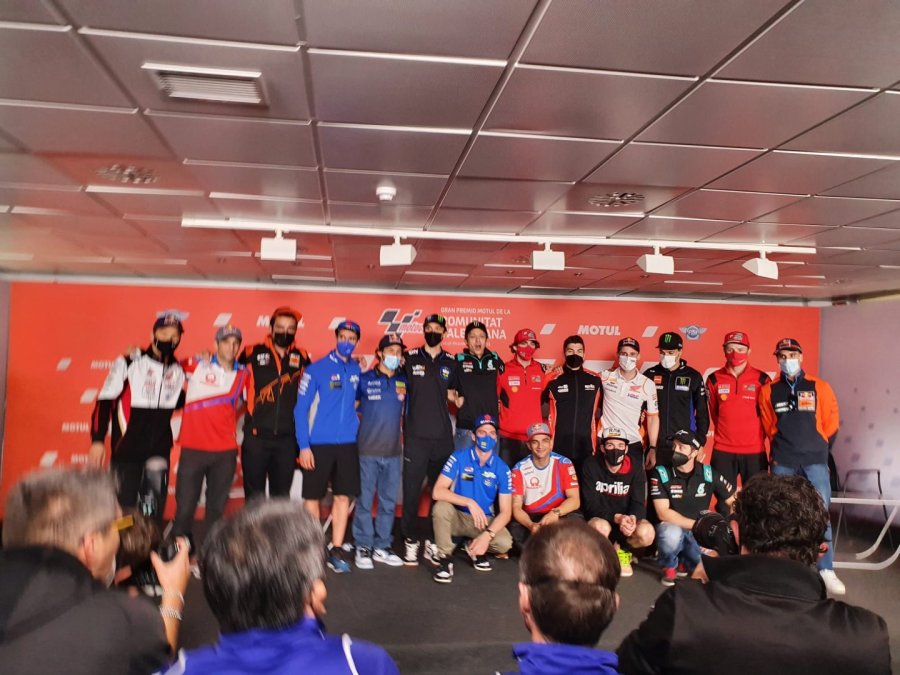 16:38 - Messages from many Rossi fans from all over the world scroll on the conference screen.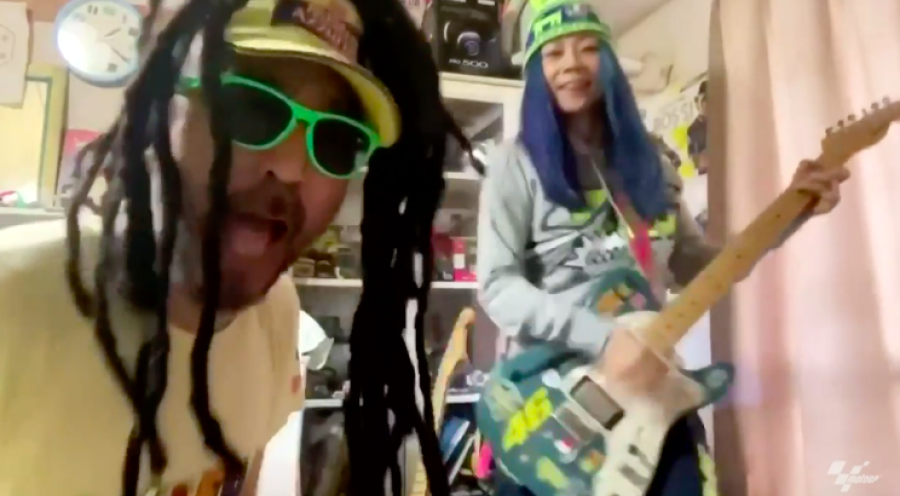 16:35 - "I think MotoGP is the biggest show in Motorsport. It's exciting, for 45 minutes everyone is at their best. People understand this from home and the best thing is that we always keep them entertained. Even people who have a difficult life. For that moment they can stop and enjoy the race and that's the special thing about our life. "
16:33 - "When I met children with some problems, who followed the races with great passion and it was always wonderful to look into their eyes. I met many people who told me 'I remember your race of ...' and I think they are older than me. Often they are not! This always makes me smile "
16:32 - Dorna is showing Valentino videos shot by fans whose lives have somehow changed thanks to Rossi. These are all very emotional testimonies.
16:29 - "I was physically lucky on a DNA level. I'm an adult now, big, but I feel quite young. I always enjoyed racing, riding and I discovered it as a child. I enjoyed competing with the others with everything, especially with the bikes. And also working with the team to improve the bike. Then when on Sunday things go well and you race fast it's a pleasure that has no equal in life. From Monday I don't think it will change much, I think that I will feel it more in March. I will do other things, but I think we will always wake up in the same way. Which then already today is not that I wake up so fast, if I lose a little more drive then I am ruined! ".
16:28 - "I am sad from a certain point of view, but the worst moment I have already passed because it was in Austria. I find myself thinking about what I will do next year and towards June it was hard. if I had been more competitive I would have continued, but I had to stop and it was difficult. But now I feel good, I try to stay focused on the races. Sunday I'm on track and it's not easy. For the rest I feel pretty good. "
16:26 - "In the last few years in the Academy we have been together a lot and it has always been fun. They have all been great moments, the atmosphere is always special. During the race weekend, being together and talking has helped us a lot. I will come to the races, maybe I'll bring my motorhome. Maybe we'll organize again in 2022 to spend time together in the paddock ".
16:25 - "I don't know if I'll cry on Sunday after the race. I hope to have a good race, to finish it. I can't predict it. But in these things I usually enjoy myself, I laugh. I don't cry a lot, but I dunno. Maybe it's my character. I hope not to cry sincerely! ".
16:24 - "I am happy with what I have achieved as a rider, but more than that I am proud of having made MotoGP more important in the world. It has always been my passion and helping to grow this sport, even at a very young age, is it was nice ".
16:22 - "Rivalry in sport is always something you don't like, but it is necessary to give your all and push your limits. It is necessary to find something inside you. I have had great rivalries in my career, especially in the first part of my career. With Biaggi it was great, in Italy there was a lot of movement around this. Then also with Stoner, Lorenzo, with Marquez. I always enjoyed it. When you stop, these are things you remember with a smile, something special ".
16:20 - "I don't want to change anything. Sometimes during these years, I have felt close to the end of my career, especially after 2012. I didn't know if I would have the strength to start over, but then I raced for another 10 years. The never-ending stories are beautiful only when they finish. My dream is to have a beautiful life and I will become a father. I will stay on track somehow, but I have no other dreams. I have already achieved the goal of becoming a MotoGP champion. "
16:18 - "From Austria onwards I understood better what I am for motorcycling. I have always seen my career from the inside, as everyone does. You are concentrated, in a tunnel, in one dimension and I think it applies to everyone. And it's hard to step back and understand what's going on around you because you're always focused. It was nice to understand this. "
16:16 - "My only regret is that I would have liked to win the tenth world championship at all costs and I also raced at such a level that I could. My last title was in 2009, a lifetime ago. I would have been happy to win in 2015 to make my life longer as a world champion. Then the tenth would have been like closing the circle. But I have no regrets, even the number 9 recurs many times in my career. A little bit the curse of 9, which maybe it was better not to have. When I got on the podium in Jerez it was my 199th, I said to myself 'maybe it's the last'. I wanted to reach the 200th, but it doesn't matter. I always fought for the titles, for the podiums. I have no regrets".
16:15 - "We knew the date was a kind of cabal. We discovered it 4 months ago and it wasn't easy to convince God! But during my career there have been so many things about the number 46, so many other coincidences. Maybe it's a sign or just a coincidence, but I don't know! When I got it, I said to myself 'fuck' "
16:13 - "I think we will see yellow stands in the future. It will not be the same, but we will see many fans with 46 and yellow. Next year this will also help in the atmosphere. I think I will come to some races; I will have my team. Then I'll support the Academy riders. I don't know how I'll feel coming to the track without having to race, I don't know if I'll enjoy it or not. I have to try. "
16:12 - "Having the VR46 riders here is great. Having my rivals too, all of them. I have fought with some for a long time, for sure we will remain friends afterwards and we will have excellent relations. This is the best thing for me here".
16:11 - "The most positive thing about my career is that many have started following my career, the sport has grown and has become more famous in Italy and in the world. It is nice to know that I have become an icon in my career. For a rider what happens on the track is more and more important, but I think this is the most important thing in my career. "
16:09 - "I asked Alberto Puig to give me the 500, also because that bike there was supposed to be mine. I also have room at home, but for one reason or another it never arrived. I hope Honda changes its mind and gives it to me, the bike would certainly be fine, I would keep it at the right temperature! "
16:07 - "After announcing my retirement, I got a lot of messages from many riders, rivals. I liked this a lot. I always imagined this press conference, right here in Valencia. Which is a special place the other way round for me. I feel weird, I try to act like everything is normal. Being here usually means the holidays start for the riders and everyone is happy with that. But I think Monday will be another life for me. I don't want to think about it, I will race in a car and I will remain a driver. My life will change a lot ".
16:05 - The Doctor takes the floor for this very exciting event
"It's a particular season, especially in the second part. I tried not to think about the last few races, but it wasn't possible. It's a great emotion, today to see all the bikes together, all the riders. It was nice and now. we'll see. I'll try to give my best on the track, I hope it doesn't rain "
"I have those bikes at home, except the Hondas. I have the Aprilia and the Yamahas at home. The 2004 M1 is close to my bathroom, so every morning I wake up and see her (laughs) but seeing them all together was exciting. A long road if you look at the first one, then just think that after the last one there have been over ten years of racing. A long and exciting road "
16:03 - Full room, there are many riders to greet Rossi.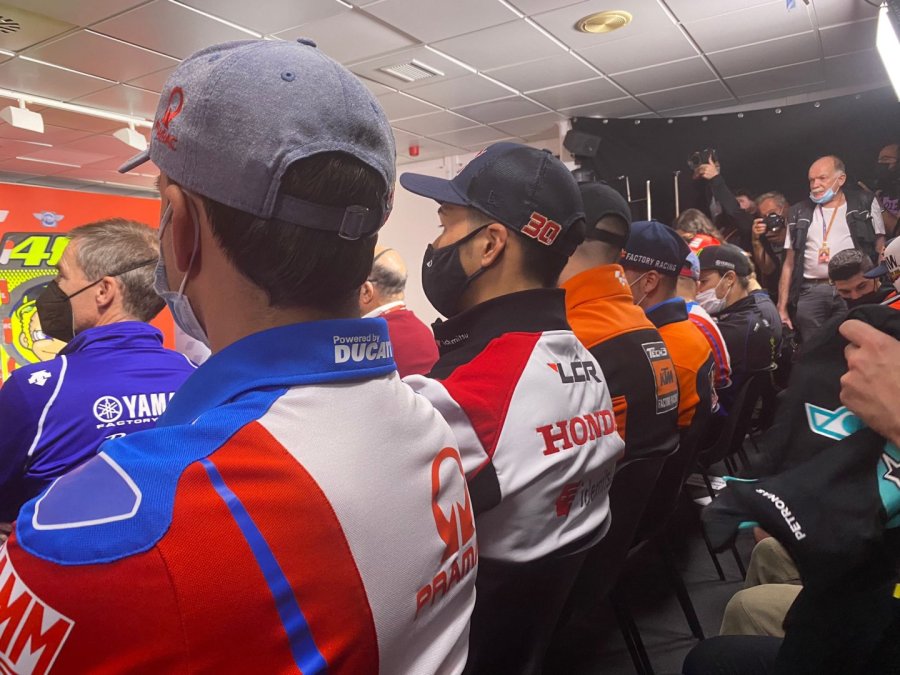 16:02 - Valentino's press conference begins!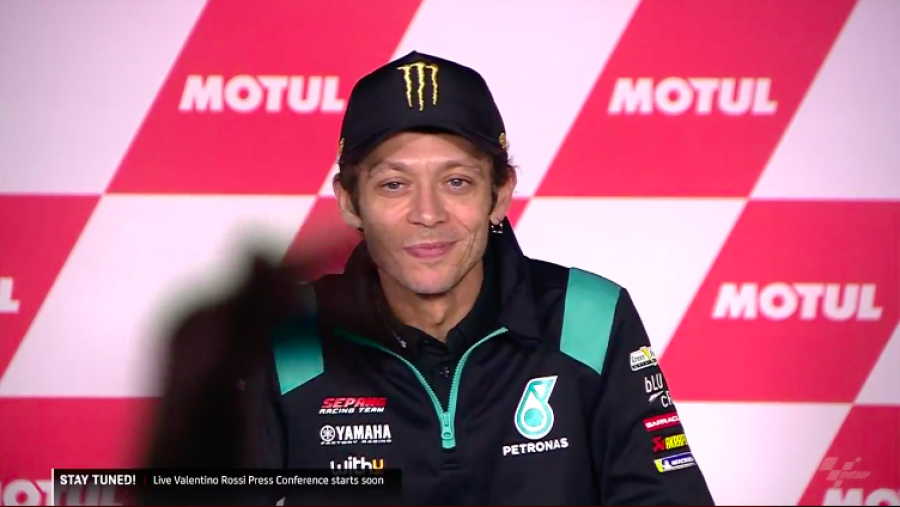 15:50 - Valentino's conference will begin shortly, and in the meantime he is experiencing a sort of dream. He is alongside all the bikes with which he has won a title, passing from the Aprilia 125 and 250, to the Honda 500 and RCV and then to the Yamaha M1s. Soon a complete gallery on GPOne.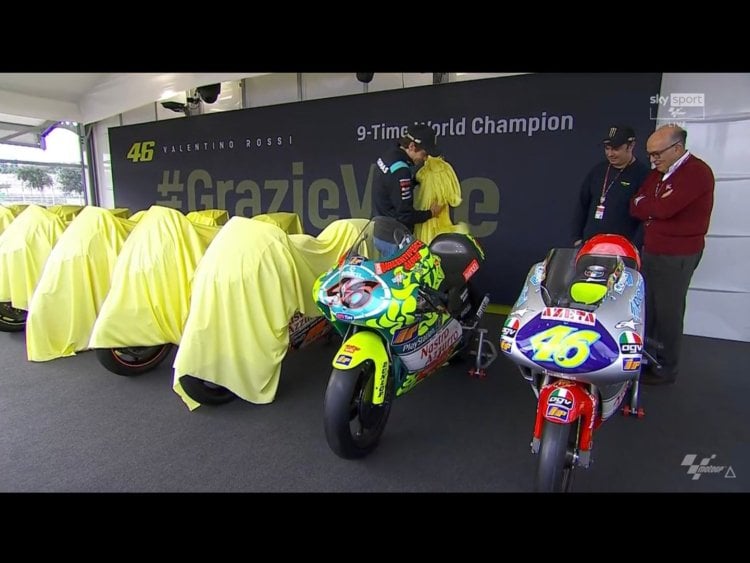 Valentino Rossi is preparing to face his last weekend of racing as a MotoGP rider. He will do it in Valencia, a track that in the past has given him joys and sorrows and that will certainly be able to pay him the right farewell. Here the rider from Tavullia celebrated the conquest of world championships, but also the bitter disappointment of losing them in the last race, as happened in 2006 and 2015.
For the occasion, Dorna has decided to organize a press conference with Valentino who will answer the questions of the journalists before turning his attention to the track. We will tell you in real time the conference, his words, the emotions that Rossi will certainly have on his face on a very special day.
The appointment with the start of the LIVE is at 16:00, Stay Tuned!