It was a Saturday full of surprises at the Argentinian circuit. The sprint produced quite a spectacle with a race in which the choice of tires proved to be fundamental given the uncertain asphalt conditions, and it was a totally unexpected Brad Binder on his KTM who came out on top. Starting in the rear from fifteenth position, the South African with an excellent start promptly overtook the large middle group to move up to the front. Finally, having reached fourth position, seized by a competitive frenzy, he took on and beat the Ducatis, gaining 12 precious points, crossing the finish line just a hair's breadth away from a very combative Marco Bezzecchi.
Despite the pain in your neck, today you made up 14 positions in the race.
"Today was a bit of a surprise, for sure – he confessed – Not only for me but for my team. I knew that my starts had been really good since Portimao and I got a great launch off the line. I pushed really hard in the first three or four corners to make up as much time as possible and when I saw I was in third or fourth position I had to shake my head a bit and make sure it was real. Super happy with how things went. My team completely turned my bike around. I felt so much more comfortable and had way more grip. Can't thank my guys enough and tomorrow we will keep fighting to try and do the same again. Super happy to win a race again, it's been a while."
In that last lap you were closely marked by Bezzecchi's Ducati, what did you think when you crossed the finish line?
"I saw plus 0.5s on my board so I was pretty chilled going into the last lap but at the end of the back-straight I heard a bike right behind me and was like 'oh shit'. I'm going to have to block. I tried to do the shortest way around the last lap so that if Bez made a move it would have to be a big move. When I crossed the line I was stoked. I couldn't have imagined it happening today from 15th."
In the last tests at Portimao, the situation with the KTM didn't seem the best. What has changed?
"The neck injury due to my crash was a big obstacle in the first days of the first race weekend. However, with the hard work of the team, the bike has continued to improve, now it is more stable and my feeling with it has improved. The grip on the rear tire also made a good step forward. The team's hard work yesterday paid off."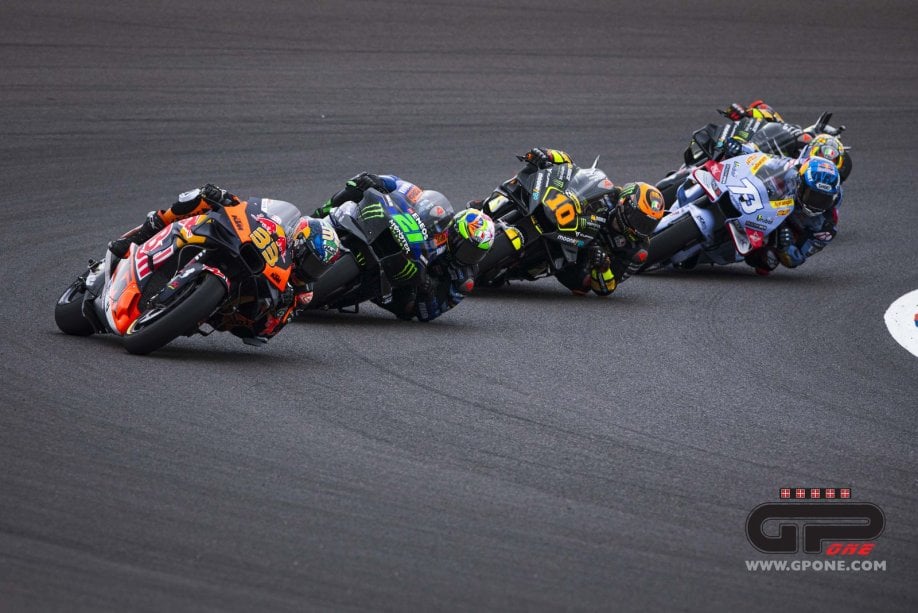 Alex Marquez took his first pole in qualifying
Another unexpected protagonist of the day was certainly Alex Marquez, who after getting through through Q1 in which he also crashed (with the bike going on fire), then unexpectedly managed to grab his first pole by the skin of his teeth. A result that bears witness to the ever-growing affinity between the Spanish rider and his new Borgo Panigale mount.
You took your first pole on a circuit with really uncertain conditions.
"It was a really positive Saturday - Alex Marquez told us - we worked well with the team during qualifying. When I slid off and set the bike on fire, they were ready with the second bike and everything ended in the best possible way. I expected something more in the sprint race, I lost some positions in turn 4, but it's part of the sport. The positive note is that my feeling on the Ducati continues to improve, every day I discover new things and push the limits even further. ."
You also got to fight with Bagnaia.
"In some corners I lost a lot of time. I tried to overtake from the outside but with the front medium tire I couldn't attack under braking and I tried to improvise. But the pace is good, tomorrow I'll try not to repeat today's mistakes" .
In the last Portimao GP you were in the top 5, and here in Argentina you did the same, also setting a pole. What are your expectations for tomorrow's race?
"Tomorrow's race will be difficult but I think I can have a good pace to be among the most competitive. I think the Aprilias have one of the best paces, especially Aleix. Bezzecchi will also be there. We are a bit behind but there are margins for improvement, I made the mistake of choosing a medium on the front which didn't allow me to be as aggressive as I would have liked. Now we have to maintain concentration so as not to lose this positive evolution we are experiencing".