You are in the Barcelona paddock on Sunday morning and have the opportunity to interview Romano Albesiano, the father of the RS-GP that won the Sprint Race with Aleix and which simply flew on this track. So many topics to talk about, in the knowledge that today might just become a big day. And here came the promise: if we win we'll have another chat in the afternoon.
The god of speed wanted that further chat to exist, to represent the icing on the cake of a special day which fortunately only gave so much joy and a scare to the whole paddock surrounding the good news that was starting to arrive on Bagnaia's conditions. But let's start from the beginning, or rather from that chat we had just a few hours before Aleix and Maverick's 1-2 in Barcelona.
It looks like you designed the Aprilia with Barcelona's curves in mind.
"In fact, several tracks, not just Barcelona. I'm joking, it's obviously not like that. Certainly our bike has been strong on several tracks, but also on the opposite type of track. Let's not forget that Vinales was about to take pole at the Red Bull Ring which is the opposite and maybe he would have won at Le Mans without that misunderstanding with Pecco. I think our bike is good everywhere. Then I think that some riders are more suited to certain tracks than others, so for me it's the sum of the characteristics of the tracks, those of the bike and the rider. I would almost like to say that it is more linked to the rider than to the bike".
In short, the rider still makes the difference, despite what is often said.
"On certain tracks it's true. Aleix makes a huge difference, he's more suitable. Let's think of the more stop & go tracks, where there is heavy braking, that's where Maverick goes better. So I'd say that fortunately in this MotoGP the rider still makes the difference. Of course, he needs a good base more and more, a team that follows him and sets the bike up. This, for example, is an aspect that in my opinion is talked about less than necessary, because you can also having the best bike in the paddock, but if it doesn't have the right setup, you're not going anywhere".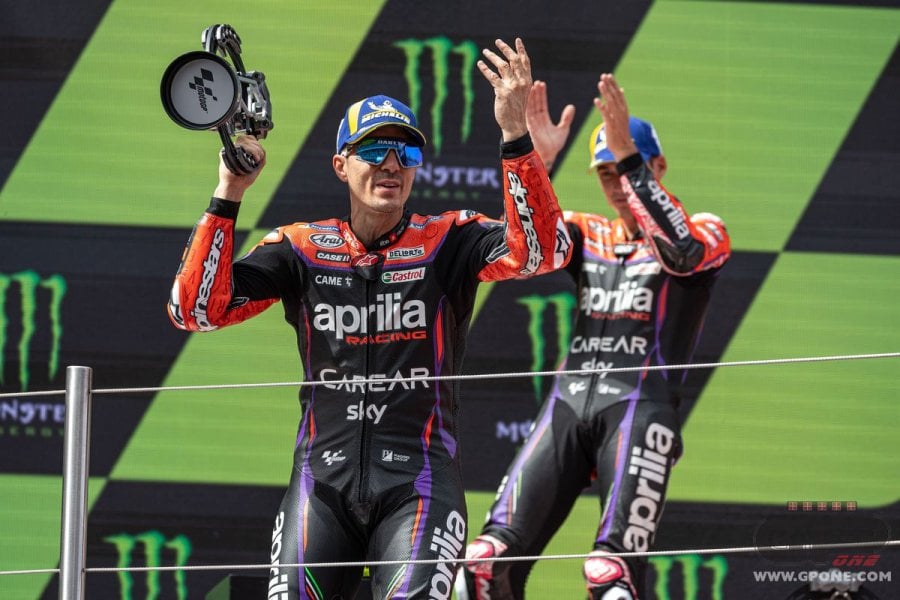 In fact we see some bikes that 'improve' more than others over the weekend.
"We arrive on the track and generally if the conditions are normal, we go fast immediately. Others often have greater improvement over the weekend and this perhaps depends on the riders and other aspects. We start from an already high level, but for example if we look at KTM , you often don't see them on Fridays, Saturdays they are already better and then on Sunday you find Binder in amongst the action. In my opinion, here you see the men more than the bikes. We talk about human worth in general, not just the rider. Everyone who actually works on it."
The six Japanese bikes were at the back of the grid on Friday afternoon. What did you think?
"Eight Italian bikes in the top positions on the grid. Impressive in my opinion. It's not just about aerodynamics, it's certainly part of the story. It's my personal opinion, I think the Japanese mentality is very suitable for production bikes. They are methodical, prudent, careful, precise. They risk little if you like. This on production bikes generates excellent general quality. In racing it probably becomes slow in development, but I could be wrong, that's my thought."
Maybe this MotoGP has changed and they still haven't adapted.
"The acceleration that has taken place in development in recent years is absurd. If you took today's way of working and took it back to ten years ago, you would win all the races by a distance. The technical progress that exists in every area is unimaginable. We started from a long way off, from the top level of SBK that we thought was suitable and actually it wasn't. Improvement has been very difficult but we got there, but in recent years the technical level has made an incredible growth, if you look at how the bikes are made today, they're really impressive. All the details are studied to the fullest on some, then you look at others and you realize that behind there is a thought derived from previous eras" .
Do you think the idea of giving concessions to them is fair?
"It's not nice to see such prestigious manufacturers in difficulty, not at all. But I'm also convinced that certain scenarios can change quickly. Here last year Quartararo won by a distance, in the warm up and in the race he came back up a bit. It doesn't take much for a team, very little, to go from being a long way off and being at the top. I don't think they need who knows what kind of help. Then there is the subject of rebalancing the opportunities that teams have or do not have. Let's take two extreme cases like Ducati and Yamaha. On the one hand there are eight bikes on the track, on the other there are only two. It is clear that with eight bikes you can do different development work, even during the races. If you are strong, you always get stronger. Perhaps this is something that should be rebalanced by allowing those with few bikes on the track to develop more, and perhaps those with many to be limited in some way. This would be a new balancing mechanism, which would not contradict anything that has been established before and which in my opinion would make sense. Then it's not a fault to have so many bikes, it means that someone has worked well, of course. But certain situations risk creating domination and monopoly scenarios that are not good for a championship and must be managed in some way. On the subject of helping the Japanese, I feel it is right. When they were strong and we European manufacturers were weak, they gave us the chance to improve, they were correct, so I don't see it as wrong. They did it and it's only fair to be loyal to them."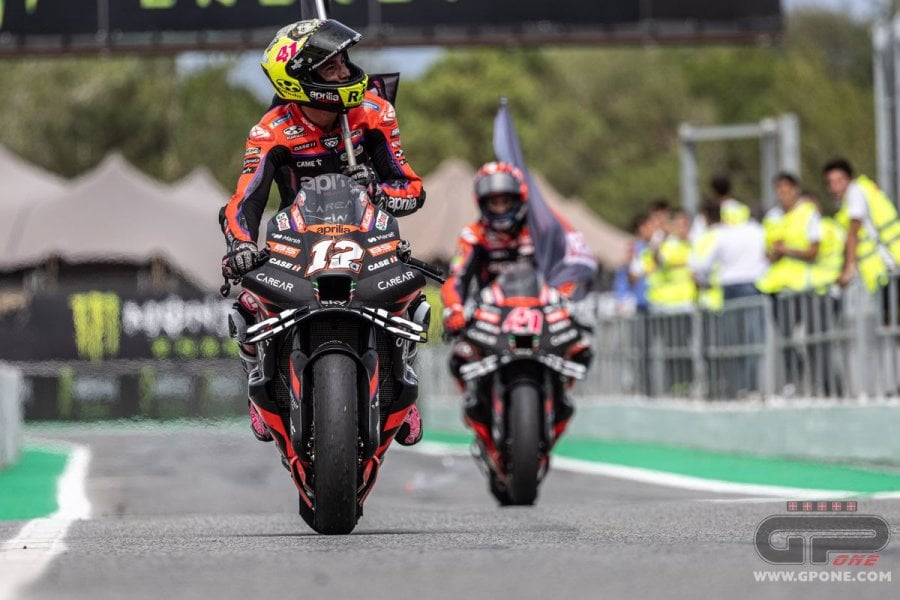 In your opinion, is today's Aprilia ready for a Marquez or a Quartararo?
"I think the bike is mature and the team is too. But it's not in our plans in the short term. We have four riders who are fantastic, we have improved together with Aleix, he has improved in maturity, ability to work with the team, making the right really nice requests. In my opinion, this gives you the idea of how much a rider can evolve. For example, if I apply this evolution to Maverick, who is  already at very high levels, and maybe improves on some aspects like consistency or something else, I think we're talking about a rider with crazy potential. I'm speaking as a friend and fan, for me as long as Aleix wants to continue and goes strong like this, the bike is there for him in Aprilia. The same for Maverick, I expect a lot from him, much more than what we have seen up to now, today which is already a lot. He can make another step up. Oliveira is a wonderful rider. I don't know where he would be without the bad luck he has had up to today, he made an awesome start. As soon as there is a chance he is ahead. Then he has an intelligence, an approach that is wonderful. Then I'm also in love with Raul Fernandez, because I think he has enormous talent and just needs support, calm, a company that believes in him and we are that company. We will give him plenty of time to grow and show his worth which we believe is very high. Then if Marquez is free or Quartararo is free, I wouldn't say we need them in particular."
You finally have a satellite team, but the four bikes are not identical. Would you like them to be?
"I'd clearly like to have four completely identical bikes, but in the end it's just a matter of budget. We already do it today if we can help them, even if at the moment the contract provides for them to use the bikes from the end of the previous year. The matter is essentially economic. For us, giving a bike from last season has an impact, giving a completely new bike is a completely different scenario that does not fit within the budget, this is the point. It would be a huge organizational effort. Already supplying the 2022 bikes, spare parts and everything was a backbreaking commitment for us, something new. But you know, you learn, you get there, you improve, but I'd say it's not something technical. We'll get there in 2027, when all the rules change and therefore we'll all have new bikes ".
Fast forward a few hours, celebrations on the podium and shower of Prosecco. Smiles, hugs, a magical moment. We meet Romano in the paddock, who is happy to keep his promise. We are applying for the role of human lucky charm to carry around, he accepts and asks where he has to sign! He is radiant, we grab him for a few moments away from the celebrations.
"I'm very sorry for Pecco. I hope he's at Misano and obviously he has nothing serious. It would have been a good battle and I would have hoped it would end like Saturday. Good race, Miguel had a more marked drop in tyres but he did a great race too. To be disappointed for a 5th place is nice I would say".
The duel between Aleix and Maverick was also nice.
"Maverick had a little more worn tyres, they both had a great race. Aleix has a habit with this bike that comes from years and years of work. With this MotoGP, it's not easy to adapt to change. But we have a really nice improvement trend with Maverick , he will get higher than now, I'm sure".