Dorna, along with Motorsport Network, recently published a poll on the opinion of fans regarding the current MotoGP.
What they like, what they don't, what they like least. A survey that, however, fails to bring one of the focal points of the MotoGP to the attention of fans: mediation and managing rules.
We get why this issue wasn't included. It's always ugly and even a bit unfair to point a finger at the judges. The law is the law!
But it's also true that, when a law is misapplied, the result is: extreme law is the greatest injustice, "summum ius summa iniuria", as our Latin fathers would say.
Enough time has passed since the Assen Grand Prix and the accident between Quartararo and Aleix Espargarò that we can talk about it with (relative) ease. Aleix finally finished fourth, and Fabio, penalized with a long-lap penalty at the upcoming Silverstone GP, said that he'll be careful not to overtake in the future. And that's because his unfortunate overtake was judged as being irregular by Freddie Spencer and his panel of judges.
Remember how it went? Quartararo was in third position, while Bagnaia tried to break away. At that point, at the slow hairpin bend at Turn 5, on the fifth lap, the French rider entered too fast, colliding with Aprilia's Spanish rider who, fortunately, didn't fall but still lost ground. He then recuperated, going from a 15th place to a 4th.
Quartararo also managed to start off again, but then had to stop for a quick check because his M1 had problems. He was given the okay to continue, but this wasn't enough to prevent a fall (supposedly) caused by the traction control that wasn't working. This should be investigated, because this accident seemed more dangerous than the first. But let's focus on the Quartararo-Aleix Espargaro accident.
We know Spencer to be a fair rider and, most importantly, a smart one. This latter trait matters more than the first, because one might haappen to know the rules and be an excellent rider, but what matters in cases like these is the ability to discern between what is allowed and what is not.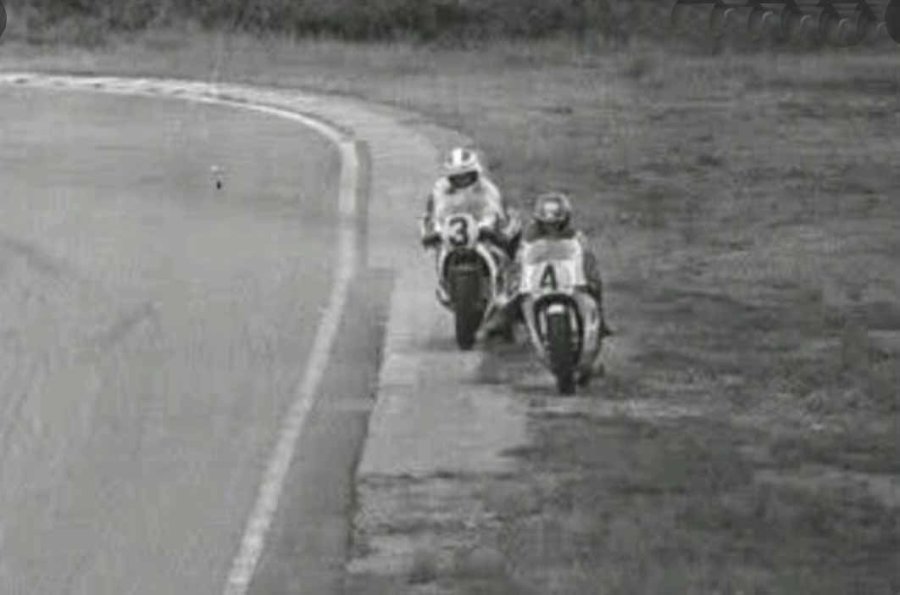 But let's backtrack to 1985 and the Swedish Grand Prix. Spencer and Roberts fight it out at the last lap, the last breaking point at the end of the straight. Kenny tried to deceive the young Freddie, but Freddie pulled up next to him on the inside. There was no room for two bikes, so the rider from California tried not to lose too much ground by widening on the outside, and ended up on the grass. At that time, the "green" was real, and you could ride onto it, at your own risk.
The result was predicatable: Freddie won. Thanks to that success (it was the second to last race), Spencer won his first World Championship title with only two points ahead of his fellow countryman.
Was that a "Fast" Freddie move? Without a doubt. Was it legit? Once he calmed down, Kenny more or less said: "On that occasion, I understood that Spencer cared more about winning than about the risk of us both getting hurt."
That's how races go. But besides Roberts' eyes shooting lightning rods, nothing else happened. To give you an idea of the level of that challenge: the third rider, Takazumi Katayama, finished at 34 seconds.
So Freddie is very familiar with competition and has a sense of limit. Was he wrong? Was he overly aggressive? We don't think so. He was fighting for a World Championship that he then won by two points. The same for Quartararo, who was doing his own race, and making an attempt at a corner makes sense. It has always made sense.
If we examine this accident and try to superimpose it on the one caused by Takaaki Nakagami in Barcelona – when, starting from a 12th position in the line-up, he ended up fourth, before braking abruptly and late, losing the front and ruining it on Bagnaia's rear wheel, and then making Rins fall – it's no contest. Taka miscalculated, big time. The result was even worse: Pecco out of the race, and a broken wrist for Alex. But, in this case, it was deemed a race accident. Why?
We've all been asking ourselves the same thing, and so has the Japanese LCR team, whose maneuver  was bumped down to a normal race accident. But if a rider who blocks the front at the first braking point, coming up from the rear, isn't punished, when will a punishment be given in cases like this?
Let's remember a similar incident, at Mugello in 1999, which led Loris Capirossi to be excluded from the GP that followed for having reared into Marcellino Lucchi.
What happened then? Ready, set, go: the group started off and widened out on the track. Lucchi was in the lead. Capirossi caught up and passed him on the right but then he suddenly bent to the left and crashed into Lucchi, making him fall and leaving him on the ground in the middle of the group in motion that, in second gear and at 140 km per hour, launched itself towards the first corner.
"Thanks" to that disqualification, Capirex met Ingrid and married her … but that's another story. The current one, unfortunately, will influence Quartararo's life and season in a much different way. In the British GP, he'll be forced to extend the lap and make a comeback race, probably.
The beauty of this penalty is that there is no possibility for an appeal. Another strange thing, and one that made Lin Jarvis think of resorting to the TAS (Sports Arbitration Court) in Geneva, but he was blocked by the same rule that makes this type of decision unappealable.
We also want to be Solomonic now. It's not all Fast Freddie's fault. There were others with him that gave their opinion. But, even if it's a difficult job and someone has to do it, it would be best if, instead of great champions in the role of judges, the roles were filled by people who are sports-law savvy, and especially ones without a past to investigate (and dredge back up).
Or even better: someone with an excellent historical memory of past and present accidents, although it's true that things which didn't get censored until a few years ago are now the subject of great controversy.
Laws evolve, even if more slowly, alas, than many other expressions of human intellect.