For Francesco Guidotti and the Pramac Ducati team, the Italian GP is truly a home race. The team manager and squad are both as Tuscan as the undulating Mugello track.
The Italian team has at least three good motives to do well on home turf, just as it did at Le Mans. Miller had the podium in his sights in France, crossing the line fourth. Guidotti is pleased with the Australian's performance,  in what was an all-out Ducati battle.
"The podium would have been a great result, sure, but finishing just over two seconds from rivals with bikes very similar to ours is satisfying - explains the manager - Miller is just lacking a little experience in certain conditions. The competition is tough at the front and there are certain things to consider. Jack just missed out on the podium, but he probably learned a lot more than if he were to have finished third. he wanted to measure up Dovizioso, and then pass him at the end. Dovi and Miller were on the same level, our rider risked less, but with the same lap times. Petrucci had more, Danilo held back at the front in order to perform towards the end".
You know Petrucci well, how has he improved?
"Danilo gained really important experience with us, we're proud to have contributed to his growth. The context is new for him, definitely more professional. On the factory team there's much more focus on the technical detail and more pressure in terms of results. The Italian is reacting well. Let's not forget where he comes from, he went from Superstock to debuting with a CRT. It's easy to judge now, but his career has been a steep curve and he's reacting well, and has further room for growth".
Do you think Danilo deserves a 2020 contract renewal?
"I think so, yes. The factory team only has one aim of course, and that's to win. They are considering their options, and Miller is probably one of those, but I'm not sure. Ducati is thinking about how it can beat Marquez. Dovizioso has proved to be able to do so over a single race, head to head and on the last lap, but more is needed to score the title. What does Marc do better than his rivals? And it's not me, but the results talking. Marquez makes the different with his riding, as confirmed by a certain Valentino Rossi. We need to try and beat him, I don't know if we'll be able to but this is the goal - to finish ahead of the MotoGP world champion".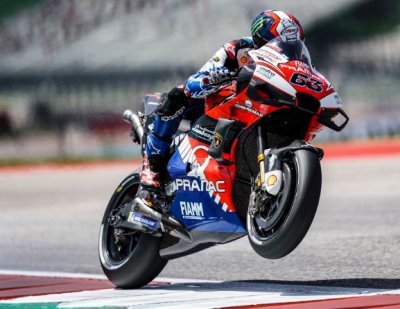 You also have a world champion in your ranks. How is Bagnaia doing?
"Francesco is improving but, in our world, the race is what really counts. Pecco, for one reason or another, has finished few races. We expect him to finish the races, he continues to grow and we're pleased to work with Bagnaia. There is reciprocal trust. he just needs more experience, he's learning from the difficult times and is growing stronger".
Will Pecco be the new Petrucci? Do you see him on the factory team?
"I think he'd fit a factory team, sure. Francesco has great potential, which he showed in Moto3 before winning the Moto2 title in real style. His path is the classic one, more 'normal' compared to that of Petrucci . Bagnaia just needs more experience, I wouldn't be in a hurry to see him replace Danilo on the factory Ducati. Pecco deserves a factory team, this will happen, but I can't say when".
Share