"Nothing too special" three words were enough for Valentino to sum up the day of tests in Barcelona. The hope that Yamaha would have surprised him with some important improvement was dashed. "I had hoped that there would be something that would give us a hand, but the track was of a different opinion" he said jokingly.
The 14th best time is not a big problem on a day of testing ("The track was faster in the morning, but I had a small problem with one of the bikes and I wasn't able to go out" he explained) but the Doctor expected that the upgrades, albeit small, could have improved the situation.
"We had a few things to test to improve acceleration, but to be honest, I did not find anything that was an improvement - he was forced to admit - There were some upgrades in terms of electronics, but we are talking about small things."
Not what is needed to take a step forward, which would allow the M1 to reach the level of Honda and Ducati. Not even the new fuel tank passed Rossi's examination.
"We just need a different riding position, they are details - he said dismissively - It isn't what we need right now. Today we managed to improve our performance compared to the race with very similar track conditions. The asphalt was just a couple of degrees hotter."
The only positive note came from the front Michelin tyre for 2019, "That isn't bad.".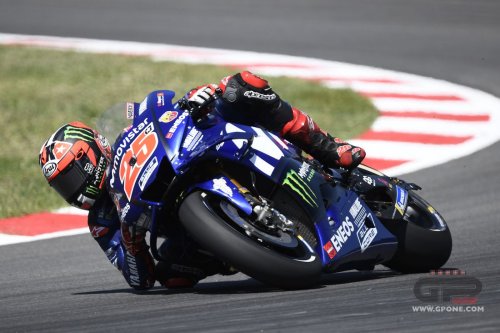 VIÑALES: THE START HAS IMPROVED - On the other side of the garage, Viñales is more optimistic, although the Spaniard worked on something different. For him, the priority was to improve performance at the start and in the early laps of the race, his weak point of late.
"In fact, I lapped with the fuel tank full almost the whole time to simulate those conditions - he explained - It seems that we were able to improve. We made some changes to the setup and worked on power output and traction control in order to get the tyres to work better."
Work on details, while awaiting the arrival of something truly new. Maverick has no doubts about what to ask Yamaha for: "a bike that meets my tastes more, because in the last year we have gone in the opposite direction."
Like Valentino, Viñales did not like the new fuel tank either.
"It lets you have a riding position that is farther back, similar to the one Zarco has in the saddle - he revealed - I didn't like it because this way a lot of movement at the front is triggered."
The final question for the Spaniard concerns the possible arrival of Pedrosa in the Yamaha camp next year.
"Difficult to say how much it could help us. He would certainly provide a lot of information" Maverick concluded.
Share