If in this first part of the season there was any need to identify the second force on the track after Ducati, there would be no doubts. KTM is the manufacturer that finds itself trailing a Rossa that seems uncatchable. Binder is 4th in the riders' standings behind Bagnaia, Martin and Bezzecchi, while the Austrians are second in the constructors' standings. There is still a long way to go before Borgo Panigale's dominance can be scratched, but the premises are there and team manager Francesco Guidotti is satisfied with how things have gone so far.
"In general, in my opinion, this first part of the season went well, if I had to give a score it would be 7, I'd say we deserve it – were his words - We worked well on some aspects that we set out to improve, such as qualifying. Out of 8 races we went 6 times with both riders directly into Q2: it was a big step forward that we had to take".
What were the other improvements?
"We levelled up with our rivals in the choice of tyres, while in the past we always used more extreme options than the others. We have seen that Miller is opting, on equal terms, for the same tyres that he used in the past with the Ducati and Binder is also aligning himself with these choices. They are two important aspects on which we focused a lot and we are managing to improve".
Are we talking about the 366 km/h achieved by Binder at Mugello? It is the new MotoGP record.
"It doesn't mean anything, but we are often in the top positions in terms of top speed. It's another thing that pleased us, it wasn't a goal but it demonstrates that we also worked well on aerodynamics. We concentrated on the braking and cornering phases without suffering in top speed".
Opponents also envy the way you get away at the start.
"That is a quality that was overlooked, because last year too we got away from the line well, but from the fourth or fifth row it was less noticeable. Jack has always been good at getting away at the start, maybe now he's even better, but it's not the area where we've improved the most. Tyres and qualifying are where we made the most progress and we're still working."
What are you still missing?
"Management of the long race, the Sunday one. In the sprint both Binder and Miller made the podium several times, Binder twice. We are still lacking a little something on Sunday, even if we missed out on the podium by very little in Assen. The regulation is clear and I don't want to be controversial, but there was no overtaking in that race, so you can't even say that that little off-track excursion would have helped Brad in any way. It was a missed podium, we still had a bitter taste in our mouths. But he finished a second and a half behind Pecco, who pushed hard because Bezzecchi was pushing him, so it was a real gap. In Germany he crashed when he was 3rd, but we didn't have the pace of the first two".
What was the worst race?
"Mugello left us with a question mark, we've never been exactly in shape there and we're trying to analyse what happened in depth. It was supposed to be a track that should have met us half-way, like Assen, but instead we need to better understand what happened. We will have more evidence of that at Silverstone, a circuit that resembles Assen and Mugello in some ways. We know we still have a margin in some points and I think Pol Espargarò will help us when he comes back, because we were lacking another rider to put the bike to the test to help us understand other things. We are happy, but we will be completely happy when we fight all the races for the win".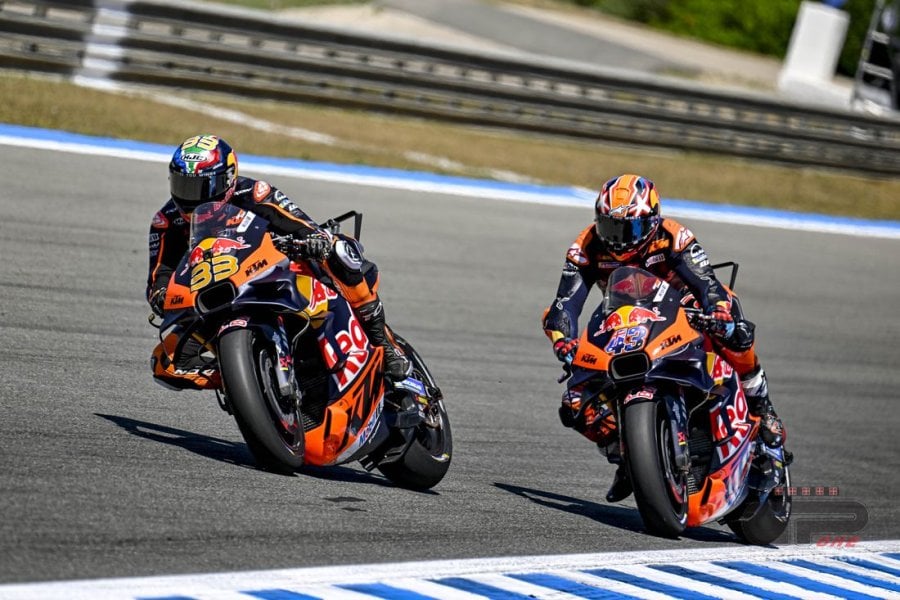 What was Miller's contribution to the team?
"Brad became convinced of so many things that he still didn't understand. The technicians can explain them to you, but having a teammate who does them is different. He saw that certain manoeuvres can also be done with our bike and this has opened up a much wider horizon for him. Jack brought experience with other bikes, first Honda and then Ducati, which was missing. Brad himself had picked up some riding 'vices' due to the fact that he didn't know other bikes. We raced at Assen on the soft tyre after seeing certain manoeuvres from Jack out of the corners that allowed him to save it, which Brad thought wasn't feasible with our bike. Because he had always ridden the RC16 in a certain way, however, despite having different suspension and chassis than the others, it behaves like a 'normal' motorcycle. He had some preconceptions that he has now overcome thanks to Miller".
Opponents always speak well of Binder, is he aware of his strength?
"Brad is a rider who doesn't give himself too many problems, he just gets on the bike and goes (laughs). Clearly, at this level you need to ask yourself a few questions to refine your riding style. He used to ride in a certain way, he is very aggressive under braking, but he still needs to smooth out some edges and he will certainly grow. When you show him things, he understands them and puts them into practice. He's a racing animal that's evolving and I think he could be really dangerous in the not too distant future."
Are you thinking about the rest of the season?
"Yes, I am counting on the fact that there are other improvements to be made both on his part and on the bike. With still 12 GPs to race, we can still work".