KTM is continuing with the aerodynamic evolution of the RC16. Already during the Shakedown a 'stepped' fairing introduced last year by Aprilia was seen, but today another new development has popped up from the drawers of the Austrian engineers.
In fact, a fairing with lower diffusers made its debut on Brad Binder's bike, a solution that Ducati has been using for some time and that Honda already used last season (we talked about it recently HERE).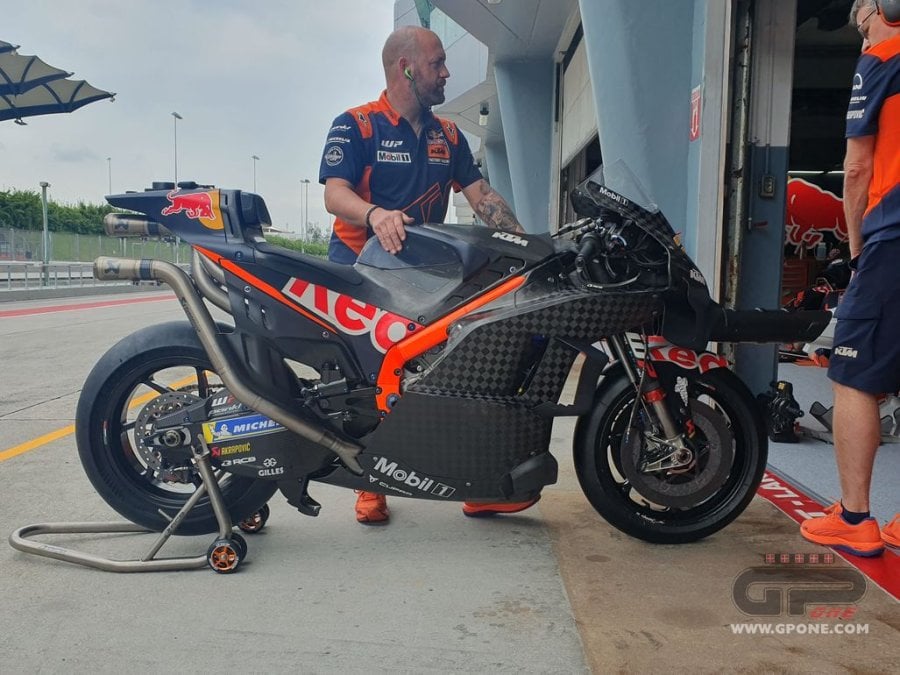 The function of these devices should be to improve the grip of the bike when leaning.
Advanced aerodynamics is still a Pandora's box in motorcycling and there are few real experts, so much so that manufacturers are increasingly shopping around in F.1 teams. And perhaps it is no coincidence that Ducati - in the hands of Audi for some time - was the first to heavily evolve the Desmosedici in this respect.
The area receiving the most attention today is the 'belly' of the fairing which skims the asphalt during the extreme leans of MotoGP bikes. Under it flows a layer of air which tends to lift the bike, and therefore to make it lose grip. Today, for the moment, it is probably too much to talk about ground effect, but as all current sports cars tend to have a flat underbody and diffusers behind the rear axle (although not having any side skirts aimed at maximizing the effect), so the moto is exploring the possibility of obtaining even a minimal grip effect. After all, by now the differences between the various means are minimal, and every hundredth of a second is good for improving performance.
In fact, by increasing the speed of the air in that area, a suction effect is obtained which should favour grip. At the moment there are two ways used, both tested by Italian manufacturers: Ducati uses the 'ears', Aprilia the 'chest', with the belly of the fairing which, with its shape, seems to get close to the ground. In the end everyone, as in F.1, after the appropriate tests, will use the best solution.