"Sometimes you have to slow down to go faster" said Gigi Dall'Igna during the presentation organized by Ducati in Madonna di Campiglio. The missteps at the beginning of the season almost cost Bagnaia the last 2022 World Championship, sent over-revving by the development of the Rossa. Precisely for this reason, the Borgo Panigale manufacturer has decided to review its modus operandi, continuing to innovate without putting too many coals on the fire.
"Every development you carry out also carries risks of reliability, rather than taking the wrong path, or not finding the performance you were hoping for. With the current MotoGP calendar, with so few days of testing, this aspect is further accentuated and we saw it last year - the Ducati general manager explained to us - We learned it very well and this year we decided to risk much less and to try new ideas, but trying to be sure that it is a real evolution, before considering them as an integral part of the 2023 project".
Will you use Pirro as a guinea pig in the Shakedown?
"Not only that, because Michele is at the end of the day a rider, but it's also important to work on statistical bases and evaluate the evolutions with more than one riding style, because in this way you can fully understand all the problems and advantages that the new solution offers".
Also during the presentation you talked about your collaboration with Lenovo and the use of artificial intelligence to evaluate data. It is an aspect that is also becoming increasingly important in motorcycle racing.
"Artificial technology, by now, I consider it an acquired technology. It is no longer a frontier technology: it has already brought excellent results in many fields and certainly it has already brought and will still bring many in ours".
MotoGP director of technology, Corrado Cecchinelli, said that they would like to propose abolishing the rear lowering device as well, after the front one...
"This is a possibility starting from 2027, because in the end, when an evolution of that type has been implemented for so long, it is reasonable to believe that more or less everyone harnesses the advantages of that solution in the same way. So, I don't think it will be a real problem to go and remove it from 2027 ".
So, does it mean that you already have some ideas you are blending in your head on some other device?
"It's part of our job. For sure yes, we have something in mind, and I hope that something else will also come to mind ".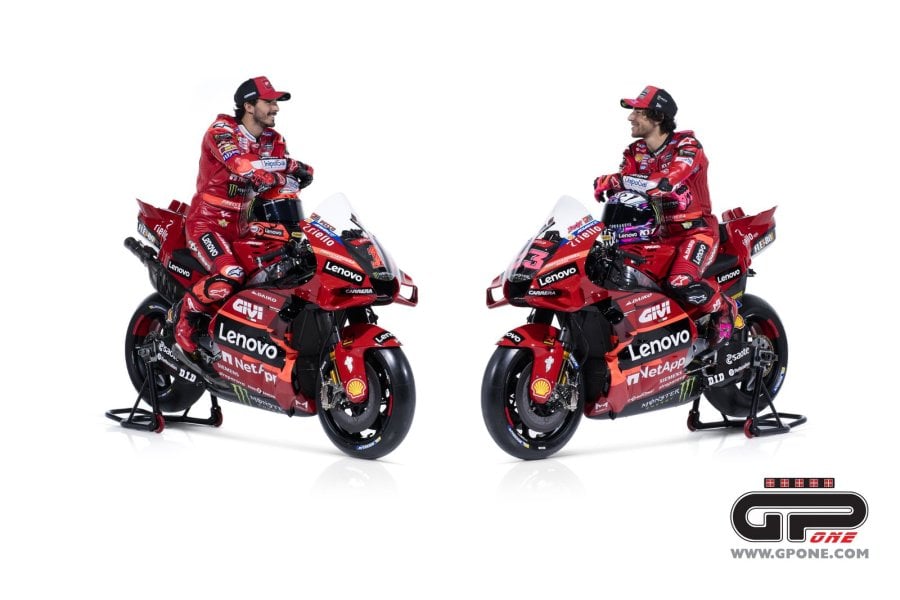 There is a lot of talk about the rivalry between Bagnaia and Bastianini, as there should be, given that they are two Italians on the Ducati. Pecco has always said "let's not go to war in the garage, let's work together and then on the track, each on our own". How do you see it?
"It seems to me the right thing to do. It is clear that both want to win and it is clear that both also want to be put in the best position to be able to do so. Clearly, winning doesn't mean finishing ahead of your teammate, but beating all the rest of the riders. So, working together to get the bike to its best and find those solutions that can give advantages to both, I think is in both of our interests. Then, it's certainly true that on the track they have to demonstrate who is the best and I'm sure they will. But I am also convinced that they will do it respecting each other, therefore without using low blows ".
Technically, in terms of style, can we say that they are two complementary riders? That the strengths of one are not those of the other?
"In some cases yes, in some others there are points in which both are strong, but yes, we can say that in some respects they are a bit complementary".
Does the Sprint Race worry you? Also from the point of view of team and rider fatigue. 42 races are a big commitment.
"It's not going to be easy to have a race on Saturday and then having to repeat it on Sunday. It will certainly be complicated also from the point of view of engine management. There will be some aspects that need to be analysed. We've already done it in part, but then there's no real test, which will only take place in the first race at Portimao".