Smiling and calm, Joan Mir is enjoying his new world champion status as he waits to hit the track for the new season and defend the # 1 on the fairing. The title he won with Suzuki changed his life, but his feet remain planted firmly on the ground and he doesn't want to get cocky about it. Indeed, humility seems to be one of his strong points.
Joan, what's it like being a world champion?
"Now when I go to a restaurant there is always someone who recognizes me, who asks me for a photo, even in Andorra, where people usually leave you alone. I can't imagine what would happen if I were in Mallorca (laughs). From that point of view my life has changed, as for the rest I am still the same ".
However, you will start as a favourite for the title…
"I don't think that's the case, I think I'll be the man to beat but the favourite will be Marc Marquez."
"I won the title thanks to intelligence and consistency, not speed"
Why?
"I didn't win the championship for my speed, but thanks to my intelligence and consistency. I know I have room for improvement, even if on paper I have good tools to defend myself. If I manage to win the title again this year, then I will become the favourite but for the moment I am not worried about the championship, the goal is to improve. I have to start doing pole positions, winning more races, I've already got consistency ".
Marquez will be back after a long hiatus, don't you think he will need time to get back to his levels?
"I say that Marc is the favourite if he is 100%, because he has more experience, more speed and more titles than me. If we were talking about another rider I wouldn't believe he could win in the first race, but if Marquez did it I wouldn't be surprised ".
Apart from Marquez, who do you see as your most dangerous rival?
"Nobody, if we take Marc away I'm the favourite".
What about your teammate Rins? Could he be faster this year?
"Alex was already strong last season, he had an injury at the start but then he was always competitive, he fought in every race. We all made mistakes, crashes and injuries are part of our job and we need to manage them better. Rins will be competitive, but no more than last season because he was already fast ".
Sahara, the project leader, said the goal is to win all three titles: riders, teams and manufacturers.
"I'm very happy to hear him say that, it means they are pushing hard. It's difficult to win every year, but with this mentality I'm sure we can repeat what we did ".
"The pressure is positive; if I feel it, it will mean I am at 100%"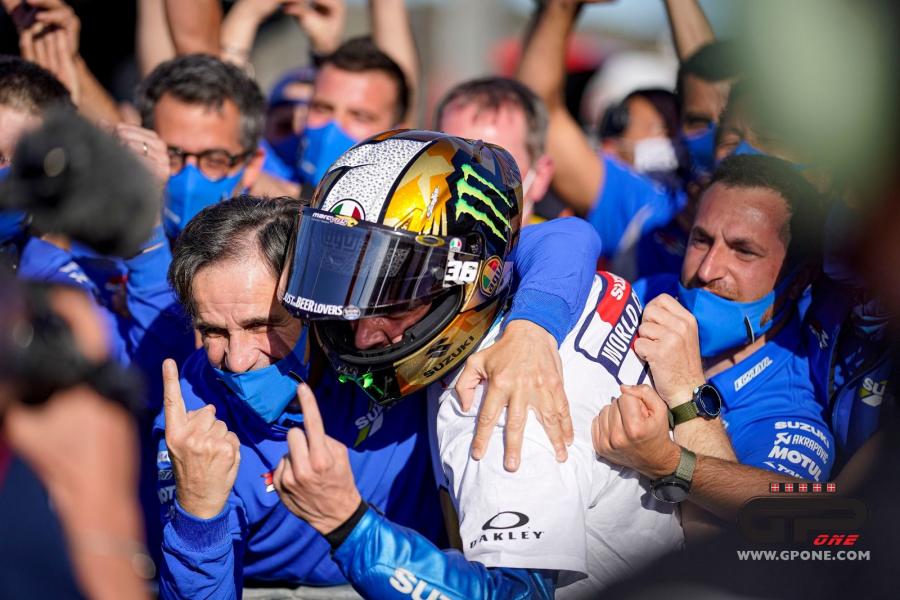 Don't you feel the pressure?
"I felt it last year and it will come this one as well, but it doesn't affect me negatively. If I feel it from the first race, it will mean that I am at 100%, you have to take it in a positive way ".
Did you learn that in Moto3?
"I'm in MotoGP thanks to the results I got in Moto3. In Moto2 I was fast in a hurry, but I didn't have a great season. Moto3 was an important step in my career, the experience gained by winning the first title allowed me to win the second ".
This year there will be no Brivio, will that be a problem?
"He called me to tell me in my only week of vacation, at first I thought he was joking. At first it was a shock, but then I realized that in Suzuki there are people who are capable of handling this situation. I know that Sahara will do the best for Suzuki and therefore also for me, I'm not worried ".
The bike won't change much as engine development is frozen, is that an advantage?
"We certainly have room to improve our engine, it's not the fastest but not the slowest either, there are manufacturers in a worse position than ours. The GSX-RR is a good bike and if we can improve in other areas we could be more dangerous. I think all the bikes will be similar and all close like last year, our strength is to be competitive on every track and I think we will maintain that".
Where would you like to improve?
"As I said I would like to be faster, I have to improve the bike and rider package. If I have never started in the front row, it is neither my fault nor Suzuki's, it's a combination of things. Improving in qualifying is a goal, as well as in the initial stages of the race ".
"What number will I use? With # 36 I won, but # 1 is the only one you can't choose"
How are you training? Rins has customized his GSX-R…
"The truth is that I don't like to show too much on social media what I do in training. I also have a GSX-R and it is very nice, trust me! (laughs). I don't think riding a road bike is the best possible training, but I use it every now and then ".
Have you decided if you will use the # 1 in the races?
"I still have some doubts, I'll tell you on the 12th (laughs). With the # 36 I won my two titles, but I can use it whenever I want ... you can't choose the # 1 ... "