Kenny Roberts was not only a great champion as a rider, but also as a team manager. With the team and the Yamaha he won 4 titles, one in 250 with John Kocinski and 3 in 500 with Wayne Rainey. That wasn't all, because at a certain point the Californian also decided to become a manufacturer: the Modenas KR V3 made its debut in 500 in 1997, while in MotoGP in 2003, his 5-cylinder Proton took to the track, and then in 2005 switched to a KTM engine and in the following season a Honda one.
In his interview with the MotoStarr YouTube channel (HERE you can find a previous excerpt) Roberts also gave us some interesting background information on his career as a manager and manufacturer.
"I've always been interested in motorcycles and the technology of motorcycles, and what a motorcycle did, not only for me to ride it, after that I was still interested in the racing - he explained – The racing team was just an add-on to be able to ride the bike but help somebody else ride the bike. When I came back to running a racing team, I took situations as they came up like the rider situation, raising your own riders. So it was a matter of step by step, building a trainer base so we could train the guys, the first team trainer, then starting putting together engineering besides the Yamaha engineering on chassis. Engineering people with mechanical people, cover all the bases. I think the first year in 1986 we had five mechanics and that was it. When I ended up leaving it was something like 45 people.".
"F1 people don't understand motorcycles and vice-versa, and that marriage didn't work out"
When he decided to build his bike he was based in Great Britain, home of the Formula 1 teams, but not everything went smoothly…
"I got to know some of the F1 people, intertwined with racing, and it got to the point where Yamaha was a struggle and I just decided to build my own bike, but you had to go to some place that knew something about it - he continued – I didn't have the technology for that so we were taking F1 people and putting them in the motorcycle. F1 people don't understand motorcycles and vice-versa, and that marriage didn't work out".
In those years it was the 4-cylinder engine that dominated, but Roberts focused on the three-cylinder.
"I didn't particularly want to do the 3-cylinder, but they changed the rules and took a lot of weight off the 3-cylinders. And then another reason was that I didn't want anyone saying we just copied Yamaha. The 3-cylinder (of Spencer in 1982, ed.) at that time didn't have the sheer speed of the 4-cylinder but it had very good acceleration and was lighter. The 4-cylinder was faster in a straight line, but it didn't do other things as well as the three".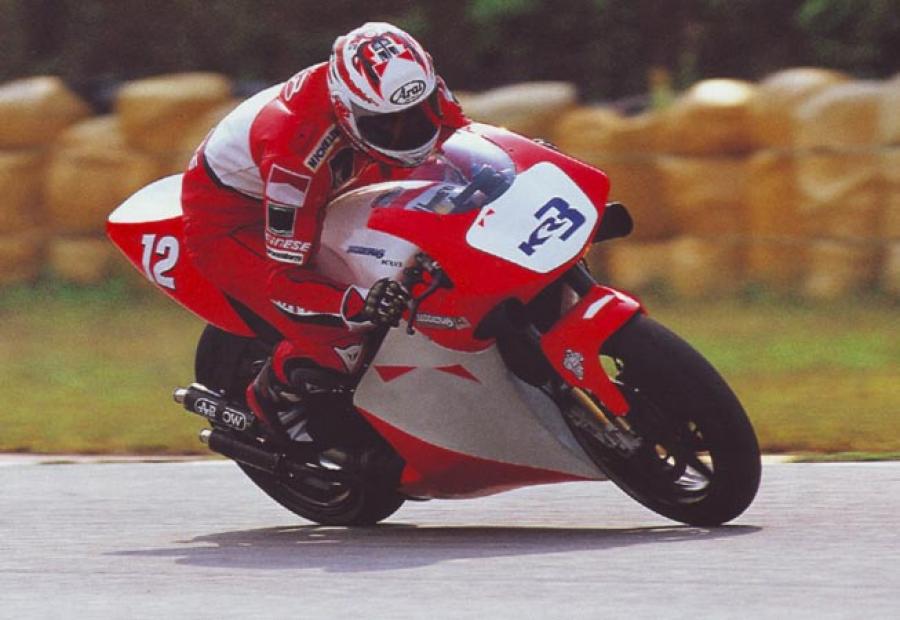 Kenny joined up with the Malaysian motorcycle company Modenas for the project, while the sponsor was Marlboro.
"I went to a Malaysia company and sold the engine project to them. Unfortunately the week after I shook the guy's hand - he was the head of the board and he did the deal with me and the Prime Minister of Malaysia - he died in a helicopter crash and that stopped the whole programme for a while. It stopped him doing what he wanted to do, which was build a motorcycle and sell it but there were 14 people on the board - they made cars not motorcycles - so the whole thing fell apart before it got started"
"We had six months to design, build and go race the 5-cylinder KR"
When MotoGP arrived, Roberts threw himself into another project, this time with Proton.
"We said 'Look, we want to build a 4-stroke' and we pulled it off and got enough budget to do it. The 5-cylinder project, like the 3-cylinder project, we had six months to design, build and go race. The 5-cylinder was better than a lot of the 4-cylinders, better than the Suzuki that Kenny (Junior) was on."
That adventure only lasted three years...
"It made me smarter, I spent a lot of my own money because I wasn't interested in money, I was interested in the project," admitted Roberts.
And if he were to build a MotoGP today, how would he do it?
"First you have to have the budget to do it, a budget without any restraints and that's hard to find. I'd go to Japan for a lot of the technology and probably Italy for the motor, England would be second," he replied.
Who knows if that won't happen in the future, because Kenny revealed that he has been thinking about returning to MotoGP with his own team.
"I have been working on something that's very complex for about nine years now, and that's probably the only thing that would get me back into running a team or building bikes, it's very complicated but we'll see" he concluded.