In a year conditioned by the global health emergency; in the year of the hundredth anniversary of the founding of Suzuki; sixty years after its debut in the world championship; only five years since the arrival of Davide Brivio: Joan Mir on his GSX-RR has won the 2020 MotoGP title and has taken the Hamamatsu manufacturer to victory again.
Starting from a blank sheet of paper in 2015, Brivio has reached the pinnacle of success in the premier class by managing to reconcile Japanese and European methods of working in the best possible way. The battle for the team led by this programme accountant - these were his studies - is not over yet. Suzuki is fully involved in the fight for second place in the riders' championship and, albeit with lower expectations, for the 2020 constructors' championship.
Brivio: "We have conquered five double podiums, we are competitive with both riders"
"What can I say? It was something historic, we did something fantastic. If I were a director and thought about making a film about this world championship, I would never be able to imagine something so fantastic! - said Brivio at the height of his joy - We won a world championship in Suzuki's hundredth anniversary and also in a difficult year. Anyway, we did something historic. In short, twenty years after the last title, we couldn't have imagined anything better than this. I am certainly happy for each of us because we started this project a few years ago from scratch. We put together a lot of people, all very motivated. People, who in most cases had never won before, so they had the right motivation to try, but especially the riders. Joan was incredible, I think we are in the face of someone special. Alex did an incredible job too, just think about his injury and a couple of mistakes, without them he could have been here too. I think this season has shown that we are competitive with both riders and Joan has certainly been more consistent, made more podiums and fewer mistakes and won the title. We have scored five double podiums, so this shows that we are competitive with both riders. We are really proud of what we have done. "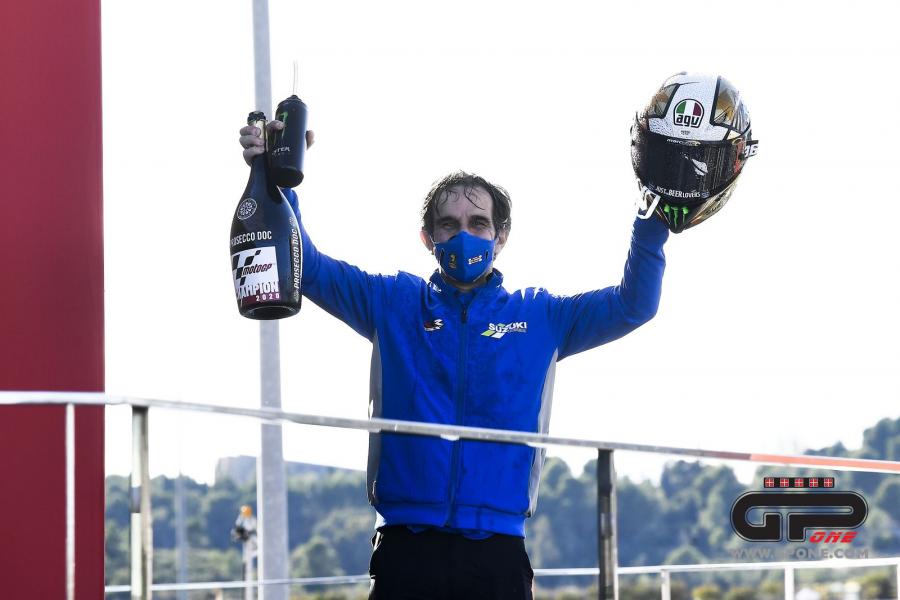 Brivio: "I mondiali sono tutti emozionanti, anche quello vinto con Rossi, ma questo è speciale"
In 2014 Suzuki announced its return to MotoGP. The first weekend was at Valencia and it was very difficult. Did you ever think that six years later that bike would win the world title?
Brivio: "We raced our first GP in 2014 with De Puniet and Valencia, breaking an engine"
"I didn't think about that race today. But I remember it was really difficult. We took part in the Valencia Grand Prix in 2014 with Randy De Puniet as a wild-card. I remember that we had some problems with the engine, later during the winter we discovered that it was an electronics problem that caused the engine itself to break. As a wild-card you can only change three and when we arrived on Sunday morning there was only one left. This forced us to start from the pit lane. That winter we were really anxious because when we went to Sepang for testing in January we broke the engine again. So it was a really difficult start and I wondered how we could have started the championship. But after that the engineers worked a lot and found the problem in the electronics. "
Brivio: "The world championships are all exciting, even the one won with Rossi, but this is special"
You said this was the most exciting championship win for you, is that really the case?
"As for the emotion, it was obviously massive. Mind you, all the championships are exciting, including the one I won with Valentino. This was really special, I don't know if more than the others. For sure this year has been a difficult situation, for the team and for the riders, it has been a year of growth. For this reason we all felt part of this journey. I haven't realized it yet, I think it will take a while. Maybe tonight or tomorrow I will realize what we did, for sure it is something that will remain in my memories forever. It's something I've always dreamed of doing, but which I always thought would be difficult to achieve. We did it and I am really lucky to have realized my dream. I've always been a motorcycle enthusiast and initially imagined becoming a mechanic, but later I realized that I'm not good and I had to fall back on something else. I went from Superbike to 500 to then realize the dream of arriving in MotoGP. In short, I'm really lucky. "
How did you manage to construct the championship with the team? Because it takes a lot of work to have many different people working together. How different are Suzuki engineers from those you worked with at Yamaha?
Brivio: "At the beginning we knew that we would have scarce resources, little reliability and a not very fast bike"
"When we started in 2015 we immediately understood that this project was going to be difficult, we knew we would have scarce resources, reliability problems, a non-performing bike. We wanted to find motivated, passionate people who wouldn't give up. We have three guys with us who have worked in a factory team but most of them come from private teams, some from Moto2, for them arriving at Suzuki MotoGP was a goal and not a place to go if you don't have another one. We have created a really close-knit and passionate group, a team where people are always happy and have a good relationship with each other, without conflicts. We absolutely must not underestimate the fact that riders are really important in this sport. Good riders consequently have a good team. You see the greatness of the group in difficult moments. When I joined Suzuki I found the situation that existed in Yamaha twenty years earlier. I found humble people, who wanted to try to win, who wanted to find the right path to success. At that moment Yamaha had already won and the dynamics in the team change when you have more confidence and win. Suzuki at that time was really an open field and there was good cooperation. We talked and discussed, it was a great journey together. "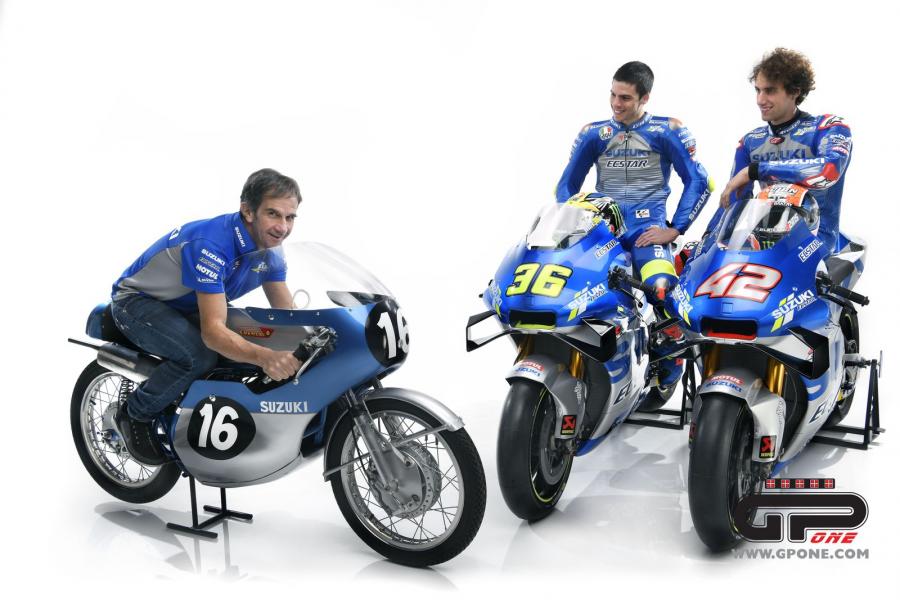 Kevin Schwantz: "In today's Suzuki the same qualities as the bike I was riding"
Kevin Schwantz said that in the bikes they ride today your riders still see the characteristics of the bike he was riding, do you think this is important? Do you think that the choice of Guintoli as a test rider was the key element for today's success?
"I don't know if today's bike is similar to the one Kevin Schwantz rode and I would be lying a lot if I said it has the same characteristics. The company is the same and I guess the thought too. I don't know if the current bike is the daughter of Schwantz's, maybe the engineers have continued that concept. Anyway, our riders are happy with the bike, they have a lot of feeling. As for Guintoli, we decided to create the team for testing in Europe, usually everyone has it in Japan and it is tested on the Japanese circuits. We decided to take a European test rider and chose Sylvain. We are happy with the work he has done because he is able to select every single aspect of the bike and his comments are really similar to those of our riders. Another important decision was certainly to choose Alex and Joan, they gave us a very important contribution. "
Brivio: "I think consecutive Grands Prix helped our rivals more than us "
In the 2020 season everything was different than in other years. What was the main difference for you?
"The preparation was different because we were all in lockdown. After the tests in Qatar we were all forced to stay at home, but I must say that our engineers never stopped working. Even during the quarantine they continued to hold meetings and develop ideas for the bike. After that we just tried to start over. There were several differences this year, like the three races in a row, which were okay, but there have never been in the past. And also, doing two races on the same circuit in two consecutive weekends. I think this helped our opponents more than us. We were quick to find the right set-up on each circuit, but the second weekend the others were getting closer, creating more difficulties for us. These were the main differences compared to the past, but we managed them well. "
This year Suzuki celebrated the hundredth anniversary of its foundation and sixty years since the start of participation in the World Championship, was there anything magical that influenced your work?
"No, I don't think so. We know that some important milestones are being celebrated this year but we have continued to work as always. We didn't have more pressure or need to push more, nor need more motivation because for us it is always the same, both the 100th anniversary year and a normal one. For us it was like a season like any other: working, being focused and trying to do our best. "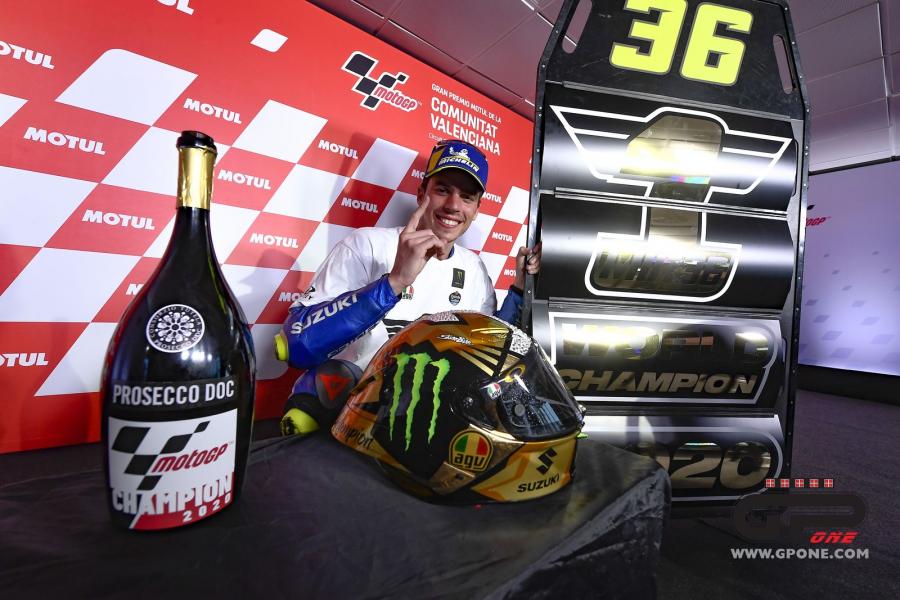 Brivio: "I only started thinking about the title a couple of Grands Prix ago"
When did you realize you could win the World Championship? Is it possible that Suzuki is now considering the idea of ​​having a satellite team in 2022?
"Personally, I only started thinking about the championship when Joan moved to the top of the standings, so a couple of races ago. At that moment I thought: we are in business, so let's dance. So, only in the last two or three weekends. As for the satellite team I don't know, it's something to discuss in Japan in the coming months. I don't know what the reaction will be, but I think it's enough to have just one factory team, because it's been a good season so I think that's enough. I'm playing. We need to discuss it and decide seriously for 2022. "
Suzuki has a really good bike but at the same time has the lowest budget, the other manufacturers spend a lot more in MotoGP. Do you think this has helped you and led you to think smarter to focus on certain things?
"To be clear, Suzuki is a big company but not like the others. They don't have unlimited resources, so you have to be more creative to try and think more. We probably have a smaller staff than the others, sometimes we think of expanding but then we also think that this could lead to more confusion. You have to find the right balance between few and too many people in the team. I think we have everything we need, but there are certainly areas where we can improve. With the COVID situation I think we have to stay that way, we will ask for more staff in the future. "
Brivio: "The Suzuki is the perfect bike? It is balanced and goes well with the riders"
During this season every rider and team manager has said that Suzuki is the perfect bike, has that put you under pressure? Also, did you have to deal with the psychological pressure on young Mir?
"I don't know if it's really the perfect bike, I think it's really balanced in every area. Then also the combination between the bike and the riders. Alex is really good and Joan has learned how to handle the tyres and ride the bike in the best way. The bike isn't perfect, because it never is. It sure has a balanced package. Those declarations didn't put us under any pressure. Regarding Joan, psychologically we discovered how strong he is, he's always relaxed and focused. Always trying to win, when he started twelfth in Aragon his only thought was how to recover as many positions as possible. We didn't have to work too hard on this aspect, he's a strong rider. "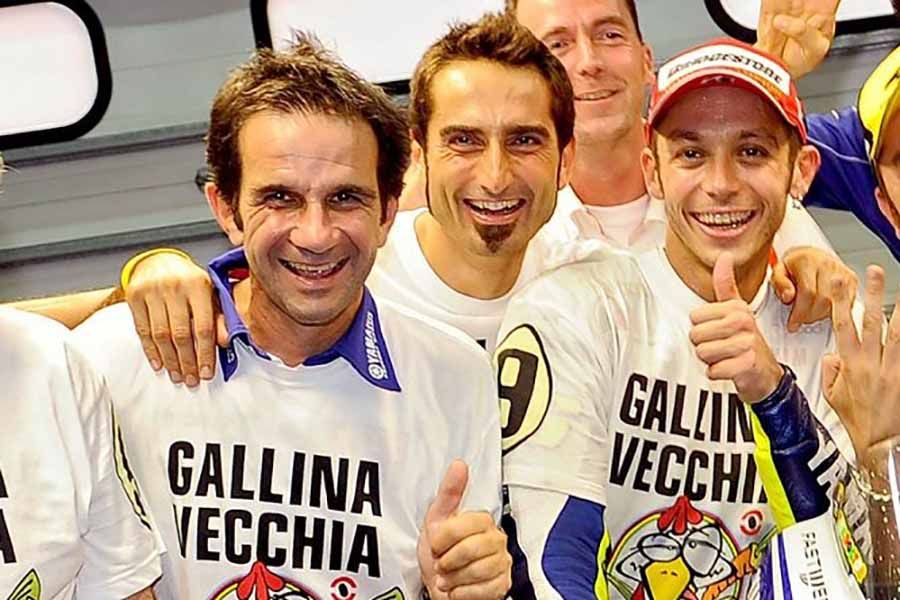 Brivio: "A comparison between Mir and Rossi? Valentino was already five times world champion"
You said that Joan is special, can you make a comparison between him and Valentino?
"It's not easy, that is, when I started working with Valentino he was already a five-time world champion, so he was already a mature rider. Joan came to us as a rookie, he's probably determined and I think we saw it yesterday. He was out of Q2 and in FP3 he had the last chance to enter and he took advantage of it, he has great determination. It is difficult to compare them because for Joan this is only the beginning, we will have to see in the future. It will probably take a few more years for him to fully mature. As a start, we have a good situation. "
Brivio: "Stay motivated? When you win you want to do it again"
Now that you have won the world championship, how will you keep the motivation in the team high?
"Fortunately I have some experience with victories. When you win you want to do it again. Initially you never won anything, then you win the first race, then the next one and after two or three hours you immediately start thinking about winning the next one. I hope it will be the same, I don't think we will lose motivation because we have already won. It's great to win and we want to do it again. We want to experience this feeling again. It's not easy, but we'll try. "

Brivio: "Mir will decide whether to use the #1 in 2021, it's up to him"
Do you think Joan will use the #1 next season?
"I don't know. We haven't discussed it yet, it would be nice but we don't know. It is a decision for the riders, and also a matter of merchandising. I'd like him to have the number 1 on the windshield next year, but it's not up to me to decide, it's Joan's choice. "
When Mir crossed the finish line and you became world champions, what went through your mind? Your story with Suzuki has been a difficult but also a short one, it took you only five years to get to this point.
"It was strange because it was a moment that I had dreamed of for so many years, since I started working with Suzuki. Maybe because of the pressure but when he crossed the line I felt empty. I didn't even have the strength to cheer or hug people. I froze for a few seconds. Then I saw the others and I jumped into the group, it was a strange moment. I'll have to think about it. "
Audio provided by Nicole Facelli