Unity is strength, seems to be the motto that best describes Suzuki. Not because Rins and Mir are team players, but because the structure set up by Davide Brivio allows them to express themselves at their best. Just take a look at the championship standings, where Joan is in the lead and Alex is 32 points behind, with still high hopes of fighting for the title until the end.
Although Suzuki has shown its competitiveness in recent seasons, few would have predicted such a result with 3 races to go. Even team manager Davide Brivio candidly admits that he is surprised...
"I expected to be still in the game, but honestly I never thought we would be leading the championship. I did not expect that".
Especially with Mir. On paper, Rins was the #1 rider because of his experience.
"Alex is the rider with experience in the team and at the first race he showed up in great shape, I saw him transformed and ready both psychologically and physically. The accident on Saturday at Jerez changed the face of his season. The next 4 or 5 races saw him resort to a healing process, but all the time while having to race. Despite this, he scored a 4th place at Brno and crashed in Austria when he was leading. Then came the podium at Barcelona and two more at Aragon, these are the results we expected at the beginning of the year. I think without the injury, what we are seeing now could have been the Alex Rins of the whole season. "
Joan Mir also seems to be completely transformed…
"As already happened with Alex, the rookies, after their first season, make a change of pace during the winter. Joan was also very strong in the first race at Jerez, but he crashed, so in the second race he finished 5th because he wanted to finish it. At Brno he was taken out and in Austria he obtained his first podium".
"Taking his first podium took the pressure off Joan Mir"
It had the effect of unblocking him?
"I have to say that it had the opposite pressure, if we can call it that, that is, he suffered from the fact that he had never been on the podium. After having succeeded, paradoxically, he relaxed. He thinks race by race, he is calm and happy. From then on he obtained 6 podiums in 8 races ".
Now he's suffering from the fact that he has not been able to take his first victory?
"Clearly he wants to do it, so do we all, also because we have come very close. However, from now on, I think attention will focus more on the championship. However, I must admit that we have never talked about it, not even in the garage, we have never thought of a strategy or anything else. Now we're here and it's time to have a look at it (laughs). Of course we are well aware of where we are in the standings, but Joan in the race has always tried to do the best for herself, without thinking about his rivals".
Is winning a race essential to win the championship?
"Winning a race with Joan would make me very happy, it would still be the culmination of a great season, however it ends. If the question is whether I would prefer to win a race but not the championship or the other way around, I have an idea about ​​the answer (laughs). It would be fine for me if we continued to stay on the podium and in that position in the standings. Not to mention the fact that Rins is also fighting for the World Championship ".
"It's nice that a championship can be won without help, not with team orders"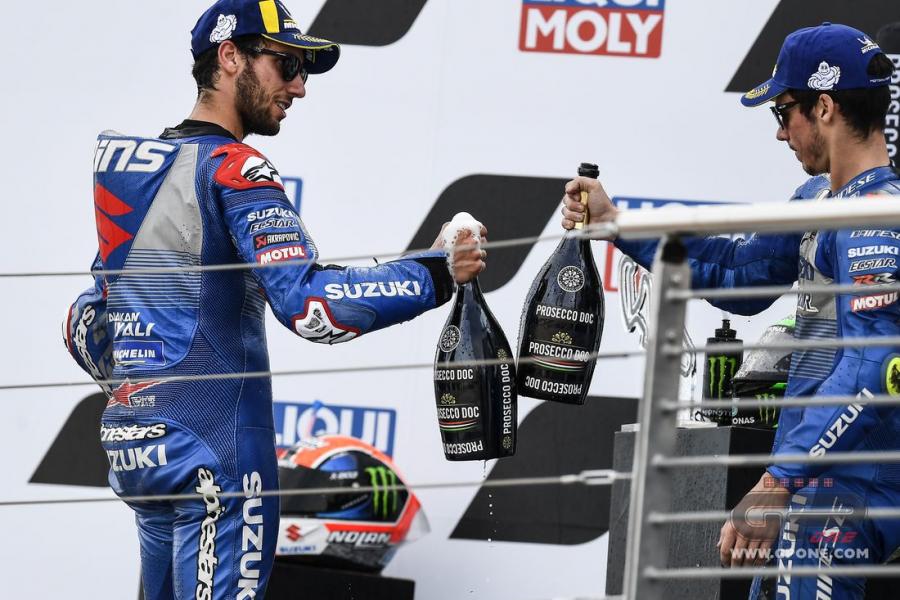 Rins jokingly said that having two riders fighting for the World Championship is a big problem for Suzuki.
"It's a problem that I wish I had every year (laughs)".
How is this situation handled?
"When both riders have the opportunity to fight for the World Championship, this rules out any team play. The only strategy we have talked about is that the two teammates must have respect for each other on the track, they must be correct with each other. Suzuki doesn't really like team games, we told our riders: may the best man win. Should we arrive at the last race with one of the two out of the game, maybe we'll talk about it. Maybe it's too romantic, but it's nice that a championship is won without help, that everyone fights for it with their own strength. That said, for the moment there will be no orders ".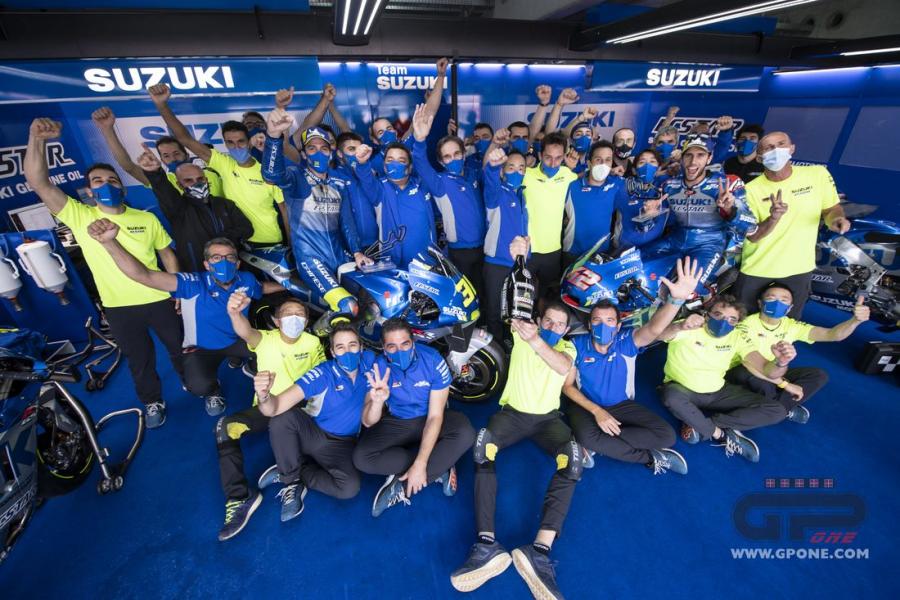 Many observers say that Suzuki's strength is also the atmosphere in the garage. Is this your secret?
"Joan and Alex, like all teammates, are opponents of each other and that's what we wanted. When we thought about Mir and Rins together, we were looking for two riders who would stimulate each other, because this makes both of them grow and improve the team's results. There was a little lack of that last year because Joan was a rookie, but it's happening this season. We want each one of them to try and finish in front of the other and that there is a competitive rivalry, but we also try to make them understand the importance of the team. Of course this is an individual sport, everyone races for himself but also for the team and for Suzuki. It is important to have a team spirit ".
Have you been able to create it?
"In these two races it was easy, as both were on the podium the team was able to celebrate together. I see that the riders talk to each other, I hope we are transmitting this team spirit to them and also to maintain it ".
Carlo Pernat argued that focusing efforts on just two bikes, and not having a satellite team, was an advantage. Do you agree with him?
"We know that having a satellite team would be very useful from a technical point of view, especially during the race weekend because you have a lot more information and we would like to have it. Suzuki is an international giant, but the racing department is not huge, in fact it only takes part in MotoGP and gives support to the Endurance World Championship, which we won, while the other activities are entrusted to the national distributors. This is the reason for the continuous delays in organizing a satellite structure, because we want to do it and we are continuing to work on it to succeed in having one".
"We are disappointed about not being able to challenge Marc Marquez on the track, but his absence has increased everyone's motivation"
This is the most uncertain season in recent years, have you got any idea why?
"I don't have an explanation. This is an anomalous championship also in terms of how it came about, we were inactive for many months and it is a different season than usual, with two races on the same circuit and lots of rounds close together, which also changes the approach. It is also curious to note that even in the case of a double race on the same track the results are different on the two Sundays; apart from what happened in Jerez, no one has won twice. It is curious how everything ​​changes from one Sunday to the next while remaining on the same circuit with the same riders, bikes, tyres and conditions. Even the absence of Marc Marquez was perhaps a motivation for the other riders. On the one hand, there is the disappointment of not being able to challenge him on the track, every rider wants to compete with the best, but on the other hand, his absence has created a little more hope and stimulus in everyone, they saw a possibility. There was a similar situation in 2016, in Michelin's first year, with 9 different winners, and that year Marc was there ".
Three races remain until the end, two in Valencia and one in Portimao, but in Europe the restrictions to contain the second wave of coronavirus continue. Are you worried about the smooth running of the final GPs?
"We are all worried about the current situation, in these times we are going forward day by day. We hope that the bubble we have created will allow us to finish the championship, but no one can have absolute certainty because it depends on something we cannot control ".