Last year, Estenson Racing made history with a Super TT win in Chandler, Arizona. What makes the news is that it marked Yamaha's return to victory in the premier class, therefore with a twin-cylinder, after 30 years. The other news is that the bike that achieved the victory is special and will be the subject of this article. In fact, it is the Yamaha MT-07 DT, based on a chassis purpose built to house the Yamaha engine that we can find in production on the MT-07 (and on the sister bikes XSR 700 and Tracer 700 - of which we recently tested the 2020 model).
Heading the development program is former road race champion Tommy Hayden, the older brother of the late Nicky, for the Estenson Racing team. The rules of the AFT SuperTwins class of American Flat Track allow, as Tommy himself declares, to develop what is virtually a prototype, a bit like in MotoGP. "In particular with our bike, we have made to our specification every piece of the chassis with very few restrictions per the rules. Whereas the engine, I would say it's similar to World Superbike. It starts off as a production engine, but there's very little production about it when we get finished with it. Even the parts that are not replaced are heavily machined and changed."
Although it was Estenson Racing that took it to the track for its debut season in American Flat Track races, development had however started elsewhere. It was originally a Yamaha USA (YMUS) project, started up by the manager of the Racing Division, Keith McCarty. It was a project that had a limited commitment and after having almost run aground was started up again in 2015. Interest in the new engine of the MT-07 has indeed grown and for McCarty, the Flat Track races were full of interesting potential for the brand.
"The very first thing that happened was that we were getting a lot of requests for engines for flat track racing," McCarty said. "We thought we could not only sell the engines but build some performance parts for it as well."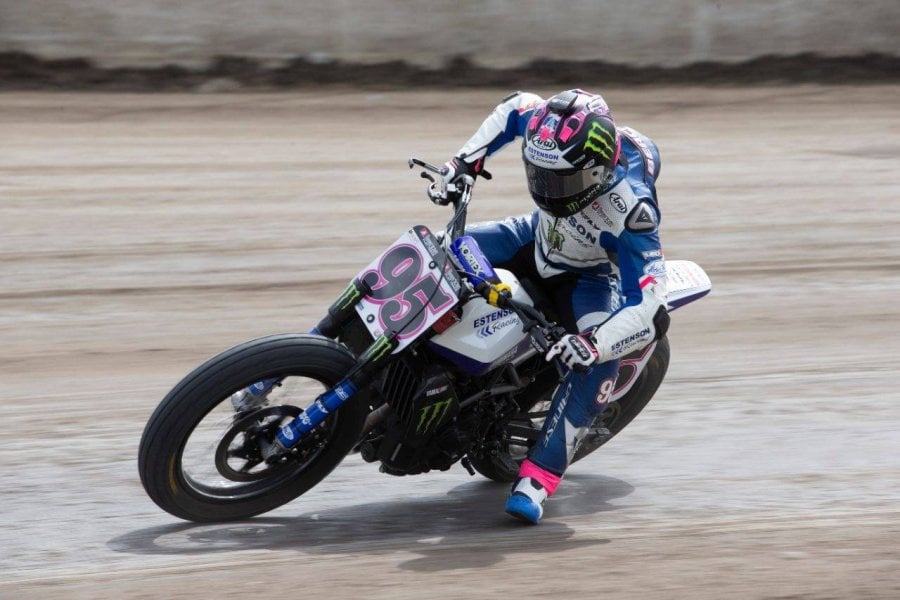 Hence the development of a head, with the help of Vance & Hines, cams by Web Cam and velocity stacks designed and manufactured directly by Yamaha USA. For the exhaust, after testing several different pipes, they settled for a Graves, which provided the best all-round performance. Starting with the 'normal' CP2 of the MT-07, with less than 700cc in capacity, it was bored out to almost 750. Once the engine was ready, a chassis was needed. Here things got a bit more complicated, because it is not exactly an 'off-the-shelf' component. There were a couple of options in the USA and McCarty went to C&J, a Californian company, to see if they could design a chassis that did the job. McCarty, however, was not satisfied because he didn't want it to be just a Yamaha engine in a C&J frame, he wanted something more relevant and more modern. This got him interested in building a frame from scratch. Derek Brooks, an ex-flat track racer and product line manager of Yamaha USA, who was already working on an idea of ​​his own, came to his aid.
He had gone to Jeff Palhegyi of Palhegyi Designs, a partner of Yamaha USA for the creation of prototypes and concepts. Wanting to build something special for the AIMExpo, Brooks and Palhegyi were thinking about a concept bike based on the MT-07 engine. So, after a few discussions, the three joined forces to build something more, not just a cool 'show bike', but a real competition racer, for flat track.
"We started brainstorming about building this frame so we could actually maybe build them and put them into production to race," McCarty said. "I was responsible for the geometry and that sort of stuff. One of my main objectives was I wanted the bike to have a real air box, not just a K&N stuck on the back of the throttle bodies."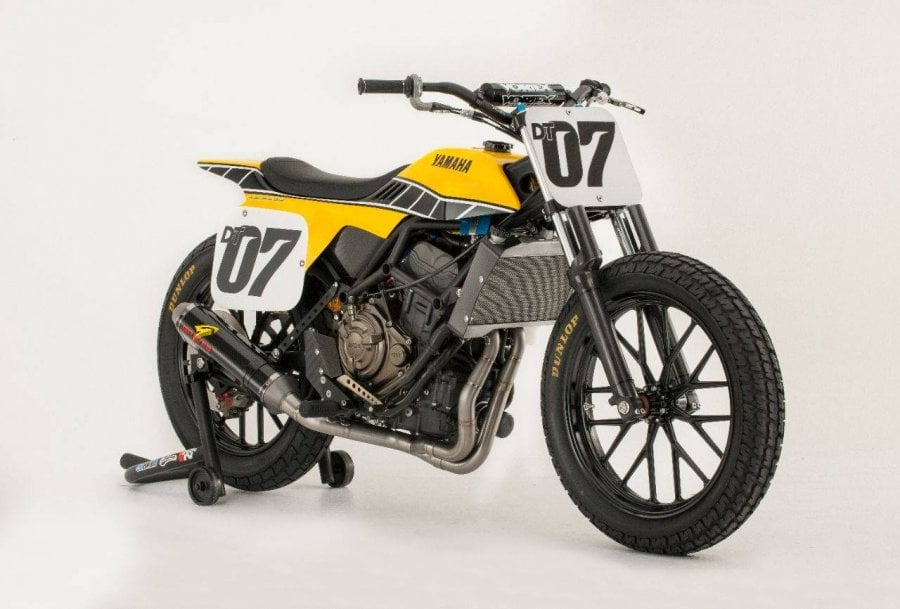 The DT-07 concept bike was presented as planned at AIMExpo 2015, in a Kenny Roberts replica livery. The result turned a lot of heads for its aesthetics, but there was still a lot of work to do for the racing bike. They started fixing some of the things with the geometry, but the work was far from finished.
Around the same time, in Arizona, Tim Estenson was reconnecting with his passion for motorcycles, after becoming a successful entrepreneur in the trucking sector. His return to the racing world came when he helped a rider to take part in some of the Twins championship races in 2016 and the following year, he set up a team with two riders, one in AFT Twins and one in AFT Singles. He immediately made a successful debut, with a victory in the X Games with Sammy Halbert and winning the AFT Singles 2017 title with Kolby Carlile.
"Tim Estenson had been racing Yamahas," says McCarty. He could have made things easier for himself with an already established flat track bike, which perhaps had already had previous success, but his heart was tied to Yamaha. Having learned of what they were developing with the MT-07 DT, he wanted to take the project on board, with race-track use in mind. The team immediately showed the potential of the bike, conquering a podium with Jake Johnson in the opening race of the season in Daytona and the first victory for JD Beach in Arizona. In addition to the successes, they have also been struggling a bit with the development, because as well as the dirt, American Flat Track takes place on four types of tracks, all extremely different from each other: Mile, Half-Mile, Short Track and TT. Although Estenson was delighted to get that first win in Arizona and to achieve his goal of taking Yamaha back to the top of the premier class, he wants more than a win or two. For the 2020 season he therefore increased his investment in the project and Yamaha USA has also boosted its support for the team.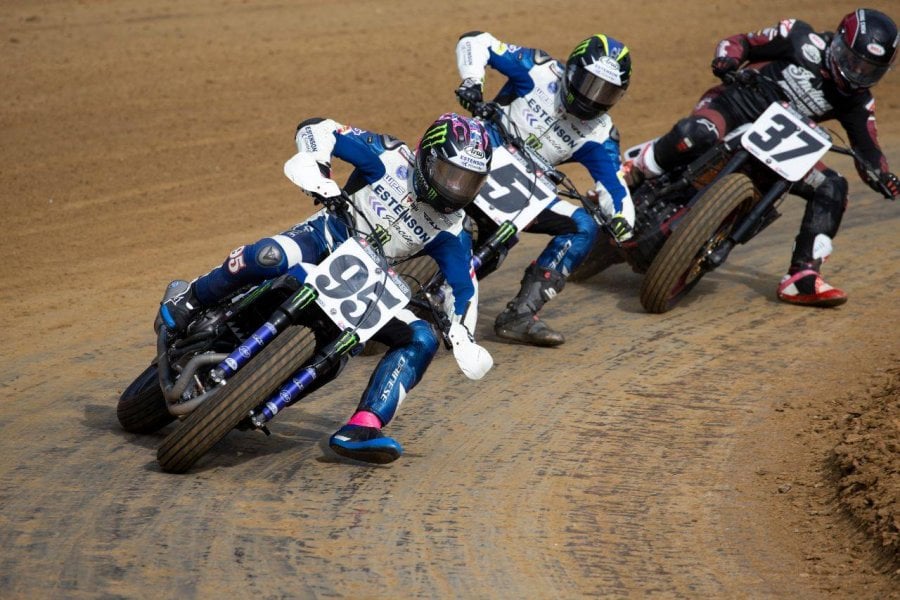 "It's evolved a lot," Hayden said. "The biggest thing this year is we really increased our level of sophistication on everything we're doing as far as the measuring of the motorcycle, all of the data collection, all the geometry software, the way we're dynoing the engines and our ability to now rapid prototype development parts inhouse. As a team I feel like we have advanced a lot in the way that we are working together as a group and in our discipline with our much more structured workflow process. I feel like we have a lot more accurate documentation of everything that's going on, every change we make, every part we develop."
The guy who has already won a couple races on it – JD Beach - has noticed the improvements even without turning a wheel on a racetrack yet with Covid-19 postponing the start to the 2020 season. "I think throughout the year last year we definitely learned a lot about the bike, but made some mistakes as well. So going into this winter we had a lot better plan and a lot more time with the bike. It went from a bike where I was almost dreading to ride each weekend because we knew it wasn't getting better, to a bike that was a lot of fun to ride."
As for Tim Estenson, his plan is simple: "This is my love, my passion. It's what I want to do. I want to win and win consistently on a Yamaha product."
If you want to have a look at last year's Super TT, you can find it here at this link to the American Flat Track Facebook page.