What level are Ducati at? To get an idea, it's not enough to look at the fastest laps, where in Qatar Bagnaia and Zarco went better than the factory riders. A single lap is worth little, it is consistency in the race that makes the difference and both Dovizoso and Petrucci worked on this aspect. They both returning to the pits satisfied.
"We are fast, I am talking about the race pace, but it's not only us, the Yamaha and Suzuki are very fast – was Andrea's first consideration - We will only be able to see the details, however, during the GP weekend; lapping alone, in the tests, gives you an idea of ​​how to get the right set-up but the last details can only be discovered in the race. I am trying to work as hard as possible and today I have done many consecutive laps to understand how the tyres behave over the distance".
Looks good, but Dovi doesn't want to get too far ahead of himself...
"My ideas are a bit clearer now, but I find it hard to understand exactly what my level is for the race - he underlined - I have no particular problems to solve, but I don't know if the speed we have is enough to stay up front. With these tyres, which have more grip, and with the good track conditions we have found, everyone is ultra-fast and normally in the race this doesn't happen. It is pointless to think about it too much, better to focus on our work".
What can we expect from 2020?
"I would like it to be our year, but I see our opponents are competitive - continued the man from Forlì - It will be tough, but it will be tough for everyone because when there are so many riders who can fight for the race wins and the championship, anything can happen. We are all fast right now; I feel like there are too many of us."
Of course, he doesn't ignore Marquez in the group of favourites, despite the Spaniard being below-par in these tests.
"Marc dominated last year, so even if he goes worse – is Dovi's consideration – he'll still be there. How strong he will be, will be difficult to say, from the outside you can't understand certain things. They are certainly suffering with the new Michelins, but so are we".
This makes it difficult to understand how much the GP20 is an improvement on the 2019 bike.
"The tyres are different, so it is difficult to make a comparison, but above all the important thing is the comparison with your rivals; you might also make progress, but if the others have done more it changes little. Certainly, some small improvements have been made, but we're talking about detail finishing. There have been no big changes, the characteristics of the Desmosedici are the same, just like the way to ride it. You get confirmation of this when a rider arrives from another bike, like Zarco, and the comments are always the same".
Before leaving us, Andrea joked about the crashes at Sepang and Losail, strange for someone like him who makes very few mistakes.
"Usually I crash 4 or 5 times throughout the season, so I'm trying to do them all in the tests to avoid them in the race - he laughed - Seriously, they were all caused by small errors, nothing to worry about."
Finally, he was a bit clearer on the system that varies the Desmosedici's set-up in acceleration: "Using it in the race can be complicated, but it depends on many things" was his only comment.
Danilo Petrucci: "Happy with the pace, but I can't improve the set-up"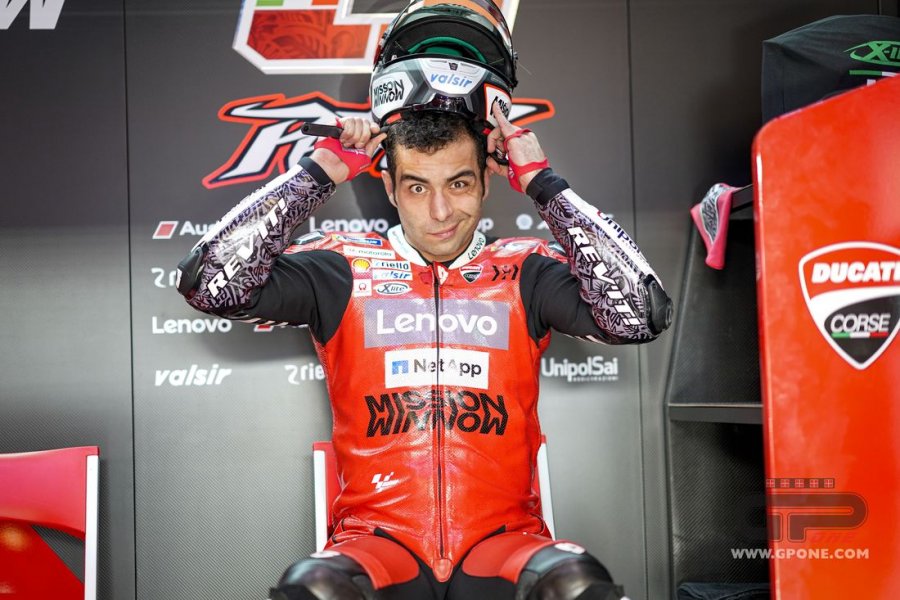 Danilo Petrucci also worked on the pace; in fact, he didn't even fit a soft tyre. The track gave him good indications but there is still some work to be done to adapt the Ducati to the new Michelins.
"Today was a little bit better, especially with race pace – began the man from Terni – I decided to do a long run of half race distance and, despite not having new tyres, I managed to keep a pace of 1'55" low, which is not bad even if it is not the fastest. The Suzukis and Yamahas are faster, especially Vinales who managed to lap in 1'54". Anyway, I'm happy, I didn't go for a fast time in the end, also because after 7 pm there is humidity and there was no point in doing it."
Danilo was unable to say whether or not progress has been made with the GP20.
"Having changed the rear tyre, it's difficult to say - he explained - Last year we were a little better, or maybe it was the others who were worse off. Now there are many bikes that have been doing well with this tyre and we are improving. Surely the GP20 is not a revolution but an evolution, a year ago I was struggling less but now I am lapping faster, the guys in front are wringing our necks".
To get a better idea, Petrucci will join forces with Dovizioso tomorrow.
"I believe that tomorrow we will do a simulation together - he said - Today Andrea made a comparison between the soft and medium tyres, while I used the medium for my half race simulation, but tomorrow I could try another one. Today the medium tyre was consistent, but I would like to understand how the soft tyre behaves because we could use it in the race".
A few things on the bike also need to be sorted.
"I still have some doubts about the set-up and tomorrow I will try and make some changes, the new tyre may require something different - he concluded - Today I tried something but nothing that gave an improvement, this is the negative point of the day".
Audio recording by Marco Caregnato