They say that riders fall into two broad categories: there are those who have fallen and those who have yet to fall. There's little to joke about. A bike is a magnificent vehicle that gives you a whole lot of adrenaline but which has a marked tendency to fall rather than remain standing. This natural characteristic is emphasized even more when you try to push it to its extreme limit, when you try to squeeze every single drop of performance out of it.
Riders of any category know this perfectly well, those who obviously don't use bikes for pure personal reasons, like any amateur would do, but those that have the precise objective of constantly beating the stopwatch, simply reaching their maximum limit. Yet, reaching your limit often means crossing the limit and watching the bikes fall into the ride-off area. When this happens, the first thought that comes to mind is the mechanic's thoughts. Have the fairings been damaged? Do I have to throw my new carbon terminal away? Is the tank ruined? Often a motorcycle rider who has fallen asks himself these questions before even realizing that he has done more or less harm after the fall.
Professional riders don't ask themselves these questions, especially if they race in an extreme category like the MotoGP where falls are considered in the budget. Yet, within the team, there are always those who do think how steep the costs will be during a race when the bike stops tumbling in the sand and is ready to be repaired. And usually we talk about a really impressive sum, especially if the fall occurred at a high speed and the bike in question was unfortunate enough to start pirouetting in the air, with its front and rear repeatedly suffering blows before stopping in the gravel, lifeless.
Christophe Bourguignon is the technician who looks after Cal Crutchlow's bikes on the LCR team, and we're talking about a Honda RCV that certainly needs no introduction. It's a 100% official bike, which has the same specifications and the same technology as Marc Marquez's, with all that follows, both positive and negative. Crutchlow is known to be a pretty good stuntman, and the difficult harmony he as with the RCV in the 2019 version has not made things easier.
Bourgignon explained in detail how much this habit of Cal's can cost the team, which they fortunately forgive him, thanks to his speed.
"We rent these bikes, but the cost of development and the cost of the HRC engineers who follow us are obviously included in the price. In total, we're talking about 2 million Euros for Cal's two bikes, which also includes some software. Then we have HRC technicians who follow us at each race, and that's also part of the price. It's a complete package. It might seem like a lot of money, but there are a lot of human resources involved."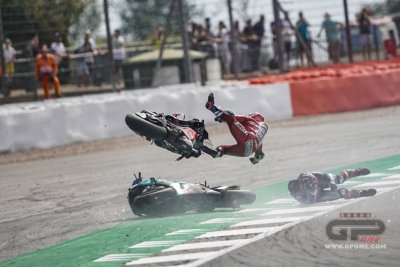 Having clarified the figures we're talking about in a general sense, we can move on to assessing the cost of a single fall, which obviously changes a lot in relation to the components that are involved and which will require a replacement or repair after the fall.
"A fall with a MotoGP can cost between 15,000 and 100,000 Euros. A 2,000 Euros fall simply does not exist in the MotoGP. If we're lucky, after a fall, all we have to do is change a few pieces that we have in stock in our balance and move on. But a big accident, or even a couple of smaller consecutive falls, can immediately get you into trouble. For example, we only have 5 gas tanks in stock. The same thing for exhausts or radiators. We have some to use during practice and then during the race. During a weekend, you can have a couple of bad falls and, when it happens, you're very close to having a problem. If I order a part from HRC, there's a minimum production and delivery time, and it can take up to 5 or 6 weeks to have everything ready."
The dynamics of the MotoGP vehicle doesn't help. In fact, they're fast motorcycles, damn fast, and they're also heavy. Falls can become nightmares.
"The bikes with which these guys race are heavy and very fast, that's why there is no small fall. If you close the front you'll, at the least, damage the fairing, the semi-handlebars, and many other carbon parts. Most of these things can be repaired and reused, but when you have an accident like ours in Australia in 2018, when we destroyed a frame and a swingarm, things are a little different. These's things are practically priceless."
Going forward in listing the costs of a fall makes the idea of what kind of nightmare it can be to have a rider in the garage with a marked tendency of falling. Think of the great Ruben Xaus or even Casey Stoner himself, who showed up at the paddock with the nickname "Rolling Stoner".
"A set of carbon brake discs costs about 10,000 Euros, and every time the motorcycle falls in the gravel, stones and gravel could ruin the discs. You can't risk sending a rider on the track on a bike that goes 300 km/h with broken brakes, so we always change them. If instead we move on to the magnesium rims, a set costs around 4,000 Euros. Since the Michelins are small and not very protective, we're often forced to change them, even for minor falls."
There are also other elements that can easily increase costs and increase a team manager's headache.
"It depends a lot on the manufacturer and the specifications, but a piece like a radiator can cost around 10,000 Euros. Then if we look at the front of the bike, there are electronic parts such as 2D instrumentation, which alone cost 2,500 Euros, then there's the control unit with all the sensors, and the bike is full of sensors. Here we're between 10,000 and 15,000 Euros, only for those. There isn't a single electronic part that costs less than 1,000 Euros."
But not everything is all fragile on a MotoGP. There are also elements that withstand huge impacts without problems and that last a long time before being replaced.
"Something solid does exist! Like the brake calipers, something that we change very rarely, and also the engine. Knock on wood, since we do have a limited number of engines but, from what I can remember, I never replaced an engine because of an accident. Evidently, it's well protected! Even after a bad accident, we had to change 90% of the parts, but not the engine."
Obviously, falls are unexpected events that increase ordinary work in the garage. The mechanics are able to rebuild the bike from scratch in a few hours, but doing it under pressure in a MotoGP garage is obviously different than doing the same in the factory, without the pressure.
"When the mechanics work on the bike, it seems easy, also because they work on it every day. It might seem as easy as having a coffee. They perfectly know the bike inside and out. Honda is known to be very easy for those who work there. I know that other bikes, the European ones, are a little more complicated for those who work there. We can easily change an engine in an hour and a half. If I tried to ask your mechanic, he'd look at you as if to say: 'are you crazy?'  But these guys do nothing but work on this bike from morning to night, from January until the end of the season!"