The Sachsenring weekend will be very special for Michelin, which will double its commitment on the track. In fact, the MotoE - the World Championship for electric bikes and for which the French tire manufacturer is the sole supplier - will debut alongside the MotoGP.
The Sassiona ring is a short (just over 3.6 km) and technical circuit that puts a strain on tires because it has 10 left-hand turns and only 3 right. This means the need to have durable tires on the left side capable of ensuring good performance even at non-optimal operating temperatures on the right, which is why both the front and rear in the MotoGP (in the classic three soft, medium, and hard compounds) will have an asymmetrical construction. In the event of rain, on the other hand, the rain tires (soft and medium compounds) will be asymmetrical only for the rear.
Moving on to the MotoE, the Energica Ego Corsas will have tires specially dedicated to them. The front (in a medium compound) is a rubber that derives from the MotoGp ones, while the rear (soft) is based on the tires used in the Superbike.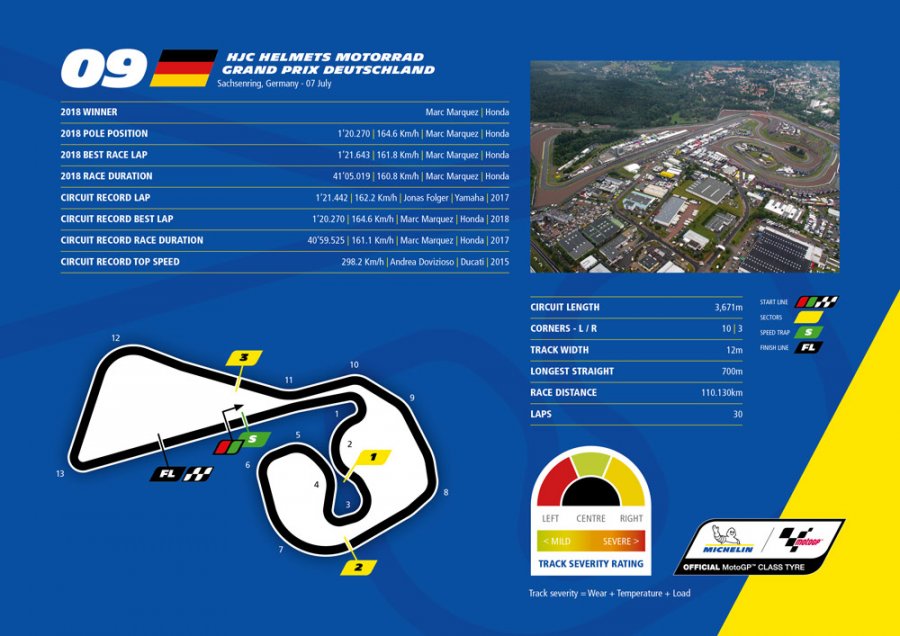 "This will be a very busy weekend for everyone in Michelin, since we have the first MotoE race along with the MotoGP," explained Michelin's manager Piero Taramasso." As for the MotoGP, we know the needs of this track. It's short, and it's also one of the slower ones of the year, but it's demanding on the left side of the tire. We'll bring a specific compound to Germany to cope with these characteristics and also the weather conditions. It's one of the tracks where you never know what to expect, and the weather changes quickly, so we need to have a range of tires that work in all conditions."
"It'll be very interesting to see the first MotoE race. We did a lot of tests and developed a range of tires specific for these bikes, so it's time we see them used in the race," continued Taramasso."Michelin is pleased to participate in this new challenge as a technological partner, since it has historically been engaged in projects that improve mobility and make it safer, less expensive, and more environmentally friendly for everyone. We see the MotoE as a perfect platform to allow Michelin to be involved with fully electric motorcycles on a world stage with great visibility."
Share