Yamaha is not having an easy time of it and, while there was a glimmer of hope during winter testing and the first races, Le Mans and Mugello definitely dampened the team's spirits. The M1 is struggling to keep pace with the competition and both Valentino and Vinales, after 6 races, are practically out of the championship fight. Massimo Meregalli, team manager of the factory squad, doesn't hide the difficulties but it also sure that they are on the right path.
Since 2004, there had always been at least one Yamaha on the podium at Mugello. Until last Sunday…
"i feel as if that race was a bump in the road. We expected to suffer in the final sector to our engine's lower power, but we thought we could defend ourselves in the mixed sections".
But what happened?
"On Sunday temperatures went up and this made for less grip. So our advantage mid-turn was reduced as we need grip to be fast through the corners. On Friday and Saturday, Vinales, Morbidelli and Quartararo were strong in the first three sectors before losing in the last, but the heat in the race cancelled out that advantages".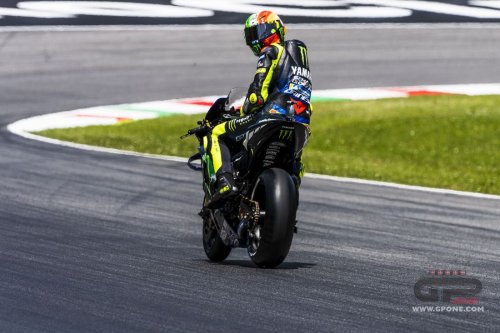 Things were worse for Rossi.
"unfortunately his weekend was compromised by the mistake in FP3 that denied him direct entry to Q2. It's difficult to catch up at Mugello from 18th, especially with the current level of performance in MotoGP. if he'd been further up the grid, he could have scored a result in line with that of Le Mans, so not a podium anyway".
How was Valentino after the race, is there a risk he'll get fed up if results fail to arrive?
"Ducati too, after losing Stoner, took several years to get back to being competitive. I am focusing only on finding the performance we need as soon as possible. Valentino is always the same in the garage - determined and keen to improve the bike, I've seen no change".
The first third of the championship is done and Ducati, Honda and Suzuki have all won at least one race, Yamaha none.
"We've missed the win, but we've scored two second places with Valentino in Argentina and Austin, and a pole in Qatar and a podium at Jerez with Maverick. We've also been able to improve, if not solve, the tyre durability issue. Unfortunately, due to the maximum engine power, the Ducati were already breaking away on exiting the last turn at Le Mans, and at Mugello it was even worse".
What does it mean to have this limitation?
"We knew we'd be dealing with this this season and sometimes we lose time trying to find the way to improve in other areas. We complicate things for ourselves in order to be as penalised as little as possible on the straight. But there are positive signs".
Which are?
"After two years in which we had mane problems, we now have a base on which to work, we're no longer turning the bike upside down from one race to the next. We also have a development plan, which had been missing in the recent past".
While Honda and Ducati continue to bring new elements, it appears Yamaha is somewhat stuck.
"Honda and Ducati have a solid base, we had to find that again by taking some steps back. It takes more than 3 months to turn a bike around, otherwise you risk losing reliability. With the current engine, we've solved the delivery, engine brake and tyre consumption issue, but we've had to lose a few horsepower".
Engine development is banned during the season.
"Yes but in the test after Brno and then at Misano in August we'll test a 2020 prototype, engine included. The aim is to find greater power without compromising the rideability".
Will it be a revolution, a V4 perhaps?
"No, not at all. You know us (he smiles)".
How is team Petronas helping you? Some see Quartararo as a thorn in the side of your team.
"On the contrary, Fabio is great and his riding style perfectly suits the M1. we can no longer consider him a surprise and only external factors have prevented him from achieving significant race results. he and Morbidelli are also riding very similar bikes to those of Rossi and Vinales. I can't go into details, but can say they are 90% the same. This is good for both teams, as data is shared and that's helpful for development".
What is the mood as you head to the Barcelona race?
"With the desire to fight back and aware that it will be another tough track for us with the long straight.  Assen and the Sachsenring will be better, but I remain positive".
Will we see something new during Monday's test?
"I know you want to see something new after the Mugello result, but we can't do much in a week. We will use the test to prepare for the important one at Brno".