As early as the Superpole session, Elias was anxious to remove the disappointment of the day before when he was penalized by a technical problem with his Suzuki.
On the other hand, on Saturday the GSX-R worked great, letting the Spaniard take the first spot on the starting grid at Elkhart Lake, a track with plenty of places to pass.
Well aware of how strong his rivals were, the former Moto2 and MotoAmerica champ rode a race all on the attack, battling with the "usual" Beaubier, Gerloff, Herrin and Scholtz. After passes and close-quarters fighting, that was the finishing order, with Elias first - for the twenty-eighth time in the USA - tying Texan Ben Spies for fifth on the all-time list. Like Toni, Ben was also victorious astride a factory Suzuki.
There was no lack of close calls and maneuvers at the limit all the way to the end. Elias and teammate Herrin nearly clashed in the crucial stage of the race, with Herrin visibly upset with Toni at the end: "We finished the race and he was super mad at me - the race winner said afterward - You can understand if someone is mad with a good reason, but the reason was we were doing the same thing and we were playing the same game. If you are frustrated because I pass you and you ran wide, I ran wide too, but it's the last lap and we brake as we could. I didn't want to make him do a wide line or lose some positions. I'm sorry about that, but I can't accept the way he come to me and start yelling like this. Hey, man, calm down. We didn't even touch. Nobody went to the ground. Nobody ran off the track. But we did a good job as teammates". After the heated exchange, the Spaniard dedicated his victory to his late countryman, Luis Salom.
Although also Californian like Herrin, Beaubier was a bit more mild-mannered than Josh: "It was tough today - the champ commented - To be honest, at the beginning I was not comfortable at all. It is a little bit of a bummer just because I love this track and my bike works good here. Hats off to these guys (Elias and Gerloff). I'm ready to go tomorrow."
On the third step of the podium, Garrett Gerloff kept his nose out of the debate between Elias, Herrin and Beaubier… for now.
Scholtz finished fifth on his Westby R1 ahead of countryman, Cameron Petersen. JD Beach did not shine quite as brightly as usual, BMW was eighth with Gagne ahead of Anthony's Kawasaki. Wyman was unable to finish on his Ducati with Marelli racing electronics.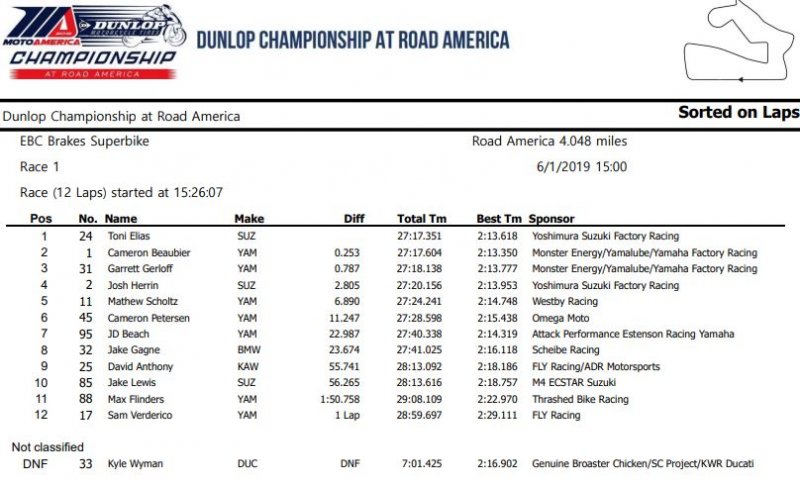 Share