Yamaha has always been a company that moves in small steps, the word 'evolution' proving more important than 'revolution'. This is also clear with the M1, a bike that has developed over the years but that has never lost its basic principles. Following the difficulties of 2018 though, a U-turn was required and something has changed.
Particularly in the company's internal organisation, the Racing Department now benefiting from a new general manager, Hiroshi Ito, and a new group leader, Takairo Sumi, a sign that the firm is keen to take on new paths. The Japanese also wants to give greater weight to the engineers at the Italian base, who take care of vehicle electronics and dynamics.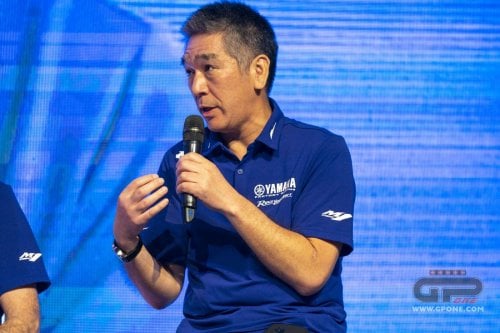 During the presentation, the word 'aggression came up, but what does this really mean? "It means broadening our horizons, having greater collaboration between the various departments. For Yamaha this is a real revolution" explains Kouichi Tsuji, president of Yamaha Racing.
The engineer leads the MotoGP project and it is he who, with Japanese typical reserve, drip feeds information about the new elements.
"For the Sepang test, the riders will have just one engine as a base, but with different parts to evaluate. By the end of the three days we'll decide which specification to homologate for the season" Tsuji states cryptically, very careful not to reveal his cards.
One thing is certain though: the Yamaha will never mount a V4 engine, like Honda and Ducati.
"For me, there's not a great difference between that architecture and the inline four cylinder that we use - he explains - Anyway, we did try to come up with a V4 when entering MotoGP, but then didn't take it any further".
The Iwata manufacturer is also working hard in the production-derived series but the Japanese engineers insists this will take investment or attention away from MotoGP.
"The SBK is a Yamaha Europe project, we are not very involved and the priority remains MotoGP" he confirms.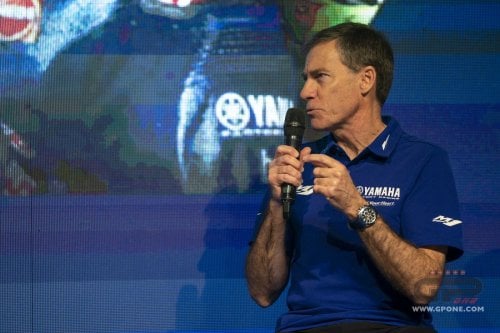 Managing director Lin Jarvis, more talkative than the Japanese boss, continues to talk about the changes Yamaha is seeing.
"I think the most important thing is that we finished the season in a much stronger way than we started. This left us optimistic and gave us some confidence".
Jarvis knows that all eyes will be on the blue (and black) garage in the coming days in Malaysia, and he doesn't deny the importance of the upcoming tests.
"The Sepang test is very important, crucial, to confirm whether we are moving in the right direction - he underlines - In addition, we soon have to decide which engine specification we will use for the season. We are keen to begin these tests and find out where we are. We need to be realistic".
The fans are also very interested.
"There won't be any radical changes to what you've already seen at Valencia - he explains - We've focused on find-tuning the engine specs that they have tested already, and at Sepang Rossi and Vinales will evaluate the changes made. There's no revolution".
During the team presentation, Valentino underlines how tyre management has become the key to a winning project.
"As of last year, one person on the team focuses solely on tyres, and we'll continue in this way. The electronics are also very important here, I can't say how we will work with Michelin but we need to understand how best to manage the tyres ".
It's an odd time for Yamaha, how would you describe it?
"I think the best term to use is 'reset' - he replies - We know we need to be more aggressive and also make us of external collaborations, the important thing that the groups all work closely together. Sumi was responsible for the M1 frame and has worked in close contact with Tsuya, he cares about team work and this gives me confidence. He recognises the importance of every element and the importance of team work, I think this was the biggest change needed".
As well as building on Italo-Japanese relations, so to speak, the Gerno di Lesmo base in Italy now having greater responsibility in the development of the M1.
"'interaction between Europe and Japan will be important, the engineers in Italy will have greater responsibility. We will also have a test team that we didn't have before, so many improvements but basically we will all work together".
Yamaha has selected Folger as a test rider. The German is young and knows the M1, the question is whether we'll see him compete in some GPs, as other test riders sometimes do.
"For now, there are no plans for Folger to wildcard - states Jarvis - His priority is testing, if something changes we'll talk again later in the season. I think he needs to concentrate on testing and not racing, for example Smith will race in 5 and that seems too much to me. Jonas has been out of the game for a year and needs to get back into the rhythm, if competing in one race might assist him in this process, then we can talk about it".
Lastly, there is mention of the new satellite structure.
"The Petronas team can help us, Morbidelli will have a bike similar to the factory machine and has a good relationship with Valentino, I think he'll be fast, while Quartararo will need some time. Working with them are Forcada and Zeelenberg, who we know well. There will be a good exchange of information" he concludes.
Interview by Paolo Scalera