The Red Bull Honda team is all set for the Laguna Seca race weekend, during which Leon Camier and Jake Gagne will do their best to hinder the Kawasaki, Ducati and Yamaha riders.
The Brit started the season with the kind of speed that saw him battling with the best, but then the Aragon incident penalised both him, forced to miss races, and the Dutch team managed by Ten Kate, obliged to make substitutions.
The Fireblade SP2 is not far from the podium positions and can count on updates made to the frame and electronic management; Camier is feeling confident, having raced at Laguna several times in the past: "it's quite a challenging circuit but it is really cool to ride, probably one of my favourites so I'm looking forward to getting started on Friday. At this track it's really important to have a good feeling with the bike there's some developments we've made on the chassis side that I think will help me on the Fireblade this weekend. Physically I'm feeling better, my shoulders and ribs have come on a lot so now we need to get out there and see if we can close the gap to the guys at the front."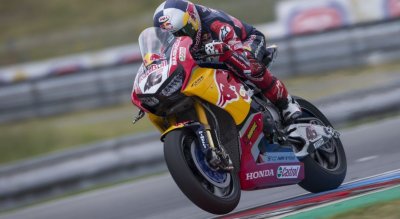 For Jacob Gagne, Laguna Seca is truly his home track; the Californian was born in San Diego and knows the Corkscrew like the back of his hand. As well as having trained at the track, #45 has competed in various national series in the past, including MotoAmerica in 2017 with Honda USA: "I'm really stoked to get on the Fireblade at Laguna Seca. It will be a really special weekend racing on home turf and at a track I've had such great memories. One year ago at Laguna was my first ride with the Red Bull Honda World Superbike Team, it will be really nice already having ridden Laguna Seca and having some good data to build on. We've been making some definitive progress the last few weekends so I think it's time to make another good step up and put it all together."
Share