Before heading off on holiday, the entire KTM team were out on track at Aragon for a two-day test. The factory riders Pol Espargarò and Bradley Smith were joined by test rider Mika Kallio and also a MotoGP rookie.
Miguel Oliveira (in action in the photo), who is racing for the Austrian manufacturer in Moto2, had the chance to ride the RC16 for the first time.
"The goal was not that I was to get really fast but it was a test for myself to enjoy the day - commented the Portuguese rider - I had this opportunity that I think every rider would like to have in his career at least one time but I'm really pleased to have had the chance to try that bike. So all in all it was a very good day to do a few laps and enjoy a MotoGP bike. Thank you KTM."
While Miguel concentrated on enjoying himself, the riders and test rider worked to develop the RC16. With good weather and 35° temperatures at Aragon, they were able to make the most of the two days.
The only setback was a small crash for Pol on Friday, caused by cold tyres. "I've tested a huge number of things thanks to the guys in Austria who've worked on the development of the bike enabling us to test different parts. I'm happy with everything as we have done a very good job."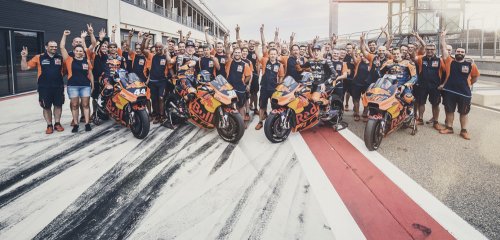 Smith also underlined the race department's efforts: "we touched on some really important points in our weakest area so from that point of view we are super happy with that work and direction. We ended up being very busy with a great deal of laps to confirm everything, but I really feel this will give the team good direction for the second half of the season, and for 2018 as well, so although we may not see the big picture right now, we will see it in the future. Aragon has been pretty good; the bike seems to work well here so I'm quite looking forward to coming back here at the end of September but there's still an endless list of things we need to do with this project."

Kallio was able to use the new frame that the factory riders have been using for a couple of races and he also prepared for his upcoming wildcard appearance at the Austrian GP in August.
Some final words from technical director Sebastian Risse: "on the one hand we had new ideas, and on the other we had a very long and intense hardware programme on the chassis side of things . We can be happy as we begin the summer break because we've found some stuff that really affected bike behaviour in a positive way. We still have to find out how to put it all together and make it work on another track so let's not be too optimistic, but either way it couldn't have gone much better here so now we go home with a very good feeling."
KTM will also carry out some tests in the wind tunnel as it prepares for the second part of the season.
Share