It is a historic Sunday at Le Mans for the Japanese Manufacturer. At the Bugatti Circuit Yamaha celebrates victory number 500 in its history, thanks to the success of Maverick Viñales. A strong performance by the Spanish rider, capable of winning the head-to-head with Rossi and finishing on the top step of the podium.
For the Japanese team, it all began way back in 1963, with the triumph of Japanese rider Fumio Ito at Spa astride the RD56. From then on, the wins followed uninterrupted in the various categories: 47 in 125, 165 in 250, 63 in 350, 120 in the legendary 500 and finally the 105 in MotoGP.
The most victorious rider in the history of the Japanese Manufacturer is Valentino Rossi, who boasts no less than 55 wins thus far. At Le Mans the Doctor had dreamed big, but that crash on the last lap extinguished his ambitions, but more than that, it sent an all-blue podium up in smoke.
In these special standings, Jorge Lorenzo follows him with 44 wins ahead of Phil Read with 39 and Eddie Lawson with 26. The Californian boasts two wins more than Wayne Rainey and Kenny Roberts, whereas Bill Ivy has 21, two more than Carlos Lavado. The Doctor is not the only most victorious Italian rider. Who can forget the thirteen wins by Luca Cadalora and the twelve brought home by Giacomo Agostini?
The numbers speak clearly and Maverick Viñales has already shown that he wants to write a page in the history of the Japanese team. In five races, he has finished on the top step of the podium an impressive three times, in other words, 60% of the races he has ridden astride the M1. Not too shabby for someone leading the championship standings in his first year on the bike.
In celebration of the 500 victories in the Manufacturer's 56th year of World Grand Prix Motorcycle Racing, Yamaha has created a website where you can relive the great undertakings of the past through videos and photos.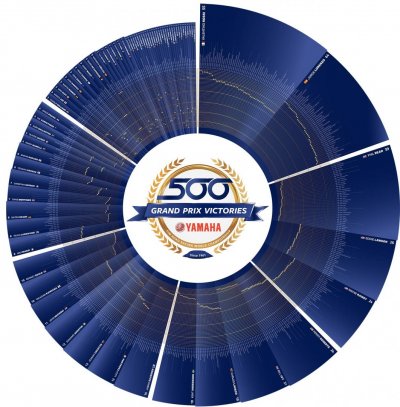 Share