Two world titles in Moto2, with 15 wins and 30 podiums to his name, all celebrated with his iconic backflip. After joining MotoGP, with Yamaha, in 2017 Johann Zarco immediately stood out, but without ever really exploding. Then there was the unfortunate move to KTM - Honda wanted him, his manager almost forced him to Mattighofen - the brief experience with Cecchinello's RC213V and finally the move to Ducati in 2020 thanks to the direct involvement of Gigi Dall'Igna.
From there, the French rider's career picked up again, but victory in the premier class has eluded him so far and has not arrived despite 15 podiums, 8 poles and 7 fastest laps. Today Johann, third in the world championship and best Ducati rider, will start from pole and has promised a backflip "even if I am no longer trained to do so".
In his corner is Marco Rigamonti, an experienced crew chief who has assisted, among others, Andrea Iannone and Max Biaggi. So who better to talk to us about the Frenchman.
"As a person Johann is very timid and has a hard time expressing his feelings. He also struggles to make you understand what he needs. He has been used to asking little and questioning himself. A positive thing because it's nice that a rider adapts, but as you become more competitive it is important to tailor the bike around you. This was a limitation in his growth, he has always adapted. Now we are understanding what he needs and when he expresses some unease it is easier thanks to experience, to understand it ".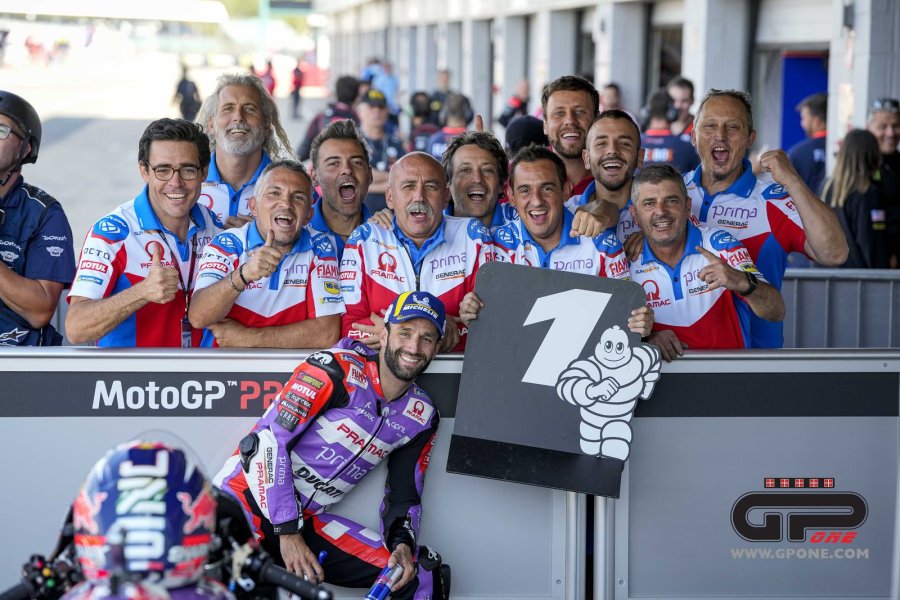 The main characteristic of him as a racer?
"At Ducati we call him the traction king, he knows how to use the rear tire very well, he always finds a lot of grip. At the beginning he was lacking in braking, but this year he made a good step forward, he still has to work in that area, but in managing the gas he is very good and in fact here at Silverstone he is doing very well".
What kind of set-up does he prefer? Is it more Marquez or more Stoner?
"In the set-up of the bike a lot of ideas come from the crew chief. We always try not to take too divergent paths, because if you go wrong, the doubts begin. I divide riders into two categories: there are those who do everything with the front and those who ride with the rear wheel. Johann rides with the rear. He never complains about the front, he is very focused on the grip behind ".
A bit like Stoner, who said that when you get the bike sideways you can't do a high-side because it slides?
" Yes, that's it. It's true. Johann doesn't do it when entering but exiting the corners, which is good and bad because if there is little grip he suffers more. The search for the set-up automatically moves to the rear ".
So a lot like Roberts and Spencer, too bad he is underrated. Everyone talks about everyone else except him.
"Zarco underrated? Maybe the lack of a win means that there is no spotlight on him. Seeing what he is like in life, instead of taking a longer step, he takes a shorter one. He keeps a margin not because of a fear of crashing but for not making mistakes. And that's what has led him to be third in the standings. He is focused on that ".
Exactly the opposite of another of your riders, like Andrea Iannone?
"With Johann, thanks to his character, sometimes it is I who push him to take risks, not in terms of riding as much as 'let's try to do this', so that he gets to question himself. He is reluctant to ask you for changes. However, it is not fair to always ask the rider. The rider must give 100%, but we must also get to question our work ".
How do you get on working with him? Do you first tell him the changes you make and what to expect?
"I never tell him what I have done on the bike, I just tell him I made a change in front or behind. To try to find grip or improve the feeling in front. I don't want him to be influenced by past experiences. He knows that if he puts in a harder spring he brakes harder but the wheel in front of him locks up, it's a matter of feeling, he stays focused on certain aspects and reports other information, so I always try to avoid that ".


Let's talk about the riders you worked with in the past, let's start with Iannone.
"I remember a GP at Assen in his early years with Ducati, when the situation was difficult, it was 2013 or maybe 2014. Our performances were really bad and Andrea told me that at Turn 7, the fast one on the left, he was really at the limit. But I saw that other riders came in stronger and I told him to try because we couldn't do more, he had to be the one to make the difference. He entered the track, he crashed in that corner and when he returned to the pits he told me: 'I told you I was at the limit'. This episode demonstrates that he is a rider who always tries to put in his own. In other situations, he is exactly the opposite of Johann ".
For instance?
"Zarco is very timid, while Iannone if he had something to tell you he would. We knew each other well and we knew how he and I would react, so we were able to work well ".
Speaking of 'difficult' riders, what about Biaggi?
"He was my first rider, in 2008, I was a rookie and he was more than an expert. I knew I had to manage the situation, but also to learn from him, in fact it was Max who decided, for example, the tire tests. I met him in a particular moment of his career, Honda had left him without a ride in MotoGP and then Suzuki in SBK, he was already a mature guy and, honestly, I got on well with him. He was not the rider they had told me about, the one who threw a moped against the hospitality, he was another person. He was still a rider who wanted to win, I remember well that he was fussy about everything, but that's a positive feature. Of course, when things didn't go well, then it was difficult: I got to know the stress of the races with him ".
Biaggi recently spoke about an episode in SBK, with Ducati, when they took some revs off his bike. How did it go?
"Before the season, we had 3 days of private testing and 3 other official tests at Phillip Island and Max had been very strong. At the second race, in Australia, there was a problem that had affected that race weekend and a bit throughout the whole season: before Superpole the gear lever had broken, so he started 16th. After 5 or 6 laps he recovered to 2nd place and then crashed. In Race 2 he worked his way back up even faster and when he was 3rd, behind Nieto, at the braking point for the first corner, perhaps also sucked into the slipstream, he did not stop and had a big crash, breaking his wrist. The season had started badly, but he had been strong ".
And then?
"After the first two races, checking the engines, we realized we had problems with the distribution. What Max said is true, we had reduced the revs to avoid breakages: the rockers were damaged, the timing was out of phase and the valves cracked. In those years, development was concentrated on MotoGP, so it took some time to solve the problem. It seems to me that by mid-season we had already returned to normal, being able to use all the revs ".
Did this happen to all the Ducatis?
"Of course. Reading what Max wrote it seems that we only did it on his bike, but it was the same for all the riders. "