"If I do end up riding this weekend, it will be an uphill battle not knowing the bike, tyres, brakes, etc. Also, I have never been to the Valencia track before. But I'm confident in myself and ready for the challenge! Thanks to all at Yamaha". Speaking is Garrett Gerloff, a US talent who arrived in the Superbike paddock from MotoAmerica at the start of 2020, who was chosen by Yamaha as a standby rider for Valentino Rossi at the European GP. Let's take a step backwards: who is Gerloff?
Let's start from the recent past, that is, from the last SBK season. The Texan, born in 1995 (Gerloff is originally from Spring, near Houston), had made his "official" debut in the Aragon tests at the beginning of November 2019 and then the double tests at Jerez between the end of November 2019 and January 2020. At Jerez we crossed paths for the first time and what seemed to us in the course of the usual interviews and "paddock chat" was to have in front of us an American guy with a marked sense of humility, but with a lot of confidence in his own potential and above all very attached to the US heroes of the past. "Wayne Rainey, Colin Edwards, Nicky Hayden, Ben Spies, they are my heroes. I feel different to them but I saw them race, make their dreams come true and win. One day I would like to be one of these names" he told us in his first interview with GPOne.
Garrett comes, as mentioned, from MotoAmerica where he won the Supersport championship twice and picked up four race wins in the SBK category, ending his rookie year in 5th position and 2019 in 3rd. That led to promotion to the world championship, a very drastic change for an American rider who had never been to the tracks of the Old Continent, the only ones, besides Australia, to be part of a SBK 2020 calendar obviously conditioned by Covid. Apart from the first weekend at Phillip Island, which started with a 14th place finish and ended up in hospital after a bad crash, Garrett needed a few summer weekends to dial in and settle down, until his talent quite literally exploded in the latter part of the season.
A podium at Barcelona, ​​followed by positive but unfortunate performances at Magny-Cours and third and second place at Estoril, was the definitive confirmation of Gerloff's potential, so much so that Yamaha hesitated about the choice of Toprak Razgatlioglu's teammate. Everything seemed to have been sorted between the official team and Andrea Locatelli, who had an incredible season in Supersport with the Bardhal Evan Bros team, but Gerloff's good run of form slowed down the confirmation, which arrived only on the eve of the last round at Estoril.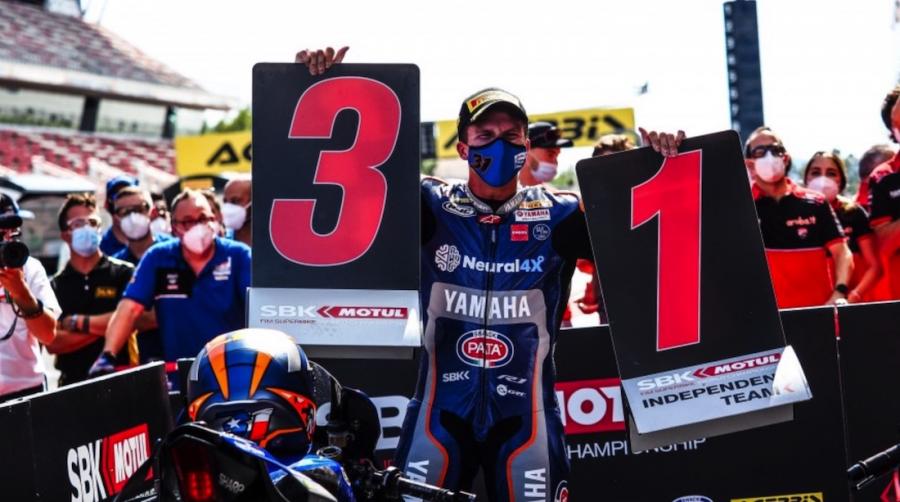 In fact, Garrett already in July, just after the confirmation of the agreement between Van der Mark and BMW, told us that his chances of joining the official team for 2021 would be close to "zero", a very unusual behaviour for a rider. Gerloff, however, is humble and aware of his potential: "The important thing for me is to continue learning and achieving results - he told us - My goal is to race for the official team and I will do everything to succeed but I don't think I have many chances to take the place of vdMark. I hope that when I am more ready they will take a second look at me ".
We know for sure that Yamaha had another look again this year and, maybe the opportunity to ride a Yamaha MotoGP in a race weekend, a privilege never even granted in a test (for now) to Toprak Razgatlioglu, is synonymous with the great trust that the Iwata manufacturer places in the talent of the Texan. If Valentino Rossi's swab is still positive, Garrett Gerloff will be there on Friday riding the M1 of #46 to fight for what could also be the opportunity of a lifetime. The only regret for Gerloff, always in the case he gets on the track, will be not being able to compete with Valentino and Marc Marquez, his favourite rider for the way he rides the bike and his winning mentality.