During the weekend of victories for Scott Redding and Jonathan Rea in Superbike and the domination of Andrea Locatelli in Supersport 600 there were also the first races of the season for the Supersport 300 category which got underway at Jerez. This year there is a new two-race format like the 600, and the wins went to Orradre and Sofoglu.
Race 1
In the debut race of the season, it was Unai Orradre who over the 10 laps got the better of the experienced world championship rider Booth-Amos. Third position for Deroue ahead of Okaya and Brianti, the best of the Italians. Sixth place went to Bahattin Sofuoglu, Kenan's nephew who preceded Ana Carrasco, 2018 champion and who had started the last lap in second place. During the final kilometres of the race, however, a contact forced Ana to take a Long Lap Penalty losing important positions and she finished her seasonal debut race off the podium. Eighth position for Sabatucci with Diaz and Kalinin wrapping up the top 10.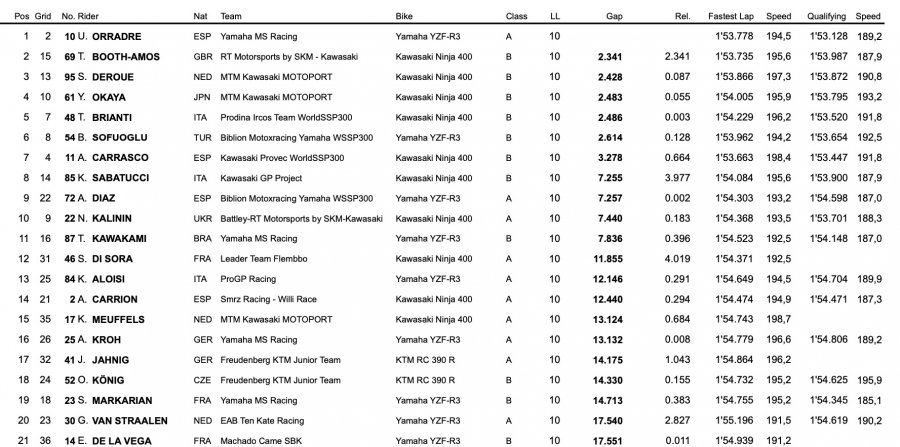 Race 2
Sunday saw the first victory for Bahattin Sofuoglu who preceded De Cancellis, then penalized by 5 seconds for exceeding the limits of the track just like Buis. Ana Carrasco climbed onto the second step of the podium after a solid race in which she finished 161 thousandths from the winner. Third position for Booth-Amos ahead of Deroue and Kawakami with Orradre sixth ahead of Ieraci (the best Italian rider), Kalinin and Brianti. Tenth place for the penalized De Cancellis.
 

The championship standings
After this weekend of races, Booth-Amos leads the overall classification with 36 points, but Sofuoglu and Orradre are just one point behind him, with Carrasco fourth on 29 points equal with Deroue.

Share