At least they have one Grand Prix behind them. It is not much, not very much at all, but at least it's a start, albeit not enough to provide an indication of how the Moto2 season will unfold this year.
After all, Moto2 has always been a bit of a strange category: created in 2010 to take the place of the legendary 250, except for Marc Marquez and, in part, Johann Zarco and Fabio Quartararo, it hasn't exactly produced a slew of champions.
It's true, especially in recent years, that it has thrown up – in Italians Franco Morbidelli and Francesco Bagnaia – a couple of good riders, but they too, with all due respect, have yet to prove their calibre, while Toni Elias, Stefan Bradl, Pol Espargarò, Tito Rabat so far cannot be categorized as anything other than just 'decent riders'.
Moto2: so far only Marc Marquez has gone into MotoGP and won titles
Could this year be any different? To be honest, we don't see how it will be. The trend is always the same: the best, or those reckoned to be, immediately move up into the premier class - with the sole exception of Zarco who won for two consecutive seasons - so once again in 2020 the class will do without its world champion, Alex Marquez, who stepped into MotoGP alongside his brother without exactly wreaking havoc, agonistically speaking.
Of those riders who went from Moto2 to MotoGP (apart from MM93) only Elias has ever won a GP
The numbers speak for themselves: of the Moto2 riders who have made the Big Leap only one, Toni Elias (who then became world champion when he arrived after MotoGP), won a Grand Prix in MotoGP - in 2006 in Portugal - and we all remember that it was a choice of tyres that allowed him that historic success over Valentino Rossi.
The rest of the gang has very little to show for themselves: Bradl and Pol Espargarò a podium, Zarco six. No wins.
Boscoscuro: Moto2 is one of the most difficult categories of them all
 "In my opinion, however, Moto2 is one of the most difficult categories of them all - observed Luca Boscoscuro, owner of Speed ​​Up and a good rider himself: two sixth places in 250cc in 1996, with a private Aprilia, but above all an excellent talent scout – the one in Qatar was a difficult race to evaluate. The win went to Nagashima who last year set one pole but did nothing else in particular. The fact is that the season opener saw abnormal tyre wear, so it was a race of waiting. The win went to the rider who was able to wait the longest, because usually with times of just two-tenths between riders, anyone who makes a breakaway is rarely caught. However, everyone was aware of the situation, so the riders should have expected it."
Boscoscuro's two riders - Jorge Navarro and Fabio Di Giannantonio, 6th and 13th at the flag – didn't exactly get the results they could have.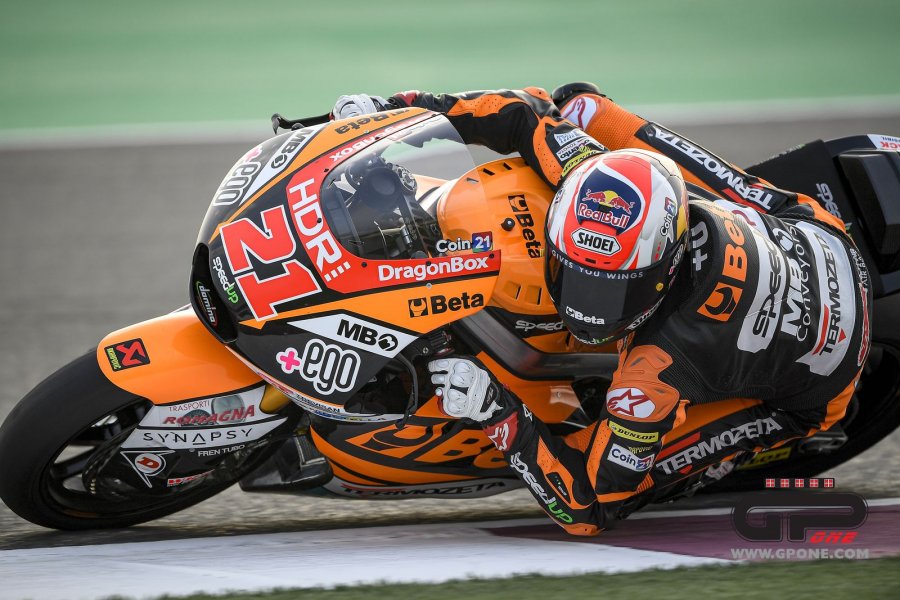 "Well, Fabio was unlucky to have a faulty tyre: it happens, nothing controversial there. This is racing, in practice he regularly lapped in 1m59s, that was his pace, while Jorge started too conservatively and ran too conservative a race".
Boscoscuro: "The Triumph is a nice engine; it has 20 more hp and great torque"
The Speed ​​Up, which is reckoned to be one of the best Moto2 bikes, has even improved with the Triumph engine.
"The Triumph is a nice engine. It has a good torque, and this matters a lot because as you can't do the gearbox it adapts to different riding styles. With a longer gear you can search for speed when cornering or, on the contrary, go right to the edge. Today you can use the engine to get you out of the corner, with the Honda it was impossible. And then it has 20 more hp and a good duration. With 30 engines around, I haven't seen any problems. Obviously, they have been prepared conservatively; they could deliver more power, but they have favoured reliability and equal engines for all. "
Twenty horsepower more, some electronics. Some observers say that this category prepares you better for the big jump into MotoGP.
Boscoscuro: "Only horsepower highlights talent. I don't like electronics"

"Of course, the power allows you to see the difference between the riders. Horsepower highlights talent. As you know, I am not entirely in favour of electronics: here it is the rider who has to adapt, who makes all the difference. And this becomes an advantage when you switch to MotoGP.
So, anyone who regrets the old 250 two-strokes is wrong?
"I repeat that the level in Moto2 is high. Rather, if there is a drop in talent, it is in Moto3 and this is because everyone, without distinction, immediately wants to leave the minimum engine capacity, with the result that newcomers don't have a benchmark".
Boscoscuro: "Roberts? He made a big leap forward: we need a fast American"
One surprise has come from youngster Joe Roberts; he might not be Kenny, but he was a surprise.
"It's true, he had never scored any results before: a 10th place in 2017 with a Kalex was his best finish. He has really made a big leap forward. It's all about psychological condition: many a talented rider…. if they are not managed well ... I am happy that an American is going strong. We need one. "
Boscoscuro: "When we had Quartararo, we could immediately see that he had talent"
You know something about that …. Fabio Quartararo.

"When Fabio came to us, at the end of 2018, we could immediately see that his talent was very high. Last year he did some great races, he only just missed out on the win but on several occasions, he fought it out with an extra-terrestrial like Marquez. Did I expect him to explode like this? Maybe not, but he had still started strong: front row in Qatar, fast also at Jerez. To go well in MotoGP, you need talent and he has a lot of talent ".
Unfortunately, the start of the world championship is still a long way away today, but the question we all ask is the same: can he improve even more? Can he be Marquez's true opponent?
Boscoscuro: "Fabio will continue to improve. He hasn't changed teams, and this will help him"
"He will certainly continue to improve. He hasn't changed teams; he will have the same men at his side who know how to put him at ease. When he came to us, he struggled because he was lacking in confidence and was under pressure, but he did a great job: he could have scored two wins, one he lost because of us. "
Based on your experience, also as a talent scout, what advice do you give to Moto2 riders?
 "To win in the category in which they race, before thinking about leaving it. Like Zarco who stayed there two years and then arrived in MotoGP with the right bike. Because there, there's no one who goes slowly. "
Boscoscuro: "I encourage Navarro and Giannantonio to win before thinking about MotoGP"
MotoGP is getting older: Rossi, Crutchlow, Dovizioso himself. There will soon be a generational change.
"My two riders are at an excellent level. Navarro must become confident and comfortable. 8 podiums and 4 poles say a lot about him and last year he was always in the top group, fighting for the win. Then there is Diggia. I encourage him to win races and to have faith in what he's got, because when you win a race everything changes. Take Fabio Quartararo: he exceeded my expectations. When he decided to go to MotoGP, I thought it was too early, but I still think that if he had won the world championship in Moto2 it would have been better for his career. This is why the advice I give to Fabio Di Giannantonio is to win. "
Boscoscuro: "The current calendar? Too many races at the end, so the world championship could be falsified"
How do you feel about waiting for the world championship to start, with a schedule that is perpetually being changed?
"Too many races at the end, moreover between one continent and another. If you break your finger at that stage, the world championship is falsified. Jerez for me is an unrealistic start, perhaps Mugello, or Barcelona are better. We are talking about June, but the reality is that we don't understand yet how this coronavirus is evolving in Europe ".