In the 200 miles of Daytona Josh Herrin and the Ducati lost because of half a glass of gasoline in the tank. It has often happened in the past, even to the same Ducati that was saved by winning equally with the second ... a certain Paul Smart. We repost that and other stories.
They say that champions are also lucky, besides often having the best bike, but that's not always true.
For example, take what happened last Sunday to Marc Marquez, when his fuel warning light came on three laps from the end of his victory ride at Motegi.
In his case, technology won because the Honda software gives the rider three extra laps after the alarm goes off, and he still had about two left. So Marc, with a little forethought, and losing more than a second - his advantage over Quartararo dropped from +2.334 to +1.835 to +0.870 at the finish line - he was also able to win the Grand Prix.
Giacomo Agostini, once transferred to Yamaha, had it much worse in 1974 at Imola during the 500 cc class race. After having battled it out for the entire race with Gianfranco Bonera, he finished his fuel supply on the last lap, leaving the victory to his former teammate at MV Agusta.
What beats it all, so to speak, is that the race should have been shortened, but the MV, knowing it had an advantage with its four-stroke engine compared to Yamaha's 2-stroke, opposed it. And it was the right choice.
When manual calculations were used, it was common for someone to remain on foot. Without going too far to dig up the past, we can recall the Imola 200 miles in 1972.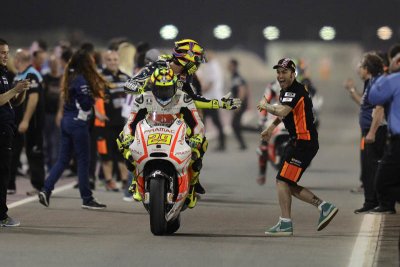 The Ducati presented itself with a squadron, and Paul Smart and Bruno Spaggiari, driving the very powerful (at the time, at about ninety horses) 750 SS. The Italian rode the entire race but, on the last lap, his engine started to run without fuel, so the victory went to Smart, while Spaggiari almost ended up on the headway.
Even Rossi didn't escape the fuel curse, ending his race in Qatar in 2013 while up against Lorenzo. He came second anyway, but to return to the pit-boxes, he hitched a ride with his friend Iannone.
In very recent times, Johann Zarco was left without fuelin 2017 in Misano while he was battling it out with Redding. He ended the race pushing his Yamaha to the finish line, finishing 15th.