When the spotlights hit the stage, they take cover behind the scenes. This is the tester's destiny – a lot of miles and efforts but very little glory. And so in Sepang, just after dismounting from the 2018 Desmosedici, Michele Pirro jokes about his performance: "Since you wrote the other day that Casey was extremely fast after only a few laps, today you have to do the same with me."
In all actuality, the Italian test rider deserves the applause because there is also a lot of him in the Ducati's rebirth. "All joking aside, Casey lapped fast and being at his level is important for me", he continues.
But now you need to tell us something about the GP18…
"This was the first day of testing for me, so it was the chance to turn a few laps with the new bike and the sensations are positive. I am very happy because we are starting from a very good base and this Desmosedici was born under a good star. We still have room for improvement in a few areas where we were lacking last year."
Now the bike turns, as you riders say?
"We haven't entirely solved the problem, but we have more margin in the adjustments to improve this aspect."
Are you optimistic?
"When you try a new bike, lapping at the same level as the old one straight away is a very good thing. In the coming days, we'll understand even better what its potential is, thanks to Dovizioso and Lorenzo.".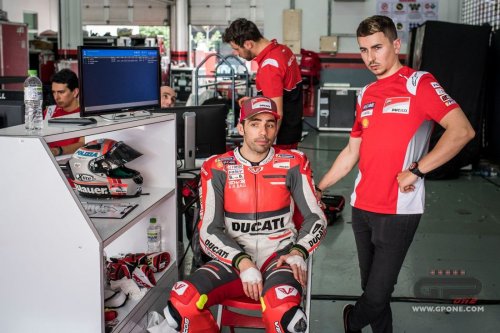 If you had to describe the 2018 Desmosedici in just a few words…
"The first sensation is that this bike seems to demand a lot less effort to ride, but of course, it'll have to be pushed to the limit to really understand better. Using less strength to achieve the same result lets you push farther forward. We know that by now, shaving half a second off a lap is impossible, so we need to try to shave of a few hundredths in all areas."
Don't you risk breaking the balance you've achieved?
"We need to try to maintain our strong points, which are braking and acceleration, as well as improving speed through corners. From the initial sensations, it seems like the new bike can help in this direction."
What do you think Andrea's and Jorge's first comments will be on Sunday?
"Nothing has been revolutionised, so I expect that they will be able to be as fast as with the old bike and then begin to sort the settings."
You saw the main rivals on the track too. What was your impression?
"To assess the Honda's level, we'll have to wait until Marquez and Pedrosa arrive. They are the ones who will set the bar. I think that they have also worked on the details, but we will only be able to see how things really measure up at the first race in Qatar."
Although, Honda unveiled a fairing very similar to yours…
"On one hand, it's nice that our rivals copy us, because that means that we have solutions that work. On the other, it is not very nice because it means that we'll need to react, but we are ready."
Does Dall'Igna have some surprises in store?
"In the last few years, Gigi has gotten us used to always seeing him pull something out of his hat, or rather, from the top box (he laughs) You can expect something."