Eighth place overall, 4 podiums and as many front rows in qualifying, 2017 was without a doubt the best year in MotoGP for Danilo Petrucci. The team Pramac rider had a factory bike for the first time and he capitalised on the chance he was given.
Fast in the wet, although that's nothing new, but also consistent in the dry, even if things did not always go his way. After being courted by Aprilia, he decided to stay in Red for 2018 too with a secret dream.
Now that the winter has begun, it's time to draw the sums and Petrux went over his season for us, with an eye to the future.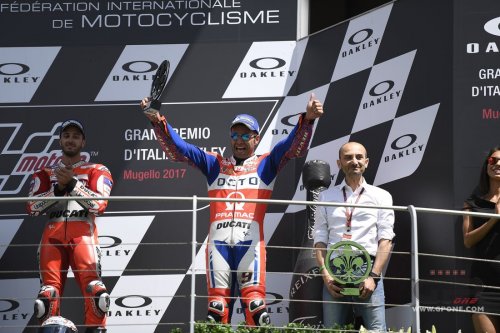 THE BEST YEAR - "At the end of the day, what counts is the result in the standings and I did better than 2015, my first year in Ducati when I was a surprise. Last year, on the other hand, things went differently because of the accident at the start of the season and then a few races that went badly."
So you give yourself passing marks?
"It was my best season in MotoGP. I took four podiums and as many front rows, but I missed the big result."
Pole and victory…
"Indeed, but they weren't goals that needed to be achieved at all costs. The important thing is to stay in the top 5 or 6 positions in all the races, but that wasn't always possible."
Why is that?
"I rode a few good races but there were others too, I'd say 2 or 3, where I struggled and I hadn't figured out what had happened. However, first during the GP of Valencia and then in the tests, I realised what the origin of that problem was."
What was it?
"I noticed that compared to the other Ducati riders, I wear the rear tyre more. I am aggressive in acceleration. When there is a lot of grip it's a help, but when there is not much traction, I end up creating problems for myself."
MICHELIN? DELICATE TYRES - Are you working on this point?
"Yes, and I saw the first improvements in Jerez. My strong point has always been braking. I am one of the riders that releases the brakes late, but also one of those who accelerate earlier, with the bike still leaned over. The Michelins are delicate tyres to manage and if you overheat them you compromise your performance."
There is always a lot of talk about the Michelins…
"Because their goal is maximum performance, so they bring different compounds for every circuit. This means that the bike behaves very differently from one track to another. It's a question of adapting the bike to the tyres and the circuit. I would call them 'racing' tyres because you feel the connection between the throttle and the tyre very much."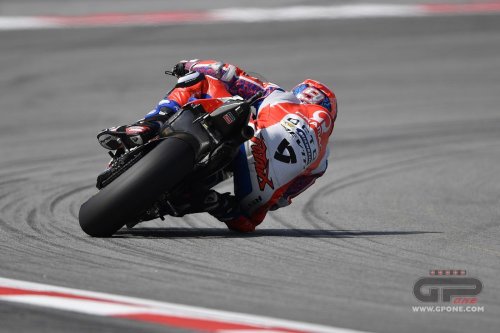 Why did you define them as 'delicate'?
"Because when you are aggressive on the throttle they heat up a lot and in fact, my rear tyre temperatures were always higher than those of the other riders. When that happens, you lose traction and consequently time. From the outside looking in, I could say that that is what created problems for Yamaha, although that it just my thought."
What is the solution?
"To do what Dovizioso does, not heat them up too much, manage not to stress them. But it isn't exactly easy to go slowly and stay ahead of everyone else at the same time (laughing). Anyway, I figured out how to change my riding style. The hard thing will be making everything feel natural."
Could the bike also help you in that sense?
"Yes, and in fact, Lorenzo has also asked Ducati for a smoother engine in acceleration, but most of the problems stem from my riding style."
THE NEW DESMOSEDICI - In Jerez you rode the prototype of the 2018 Desmosedici…
"Yes, but only for an hour. The problem was that in that test I had my... best crash of the season on turn 8, just to leave the 2017 bike behind (laughing) So I didn't have a lot left to test the new Desmosedici. I noticed a few differences, but to keep from conditioning me, the engineers did not tell me what they had changed. Anyway, that will not be the definitive Desmosedici."
Will you be a racing tester next year too?
"I don't know. In the early part of the season this year I definitely had to test a lot of things for the factory riders and that meant spending a lot of time in the garage, because there were a lot of things to figure out. My saving grace was being able to see Andrea and Jorge's data, because I was lacking mileage on the track. From Mugello on, we found more stability and the results came. I hope that the work I did was useful for Dovi to allow him to battle for the title."
Both he and Jorge keep saying that the old limitations have not entirely disappeared…
"In any case, we are talking about a bike that contended for the World Championship Title. It may have been the best this year. We are no longer talking about the old Ducati that 'didn't turn'. There are still a lot of small things to sort and every detail is indispensable at these levels. A tenth of a second per lap makes the difference at the end of the race and sometimes you gain it or lose it without even understanding why."
THE DREAM: FACTORY RED RIDER - While waiting to see the new bike, thoughts already begin to turn to 2019 and rider contracts.
"Personally, I don't like the idea of starting negotiations so early, but I understand it. We are not footballers where the transfer market opens and closes. I would prefer putting off everything until mid-season, partially because at the start you risk not seeing actual bike and rider performance."
What do you see in your future?
"My goal is to be on the factory Ducati team. I would like to wear those colours."
There is a lot of competition for those spots…
"I think Lorenzo intends to win with Ducati and Andrea has already shown that he knows how to do just that. So I would need to do better than one of those two. We'll see what happens. Of course, I won't start out being ahead of those two, but ahead of as many riders as possible."
Do you think you have a chance anyway?
"I have a contract with Ducati for next year and an option in their favour to join the factory team in 2019, so in a certain sense, it is all in my hands. They were very generous to add this option to the contract, so now it's up to me."
Already this year you had contact with Aprilia. Could that be an option?
"Next year will be my eighth in MotoGP and I feel ready for a factory team. My dream is to stay with Ducati. As I said, they have been close to me in recent years and I would like to repay that trust."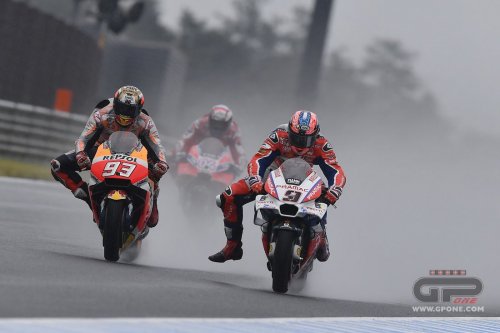 MY 'BEST ENEMIES' - Marquez confided in us that you are the rider who scares him the most in close combat…
"He told me that too (laughing), he said that I am hard to overtake even when I go slowly. Besides the fact that 80% of the time, Marc is faster, but it can happen that in the practice sessions one rider feels better on used tyres and the other doesn't and, even on those occasions, overtaking me in the braking sections is complicated."
Does your size help?
(laughing) "Actually, when there is contact, I'm not the one who gets the worst of it. The other riders are careful around me. My riding style also helps me in those cases, because I brake late."
Who are you afraid of in the case of a battle?
"This year I had the chance to battle with Marquez in Misano and on that occasion he left me gobsmacked. He had everything to lose and there were difficult conditions. He did a crazy pass to overtake me and right after that he did the race fast lap. I don't know how he stayed upright and I don't know how I stayed did, trying to keep up with him (laughing). But that wasn't the only time."
Which other time are you talking about?
"At Motegi. Marquez is very good because he isn't afraid of anything, but Dovizioso doesn't joke around either. In the GP of Japan, those two were scary and I had to let them go. Riding that fast with all that water was crazy."
And who gives you a run for your money in braking?
"Valentino. I rarely managed to overtake him in braking. It's hard to beat him in a head to head because it seems like he knows all your moves."
You'll see him again for the 100 Km of champions at the Ranch.
"Yes, next week and that will be fun. I should be racing paired with Baldassarri, another small rider like me (laughing)."
Shall we part with your good intentions for 2018?
"I really felt the fatigue a lot at the end of the season. I had started with great expectations, having the factory bike and, after a few good races, the expectations rose and along with them, the pressure to do will. I arrived in Valencia mentally tired and I suffered a bit because of that. But I am happy because, as I said, I realised what my problems are and I know where to work. The goal is to improve year after year, even if it is not simple with the current level in MotoGP. However, at the beginning of last season I was more frightened. I didn't know what to expect, but now I know where to work."