In addition to the winner's trophy, after his first World Championship win at Oschersleben, James Toseland received an item with specific symbolic value: his sponsor gave a Steinway piano to the English rider who, along with his Ducati 998, had just beaten compatriot Neil Hodgson on his factory 999, even leaving a hole in his fairing.
It was precisely with music that young James' adventure began, practising on his grandmother's piano for hours on end before discovering motorcycles: "I began playing at home when I was 6 years old and I later took private lessons - 'the piano man' recalls - At a certain point, my mum's partner gave me a Yamaha TY80 trial bike and I also fell in love with bikes."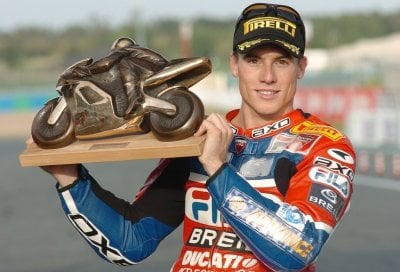 From trial to cross, until his Superbike début on Ducati and finally his famous win on German soil in 2003: "I still have that piano at home" Toseland says, and the championship title the following year, with the team Fila 999: "winning the world championship was a dream come true for me - the English rider reveals - I was only 23 years old and I got the better of Laconi, my teammate. I was very happy, respecting Regis and the entire team's defeat."
A few seasons later, your second World title arrived…
"Yes, in 2007; the Ten Kate Honda was a good bike, but it wasn't a factory ride, so beating Haga, Biaggi, Corser and the biggest name of that generation, Troy Bayliss, made me very proud." James' CBR was always drifting: "because it did not have competitive electronics. Winning as the underdog against the factory bikes was really an incredible challenge for me and for the team."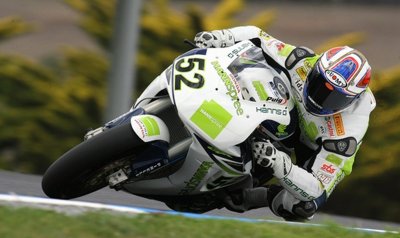 In 2008, the call to MotoGP arrived for the English rider, but everything did not work to perfection: "The team Tech3 Yamaha was not exactly the fastest bike on the grid, quite to the contrary… now the situation in MotoGP is different. The same electronics for everyone that was introduced last year has levelled the playing field and there are a lot of riders that can win. Now MotoGP is more spectacular than SBK."
The two tiring years in the Grand Prix World Championship did not stop James, who returned to Superbike with the Yamaha R1. A few nice podium finishes and some races where he played a key role until his injury with BMW in 2011: "It was terrible, because with my wrist in those conditions I could not control the gas the way I wanted to. I had to say enough. There was too much pain and it hurt too badly. I still have 4 screws in my wrist. I preferred looking to the future for my life."
In fact, now James is an international classic rock star, leader of the band that bears his name, the Toseland Band: "Being on the track or on stage is just as difficult - James explains - Maybe on stage the tension is more intense. The crowd stares at you and wants to be entertained for every second of the performance. On a bike, at 300 kph, you don't have time to look your fans in the face and you are under less pressure (he laughs)."
Do you still follow the SBK races SBK? What do you think of this new generation?
"The riders definitely do an incredible job and are really fast. In every race and on every track the lap times drop and the technical and competitive level is high, but … the stars are missing, the celebrities: I had the good fortune to compete against names like Biaggi, Haga, Corser… those were star riders who respected me because I was able to beat them. Their retirement was a hard blow to Superbike and the tragedy of Hayden took away a very interesting profile for the championship. Plus, you need riders from every nationality for a World Championship, not just Brits."
Rea, a Brit, has dominated for the last three years…
"Even when he is not on the top step of the podium, Johnny is always at the top, consistent, fast. I admire his dedication to the job, because he knows how to keep his eye on the goal - winning - and he dedicates his life to his family and bikes. With the Kawasaki domination, I think Rea could beat Fogarty's record of world championships won. Foggy has 4; Johnny could take 5 or 6."
Do you think that the Superbike technical regulations are too exasperated and costly?
"This has always been a problem for SBK. Only Kawasaki and Ducati are investing large sums and resources. If the championship is too expensive, all of the manufacturers cannot be competitive. In my opinion, the bikes should be as close as possible to the ones you can buy from your local dealer."
Champion motorcycle rider and music star. As a child, who were your idols?
"Kevin Schwantz was my favourite rider and Axl Rose with Guns N' Roses was my musical inspiration. Now I am a singer-song writer. I have already put out two albums and the third will be out next year."
Achieving a dream is difficult; you achieved two! What advice would you give young riders and young musicians for their careers?
"In both areas, training is the way to go, with no shortcuts. The dedication must be total - 100%. In order to be the best, you must commit to the best of your abilities. The entire day must be spent thinking about your goal, doing it with love, and the rest will come. You need a touch of luck. I rode outstanding bikes with exceptional teams. In motorcycle racing it is easier; there are trophies that reflect your value. Music is art, so people may or may not like your style. You always need to believe in yourself, at all times."
Share