Honda's pre-season has concluded with the third and final night of testing in Qatar. In the end, the best of the HRC riders was Dani Pedrosa who closed with the third fastest time (1'54.469 on lap 46 of 50), while Marc Marquez, who crashed three times, finished in 10th place (1'54.990" on lap 12 of 47).
Both completed their testing programme anyway, with a series of tests regarding the electronics, aerodynamics and race settings, with the aim of maintaining good race pace. Dani continued to improve on his time almost to the end of the session.
Marc crashed once early on and twice more after 9pm, suffering no injuries but forced to interrupt his race simulation on lap six while he was lapping in the 1'55s.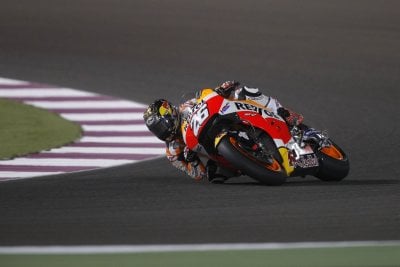 "I think it's been a positive day overall - confessed Pedrosa - We had a couple of things to resolve yesterday and we gradually improved, our confidence, the lap times and our pace in general. There's been an improvement but we still have work to do. This track is not one of my favourites, but the team has done a great job. We're in better shape than last year and will find the motivation to do our best in the first race".
Despite this not having been the best way to end winter testing, Marquez shows his usual confidence.
"I'm pleased with the pace we were able to maintain today but it hasn't been the best pre-season test for us. I crashed three times, the first right at the start because the bike was unsteady at turn 4 and I braked late. Then, later in the evening I lost the front twice, the last crash in particular, during my race simulation, was my fault. But when you're doing a long run you need to push, otherwise you can't understand where you really are. In any case, it's better these things happen now, during a test, and we hope that when it comes to the race we are better able to manage things. As I've said, our pace is quite good; Maverick is quicker than everyone here but if we were to race tomorrow I think we'd be able to fight for the podium".