Gigi Dall'Igna gave us a long exclusive interview on the eve of the MotoGP race weekend at Sachsenring. It was an opportunity to be able to speak with the technical mastermind of Ducati in MotoGP and SBK, touching on several really interesting topics, all handled with great transparency, as always happens when you have the opportunity to interview him.
This is the complete interview, of which we published a short extract yesterday. From MotoGP to SBK, the technical future of the categories and the situation regarding a legend like Valentino Rossi, who might wind up his career riding a Ducati.
The first topic is linked to the future and to those eight Desmosedici that will be on track in 2022…
"We managed eight bikes in MotoGP before with the official team, Aspar, Avintia and Pramac, in fact it is nothing new for us - said Dall'Igna - we have the skills and the ability to do it. From an organizational point of view it will be complicated, but from a technical point of view it will be an advantage to have more strong riders on the track, given that it is important to work on a statistical basis ".
Speaking instead of SBK, Rinaldi surprised everyone with his victories at Misano. Could you have imagined it?
"I'm happy with Michael's performance, he did some smart races, winning them, but also settling for the result when it was time. As for a MotoGP test? We will evaluate it calmly; we are still at the beginning of the season. At the beginning of the year these things cannot be done because they are pointless risks ".
SBK and MotoGP: what is your view of these two championships?
"SBK is a great championship, both to watch and to participate in, given that the development of the production bike offers important stimuli, in fact Ducati is working in this sense. Working on prototypes is a different technological development compared to what is done on a production-derived road bike, since in GP you start from a blank sheet, while with road bikes from an already existing base. In MotoGP there is in fact a technical inventiveness compared to SBK. In the future, given that the market dictates the law, I wouldn't be surprised to see Streetfighters in action ".
In SBK Rea continues to dominate. Have you ever thought of bringing him to Borgo Panigale?
"We have always liked Rea as a rider. As for Petrucci, we also liked him a lot even if sympathy at a certain point must be put aside. He is a rider who could do well in SBK, but I don't think SBK is his main objective, also because I would like him to continue with KTM in MotoGP ".
Let's talk about MotoGP. What do you think about the concessions that Honda could have?
"The regulations are very clear and difficult to question. I hope not for Marc and Honda, but if Honda finds itself in this situation it would be right for them to take advantage of them ".
Are you surprised by KTM and Oliveira?
"Modern MotoGP is made up of small changes and these can make big differences. There has certainly been an important change. Miguel is a pure talent, he has shown it in 2020 and in previous years, in fact he can fight for the world title this year and in those to come. "
If you had been in Yamaha, would you have given an outdated bike to Franco Morbidelli?
"Ducati would not have behaved like this with a world championship runner-up, given that sport must be one of the main aspects when thinking in terms of team and riders. For sure, such a decision must be made around June-July and not at the end of the season. I imagine that Yamaha found itself unprepared and in the uncomfortable position of having an important rider in-house, but without being able to manage it in the best possible way. In fact, I believe this was Franco's misfortune, despite the fact that he deserved the 2021 version bike ".
Dall'Igna: "Valentino with a Ducati? He's the most important character in MotoGP, he'll do whatever he wants"
With a view to 2022, we are also speaking about what Rossi will do. What if he decides to get back on a Ducati?
"Valentino is always Valentino and he will remain so until he stops racing. I think he has been the most important character for this sport and we must let him do what he wants, precisely because of what he represents ".
Taking a look at the technical aspects: what do you think about the flexibility of wings in F1 compared to MotoGP?
"The regulation in MotoGP is precise regarding the stiffness of the winglets that bear downforce, so it is not possible to change the wing shapes".
Let's go back to MotoGP: this year Ducati is battling with the trident Zarco-Bagnaia-Miller.
"Pecco had an unlucky race at Mugello, while in Barcelona he didn't shine much, even though I'm happy with him. In this moment, all three have the possibility to bring home the maximum result, then at the end of the year we will see what the situation is. In fact, it is better to think race by race".
Meanwhile, over the weekend we are back on track in Germany…
"Power matters less here, as happened in Jerez. I never make any predictions since it's easy to be proven wrong. On paper this is not one of our favourite tracks, even though we have managed to be competitive on several tracks. But I want to start with positivity in view of the weekend"
Let's also talk about tyres. As we all know, the one-make solution has existed for years. Before there was Bridgestone, now the baton has passed to Michelin.
"I think having a single-make championship is more prestigious for a manufacturer and a rider, since you take away the advantages of giving to one rather than another manufacturer. In fact, I think it is more complicated to win a one-make championship, rather than one with more manufacturers ".
If Miller wins another race, are you prepared to drink from his boot?
"Sure, I'm more Australian than he is. A victory must always be celebrated and it must be done in the best way ".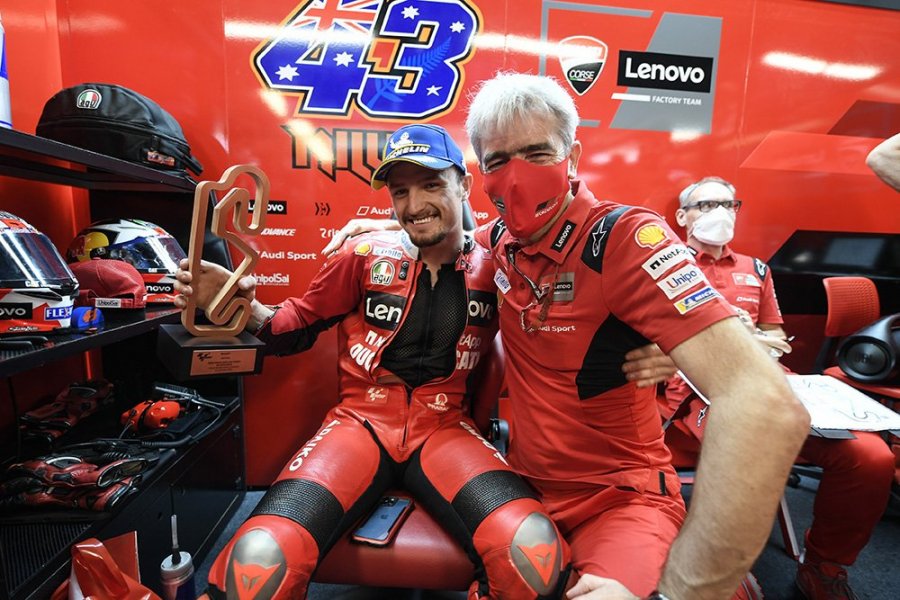 Gigi, one final consideration: did you think the challenge with Ducati was so difficult?
"I knew it would be a difficult challenge, given that MotoGP is the most difficult terrain to play on. However, we have had a lot of satisfaction, growing up, even if the riders' title is still missing. Until we achieve this, we will not be happy ".
Once you win the title, will you accept the challenge of changing manufacturer, perhaps going with Honda or KTM?
"First let's think about bringing this riders' title home".