The first two race weekends gave rise to the 2021 World Championship classification, currently led by Johann Zarco thanks to a double podium in Losail. The Frenchman celebrated with his team at the end of the races but he also posted, like all the riders, some content on social networks. The Frenchman is the leader on the track but who leads the social ranking?
The answer is obviously …obvious because Valentino Rossi dominates in all categories: Instagram, Facebook and Twitter with a total of 28 and a half million followers. Behind him, only Marc Marquez breaks through the 10 million barrier, with just under half of Rossi's followers, 12 and a half million.
Here is the ranking and the data: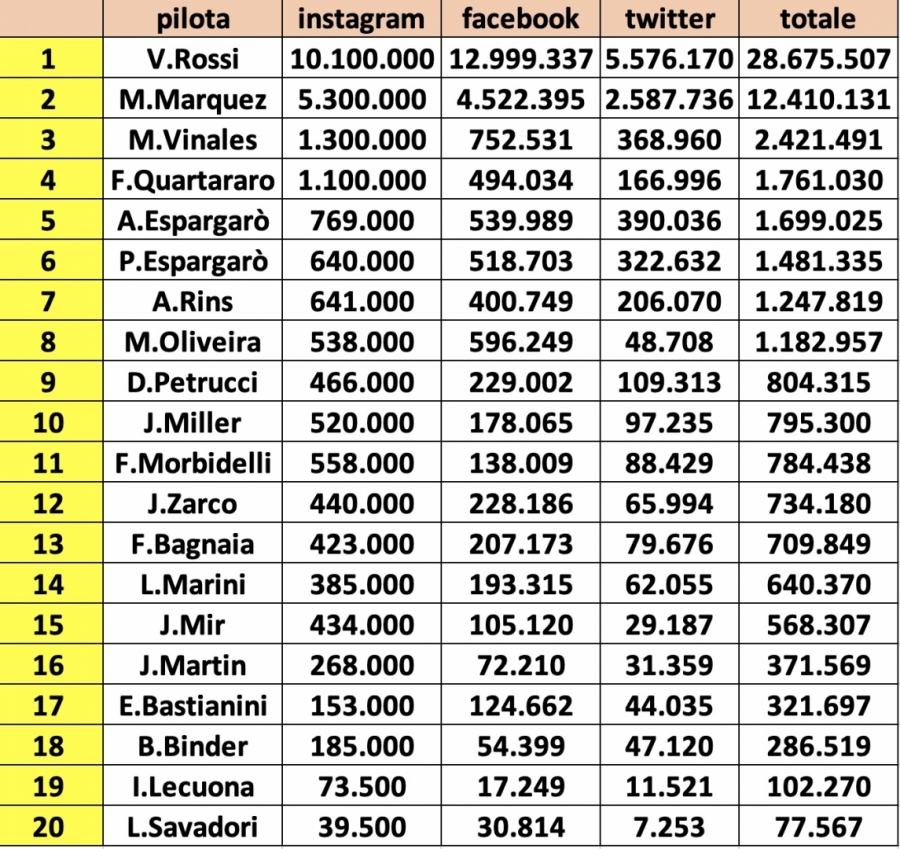 Analysing these numbers we can see that Instagram is the most used social network by MotoGP riders and also the one where they are most successful except for Valentino Rossi and Miguel Oliveira, who are followed the most on Facebook.
The #46's dominance is overwhelming also because adding up the total followers of every other rider and excluding Marquez from the count, we get just over half of the Yamaha rider's followers. Moreover, Rossi also "beats" MotoGP: the championship's social profiles have about one million and three hundred thousand fewer followers than Valentino's.
Experience also affects the popularity of the riders, in fact, apart from the case of Marquez and Pol Espargarò, the oldest rider always wins by number of followers in all teams.
As for the rookies, leading the way is the man who was the worst in the first two weekends in Qatar, Luca Marini. The Ducati rider is also the only one of the three not to have won a world championship, but his followers are still greater than those of Bastianini and Martin.