Today Sky (channel 208) dedicates part of its programming to Freddie Spencer. Everyone remembers "Fast Freddie" and his winning years with Honda. But hardly anyone remembers his debut with a Yamaha 500 at Zolder. Our Paolo Scalera was there, and their friendship continues today. Enjoy.
------
"I'd like to introduce you to a rider." How many times have we heard this!? That time, however, Erv Kanemoto had said it. Kanemoto was a Japanese-American trainer who, despite his appearance, did not speak a word of Japanese but was serious, reliable, and always smiling. So we followed him to an open van in which a really young guy was putting on a suit. He immediately interrupted what he was doing, came out, and cordially shook our hands, introducing himself.
"This is Freddie, Freddie Spencer. You'll see, you'll be hearing a lot about him," Kanemoto said, accompanying the phrase with that nice smile of his with half-closed eyes.
He didn't seem shy, but he didn't have that ill-concealed arrogance that was typical of many riders, which derives from the enormous self-esteem you need for this profession. He had a sweet way of proposing himself. He didn't impose himself on us, and we liked that very much. He spoke slowly, with a pronounced southern accent, which was not always easy to understand, and accompanied each word with an expression on his face, a twinge of his lips, which always corresponded to a different light in his eyes.
Freddie wore a white and blue suit, and there was a metallic silver and blue Yamaha 500 near the van, with no sponsor except for a Bel-Ray trademark but, at the time, when practically all the teams raced without financiers, we didn't pay attention to that.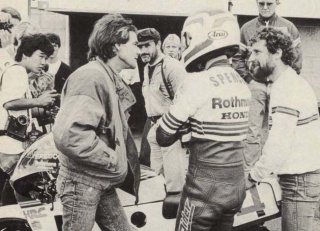 The circuit on which Spencer would debut was Zolder. After the 1979 strike in Francorchamps, the world championship had moved there, which was equivalent to going from bad to worse. The asphalt was extremely rough, because of the F1, and Freddie, who had tried the bike only once in Laguna, showed up with a Marzocchi fork to then immediately return to a Yamaha standard. Erv proudly showed us the Lectron carburetors and the expansions he created, while Freddie stood with the top of his suit hanging on his hips. He looked like a good guy, we thought.
He didn't create havoc during the tests. Mamola got the pole, in front of Cecotto and Uncini. Freddie reached 11th time.
"You'll see him in the race," Erv Kanemoto said, but there was practically no race for the rookie from Lousiana: when he got on his bike, after a push start, the gas exhaust broke, and the fuel spilled onto the rear tire. Freddie Burdette Spencer's number zero Grand Prix ended there. It was July 6th, 1980.
We thought about that first meeting six years later, on May 4th, in Jarama, seeing him return to the pit-boxes, after fifteen laps in command, apparently with the bike in perfect order. He exited the Pegasus ramp and slipped into the pit lane, taking refuge in the garage. Erv pulled down the gate. We didn't know it yet, but Freddie's career had ended there.
He was the same Spencer in Zolder with whom we had become familiar in the meantime, with regards to such things like zeal, becoming "Fast Freddie" for everyone. The year before, he had won the 250 and 500 titles simultaneously, bringing his world championships, with the 1983 one conquered by beating Kenny Roberts, at three. And no one, I mean no one, would have ever bet a penny on the fact that that guy would not have even dominated the 1986 championship.
Wayne Gardner won that race ahead of Eddie Lawson, but both had been left behind as usual, since Freddie Spencer's first lap and his superhuman ability to race at 100% on cold tires. This was not a small feat at a time when there were still no electric blankets.
So, in the end, in hindsight, the rider that Kanemoto introduced to Zolder had had a short career. Five seasons in all because, in the seasons that followed, he was never again, and nobody was ever again, Freddie Spencer.
He rode like no one at the time, and in a way that Roberts, despite being an innovator, refused to accept.
Years later, many years later, speaking of him and the disease that stopped him - a mysterious tendinitis that had, however, not displayed any signs during his fantastic 1985 - Erv Kanemoto revealed some unknown details of his personality: like that of leaving the team's clothing wherever he ended up because he loved to travel without luggage. Ian MacKey, a key HRC man, added that Sarie, his girlfriend, Miss Louisiana, slept in the hotel, while he slept in the motor home. Details, such as his traveling in first class on the Concorde, which made him very different from his colleagues. And in a certain sense, a Martian to his world.
Freddie was a comet who crossed our horizon with the speed of that celestial object, arousing the same emotion in us. Amazement... and wonder.
Today he turns 49.
Photos: Sarie kisses Freddie's helmet before the start; Spencer between Barry Sheene and a young and bearded Jeremy Burgess.