MV Agusta's return to the championship last season after a 42-year absence aroused considerable interest. There was curiosity but also some criticism to see the historic brand in Moto2, a class in which you are obliged to use a third-party engine. But the Varese company and Giovanni Cuzari's Forward team believed in the project and what seemed like a crazy gamble in just a few months started to produce some impressive results. So much so that Stefano Manzi, in Valencia, was just off the podium.
"I had wagered five euros on that podium," jokes Paolo Bianchi, technical director of the project and head of CRC, the Castiglioni Research Centre. The F2 bike, which Manzi and Aegerter took to its debut on circuits around the world, came about in San Marino.
You can always go back to betting on the first race in Qatar this year ...
"No, I prefer not to. The goal now, as I said to Stefano in Valencia, is to have fun."
"We started without any experience but also without any fears"
The F2 improved a lot during the season, but how do you remember the start?
"We started the project without having any benchmarks. A lot of people wrote that we already had experience with the 3-cylinder engine and the trellis frame, but unfortunately, that's all rubbish. The biggest difference between a road bike and a track bike are the tyres, which make a world of difference."
Didn't your experience in Supersport help?
"We had some benchmarks, but there are 20 riders in the space of 2 seconds in that class, whereas in Moto2 there are 25 in five-tenths. That means that everything changes".
Didn't coming into Moto2 without any experience cause some concern?
"If you look at things this way, nothing gets done, you have to take what you've got and just go for it. We had experience in Supersport and Superbike to go by and when you are in this business you quickly learn where to work, the difficult thing was to do it so quickly and in the races. Honestly, when I brought something new, I had little doubt that it would work. In 2020 it will probably be more difficult to improve the bike so much in such a short period of time, it's now that there is a risk of making a mistake."
Was there anything that amazed you about this world?
"I had never followed the races before, what surprised me and worried me, but not before starting, was how sensitive the riders are and how they can always race very close to the limit. The level of competition in Moto2 is very high and as there isn't much electronics, the bike-rider combination does everything."
How did you start?
"At the beginning we were not ready to start, both regarding the time available and the resources. In fact, the first Moto2 prototype was not made by CRC but by an external supplier, who followed the entire project, but already in the first race in Qatar we had our own chassis, which were built in San Marino".
How did the very first test go?
"We did it in July at Misano, with Lorenzo Lanzi. The bike was very heavy because we hadn't had enough time, just the fairings weighed 7 kg. When we went to the tests in Qatar, we had problems with top speed and there was also a considerable gap from our rivals".
"In Qatar we were 15 km/h slower on the straight, but in Australia we set the top speed record"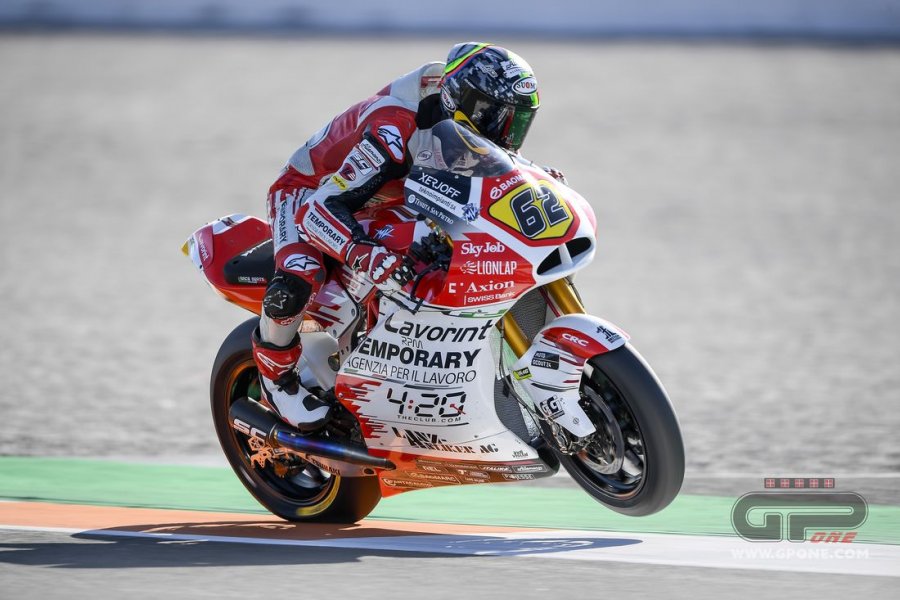 However, it didn't take long to see some improvements….
"Even though nobody noticed, the bike was revamped three times during the year. The first step was to reduce the weight of the chassis and then solve the aerodynamic problems, with the new fairing that was introduced at Mugello. In that race we went from being 15 km/h down on the leading bikes to being in line with them".
At Phillip Island Stefano Manzi managed to set the top speed record…
"Yes, at 301.6 km/h. The aerodynamic evolution made at Mugello was very important, but then we introduced some more solutions. I am referring mainly to the rear fairing, because we had a big problem with slipstreaming. When another rider came close, not only did we give him the slipstream, but we were almost sucked into it and the engine lost about 100 rpm. We have done a lot of tests in the wind tunnel and our top speed record came about from this work".
What was the other major improvement during the season?
"We worked to reduce the weight of the bike, succeeding in making the chassis lighter without losing stiffness. Then, in Austria, we decided to make our own swingarm, while before it was an element that other manufacturers also used. It was a bit of an adventure because we started with few benchmarks, but in Thailand we brought the new swingarm. The bike improved and we continued from there on".
Improving all the time and coming close to the podium with Manzi in Valencia…
"We were very close: unfortunately, the race was shortened by nine laps and Stefano had got out of the habit of being in the top positions."
Would you have bet on a podium at Valencia even in the first race in Qatar?
"Yes, I would have, because I knew what we had done and what we had to do. The only thing we needed was time because we were using the races as a test, continually bringing new solutions to try. At a certain point, Stefano told me not to do it anymore, because he needed stability. What he had in the last four races of the season".
"No revolution in the F2 for 2020 and Corsi will help us in development"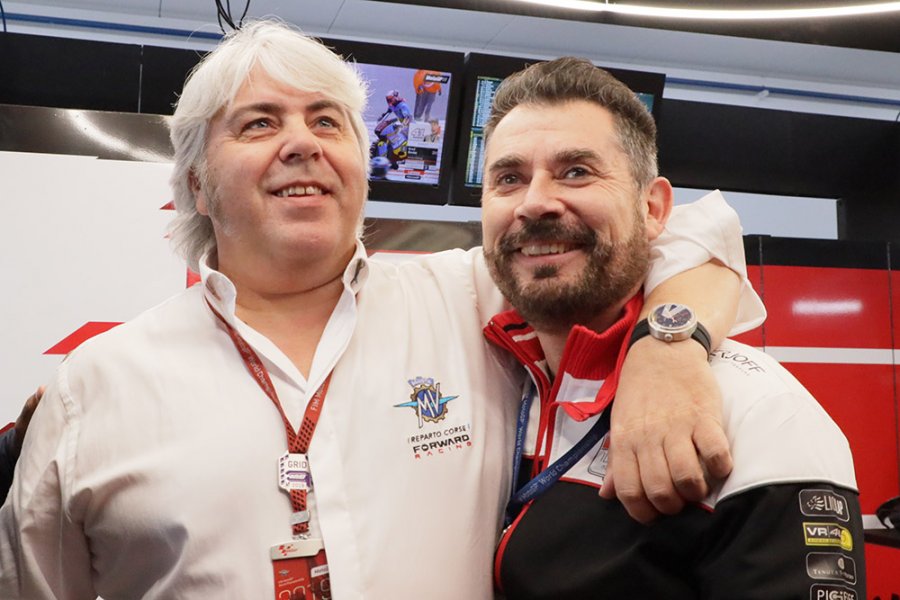 What's the next step for 2020?
"Change the weight distribution, already last year we had tried to move the engine. We have some ideas and we are still working on aerodynamics, as well as improving ergonomics. The bike won't be turned upside down, it's a new project that still needs to evolve".
This year, alongside Manzi there will be Simone Corsi, a rider with great experience in Moto2…
"I met him last year at Misano, during a test on our bike, and he seemed like a person with whom it is easy to communicate and a rider with excellent sensitivity. It is very useful, because last year we had a few problems in interpreting Aegerter's indications, perhaps he did not have a great sensitivity. I could see that Simone was very motivated, I think he can help us in the development of the bike".
In the future, are you planning to provide your bike to other teams besides Forward?
"We haven't ruled it out, but first we must become more competitive."
Does this racing experience help for the production bikes?
"All the aerodynamic development is not an end to itself: if now I need 7 km/h more on the F3, I know where to work. Clearly the requirements are different and in fact, starting from the road, in some details we had been far too conservative. For example, in the central part of the aluminium chassis we managed to remove 800 grams, which is a lot in a component that weighs 2.5 kg. Ideas can be transferred."