The extroverted, curly-haired and very fast Bradley will compete in the world championship, at Donington Park, as a wildcard over the weekend in late May.
The young Brit, who scored the double at this very track during the opening British Superbike round, will race team Buildbase's Suzuki GSX-R, the same bike and team for which he races in the national series. For the Hamamatsu bike, this will mark a return following its last appearance, with Schmitter, at Jerez last year.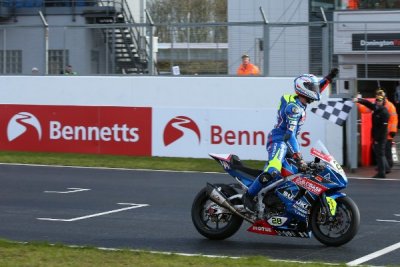 Ray – who has also competed in the Red Bull Rookies Cup and Spanish CEV – is stunning the British crowds (and not only them) with his spectacular riding talents. It's no mean feat to be able to keep the likes of Byrne, on the Ducati Panigale, and Haslam, with the Kawasaki at bay, because racing at the English tracks also requires a good dose of experience, with layouts that are far from 'friendly'. Even at risky Brands Hatch, in its "Indy" configuration, #28 was able to reach the podium. 
Donington is a favourable track for Bradley: he made his world Moto2 debut at this very track, with the Honda-driven FTR in 2015. An intriguing character, he wears glasses with thick lenses but when the time comes to overtake a rival on track, Ray sees just fine.