Gigi Dall'Igna had promised aerodynamic changes for the 2018 Desmosedici 2018 in the Thai tests and the veil was lifted already on the afternoon of the first day. In fact, on Dovizioso's bike a carbon black fairing appeared that has, not a revolution, but an evolution of the concepts that the staff from Borgo Panigale had introduced last season.
The first difference that jumps out is the shape of the aerodynamic appendages on the sides of the top fairing, much more tapered than in the past. The "winglets" create almost a wave, which narrows to a point on the bottom part.
Also, compared to the solution used in 2018, the cuts on the sides that connect the spoiler to the fairing are missing.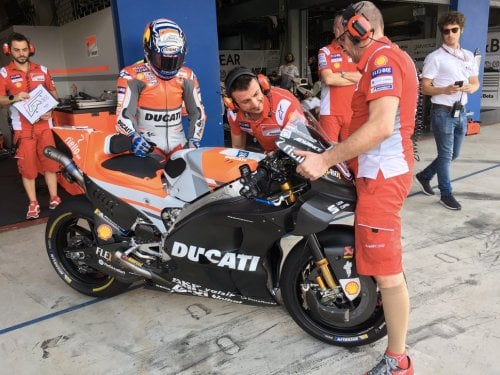 Looking at other differences, a different profile can be noted of the fairing behind the front wheel, that part that covers the radiator laterally. Here also, there are lines reminiscent of a Honda that have the function of channelling the air flow.
Lastly, a small part on the top fairing where it is visible, just below the hole for the camera mount, there is a cut that goes all the way to the sides. From 2018, the Desmosedici fairing will be able to be transformed quickly from 'winged' to standard, replacing only the lower part of the top fairing, something that was not possible last year. This is an important detail in terms of reducing transformation times during race weekends.
Dovi also turned a few laps on a D16 with standard fairing, which had very small differences compared to the old one.
As you can see in the photo, in this case, the appendages are entirely similar to those used last season.
The difference lies in the upper part, which has a groove and a cut that were not on the 2017 version.
Share