The Andalusian sun once again shone on Jonathan Rea's talent, as he put together a double win and handed Kawasaki the manufacturers' title. He now ties with Troy Bayliss in terms of SBK race wins. The 600 championship remains open, after a very cautious performance by Mahias and a win for Caricasulo; Rinaldi triumphed in the Stock1000 series, while Coppola missed out on the 300 title by just one point.
THE GOOD - With luck on his side on Saturday, undisturbed on Sunday. Either way, it was Johnny Rea who crossed the line first at Jerez, aided by a mechanical failure for Melandri's Ducati in stage one before strategically managing stage too. The Northern Irish rider is now up there with Troy Bayliss, having achieved three title and 52 race wins in the production-derived series. Is "The King" Carl Fogarty's throne now in jeopardy?
THE UGLY - Just as he seemed to have his second win of the season in hand, Marco Melandri had to bow his head, like an injured lion. His Panigale R broke down just four laps before the end of race 1, leaving the Italian disappointed, and handing the win to world champion Rea on the Kawasaki. Marco did his best to make up for it come Sunday but...a win is something else entirely.
THE BAD - Another tough weekend for Race Direction at Jerez. As well as the usual (and rightly waved) red flags, a dense fog also affected the weekend's schedule, delaying sessions on Saturday and even causing some to be cancelled. The future of Superbike is also 'foggy': the official technical regulation for next year is still to be defined and many teams, riders and sponsors don't know what's going on. Just when will it all become clear?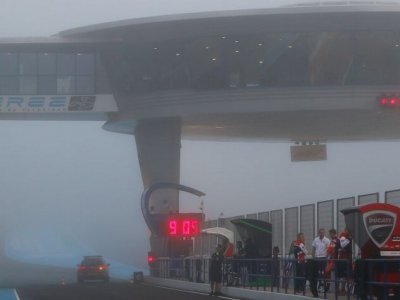 THE DISAPPOINTMENT - Alfonso Coppola was left in tears, but they were not tears of joy. With just a few corners to go, the young Italian was virtually champion of the newly created Supersport 300 class, after an action-packed race full of passes. Losing a title is already, in itself, a heartbreaking experience but to miss out by just one point makes it even harder to swallow. Have the Yamaha rider's dreams gone up in smoke or are they simply postponed?
THE CONFIRMATION - Thanks to his second win, Federico Caricasulo proves to be the most interesting young Italian across the production-derived classes. His speed, consistency and coolness were clear to see at Jerez...
THE MISTAKE - Florian Marino was, effectively, the only rider able to take the Stock 1000 from Rinaldi, but a crash just a few corners into the race prevented the Frenchman from battling it out. Yet another Italian winner then, while France waves "au revoir" to the title.
THE SURPRISE - We expected the KTM to make an interesting debut in the Supersport 300 but not this good: the Mattighofen bike scored a front row start before fighting for the win in the race, with young rider Omar Bonoli. If we consider the Moto2 win at Phillip Island, yes, it's clear that when the Australian manufacturer sets out, it sets out to win.
THE PASS - We lost count of the passes in the 300 at Jerez, though we did count them in Superbike. In just one 300 race, there were more passes than we saw all weekend in Superbike, where we often fall asleep due to the lack of excitement...
THE INTERESTING FACT- With Michael Ruben Rinaldi, Italy has now won 10 Superstock 1000 titles, a category that seems to produce future talents. The Aruba Junior rider did well, determined throughout, and adds his name to a list that includes Michel Fabrizio, Niccolò Canepa, Xavier Simeon, Ayrton Badovini, Davide Giugliano and Leandro Mercado. Up until now, the guy who's gone furthest, having started in the Stock series, is Danilo Petrucci, now a top rider in MotoGP. Quite the little talent factory.
I TOLD YOU SO- "Lucas Mahias will win the Supersport championship at Jerez and Kenan Sofuoglu will stop sending me messages, asking to ride in Qatar". Um, Manuel Puccetti, with 25 points still up for grabs, the game is still in play and your phone is going to keep on ringing.