Jonathan Rea's most heartfelt and sincere thanks went to his family, always at his side from when he started out in minicross all the way up to this third consecutive title, achieved today at Magny-Cours, five races early, at the end of a race that he absolutely dominated, just as he has on many other occasions this year.
Three world titles that see him go down in history and become a legend, just as a certain Australian dressed in Ducati red did before him. The Northern Irish rider doesn't just share the same number of titles as Troy Bayliss, but also a similar lifestyle, in that Troy used to bring his wife and kids to the tracks and so does Johnny, proving that you can win and be number 1, carrying out your work with total professionalism, while also being dedicated to your nearest and dearest.
And yet, before becoming Number 1, it was a very different young Rea who arrived in Superbike, almost shy in fact. He debuted in Supersport in 2008, a season he completed on board the Honda CBR of team Ten Kate, scoring 3 wins and getting the chance to debut with the Superbike at the final round of Portimao where, by keeping his head down and working hard, Rea scored a front row start and an amazing fourth place finish in his first race, impressing everyone with his courage.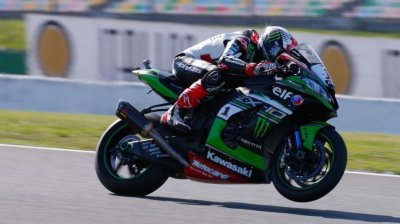 Jonathan's always displayed courage, saying his first "No, thanks" to those in the world of road racing, so popular in his home country. Despite being a fan, Johnny turned down a possible racing career on the dangerous streets, becoming almost a heretic for a population that, albeit silently, struggles to accept its lack of independence, staying true to their historic traditions.
Rea's second act of bravery came at the end of 2014, when he turned his back on giant Honda, after the Toyka-based manufacturer failed to keep its promises on three occasions… Number 65 won 15 races on board the less than competitive CBR Fireblade, as well as one Suzuka 8 Hours, but also sustained various injuries. On a good day, Johnny was able to beat the likes of Max Biaggi, Ben Spies, Carlos Checa, Marco Melandri, Noriyuki Haga, riders who had won races and titles in 500 and MotoGP, a category that the Northern Irishman got a taste of on a couple of occasions, standing in for Casey Stoner on the Honda HRC, without ever having a real concrete chance to be competitive in that championship.
The lack of support from HRC pushed Rea into making a change: tired of having to constantly ride on the limit, with the inevitable risk of crashing, he accepted the offer he received from the Kawasaki team, champions in 2013 with Sykes.
Becoming part of the Spanish Provec team, Rea could be sure of many things but he also had a doubt: while the Northern Irishman had the benefit of a winning, full factory bike – the Ninja ZX10R – there was also Tom Sykes, the very man who had already won the title, much loved by the team, in direct contact with Akashi. And yet there was no need for him to worry as Rea quickly started to win races, becoming a cannibal week in week out and clocking up, to date, 3 world titles and 50 race wins, bringing him very close to Bayliss' tally of 52, and ever closer to Carl "The King" Fogarty's record of 4 titles and 59 race wins.
His number, 65, hasn't been forgotten but, unconcerned about marking or superstition, Jonathan continues to prefer number 1, which stands out on his factory Kawasaki, a bike perfectly set-up by his team and one that Rea knows exactly how to exploit in any situation, come rain or shine. The Cannibal always knows what kind of riding style to adopt, at times precise and composed, on other occasions wilder but equally effective, both on the flying lap and in a head to head situation.
Defined (inaccurately) by some critics as being robotic, without emotion, Rea has in fact displayed fear and regret, albeit only once, when he accidently hit rival Chaz Davies at Misano. We assure you that Johnny was extremely worried and pacified only once he knew that the Welshman was out of danger.
At the end of the first race in France, seeing his emotion and rather contained excitement - when I was a child, I dreamed of winning a world title and now to have won three is really incredible - we are certain that in his hometown of Castletown, on the Isle of Man (a place he loves and where Johnny often helps his friend Keith Amor during the TT weekend, in the role of mechanic), the Northern Irishman will soon be building extra shelves for the many trophies that he still has to win…
Share