After suffering injury at the Misano Supersport round, Alex Baldolini has undergone surgery on his left hand.
An injury that other champions have suffered before him, namely Barry Sheene, who had the little finger of his right hand amputated in 1980, at the Paul Ricard track in France, and Australian Troy Bayliss who, after crashing at Donington in 2007, yelled: "cut my finger off, I want to race!"
The ATK#25 rider recounted the dynamics of his accident, a bad highside that resulted in damage to his left hand: "my hand was trapped under the bike - explains Alex - and my glove wore through, damaging the phalanx of my left ring finger; my middle finger was also hurt, a lesion of the extensor tendon, the bone was exposed."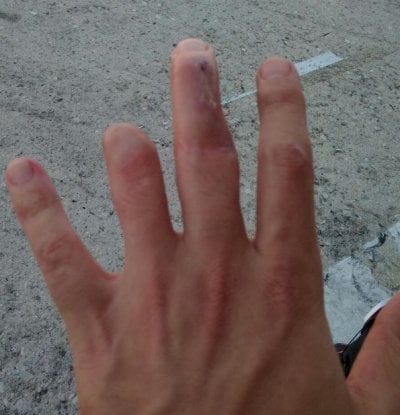 The doctors have done a good job fixing you up though…
"They cleaned and stabilised the finger amputated at the track and reattached the tendon. The middle finger risked infection but, luckily, there were no other problems. Now I'm doing rehabilitation to regain the functionality of my middle finger".
Have you been back on the bike in the meantime?
"Yes, it's all going well, I'm not 100% yet but my hand doesn't hurt too much when I'm riding. it only bothers my when I have to  use the clutch, but I know that over time this will improve and the doctors agree. I need to regain feeling step by step, because only by riding do you get used to an injury like this".
When you will be back on track?
"The long summer break has helped me: I'll be in Germany for the next Supersport round, at the Lausitzring. There are five races to go and I want to end this tough season as well as I can. We'll have a second rider, Spaniard Xavi Cardelus, with us too, from the next round until the final round at Qatar".