Even if for Andrea Dovizioso "the favourite at the moment is Mir because he is very regular", he and Ducati continue to have their mind set on the world championship.
"We have to keep dreaming and working". There is still a big chance of winning this blessed world title, for the Borgo Panigale rider, but's it not going to be easy in a world championship full of pitfalls and surprises. Aragon 2: Revenge. The revenge that Dovi is seeking.
"It is an important grand prix. Getting into the top ten in free practice will not be easy. Last weekend we actually had problems with the temperature, in the race the situation was better but not enough to have the pace of the fastest riders. But the world championship is still open. The others are fast, and they are fast on all tracks. The conditions will be a bit calmer, we have more room for improvement than they do. It will not be an easy weekend, as always when we race on a track for the second time ".
Not an easy weekend because there are many things to sort out...
"Our goal is to reduce the speed gap - It's hard to think of anything else, said Dovizioso - getting ready to fight for the win is a bit far off as an idea. On the positive side, I can improve in some corners, we have data that tells us we can do it, so I'll focus on being faster in certain corners. There are corners where I should be faster ".
Work and focus: Dovizioso is thinking of himself. Has he been he left alone?
 "If that were the case I wouldn't say it. Right now I don't feel fast enough, and that doesn't give us a chance to try in our own way. We often find ourselves surviving. Last Sunday I managed to bring home a good result. But that's not the way to fight for the championship at least against the three riders in front of me ".
It takes more, it takes a lot more. But his position in the classification is good. Or better.
"Because of the confidence I have when I race I'm doing more. In general, I don't have this speed to have my say in the race, which has always happened in the last three years. In the end, however, what matters is when you draw the line at the situation in the championship. And I see this with a lot of energy, with a lot of happiness. Because even with this feeling, and with this season in which we haven't been as competitive as we have shown in the last three years, I am still fighting for it ".
A brief pause and then he continues…
"For me and for us it has been a strange and different season, even compared to the others. I have never been so strong to think about winning the world championship. But I'm there, we are there. We have possibilities. In many races my confidence was not at its best, in that situation it is difficult to think about the title. But we are there. We will play our cards ".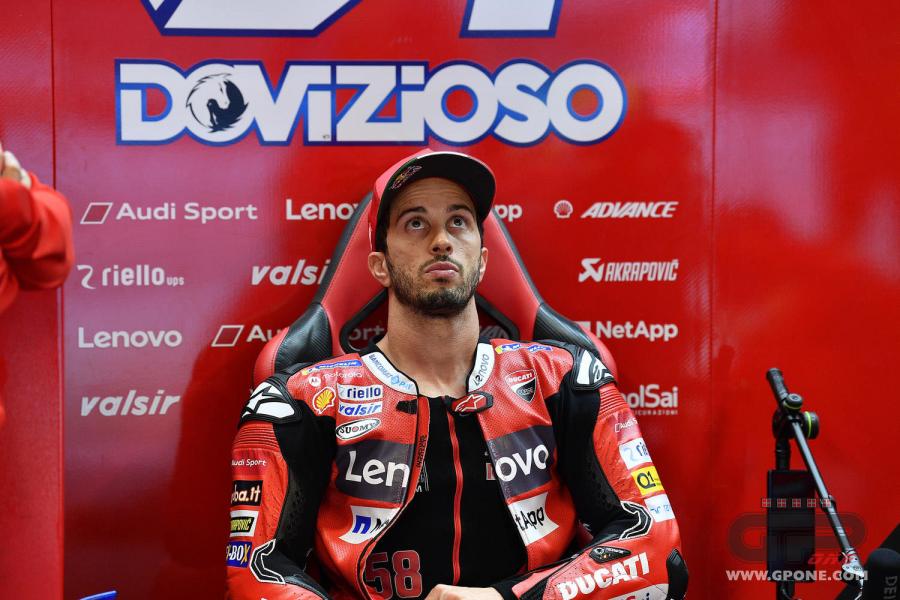 And the team, where is it?
"The relationships are exactly the same as before, and at the moment there is no mention of strategy and planning for the next rounds of the race. The relationships are the same as always".
Then it's clear: every GP has its own story, and this time Aragon will be a story with a different climate, a little warmer. Maybe some help for Ducati. Today it rained, tomorrow morning Dovizioso will see if it is possible to work for the best.
"Just a few degrees of difference and the conditions make the tyres react in a certain way".
Different riders, different wins: all because Marc Marquez, a benchmark, is missing. For many observers yes, for Dovi no.
"For me it is very clear: if we are not all consistent it is not because there are no benchmark riders. But because there is something that doesn't make you have consistency. The only change there has been is the rear tyre, it's easy to understand that".
Then Dovi returned to the issue with Petrucci…
"I don't have to ask anything or do anything, there is no problem and what is done is done. I can have my idea, and one acts the best way he thinks. I don't have to clarify anything. What happened, happened; I don't want to keep talking about this thing. Everyone thinks what they want ".
Disappointed? Can it affect a future relationship? "Who knows," said Dovizioso.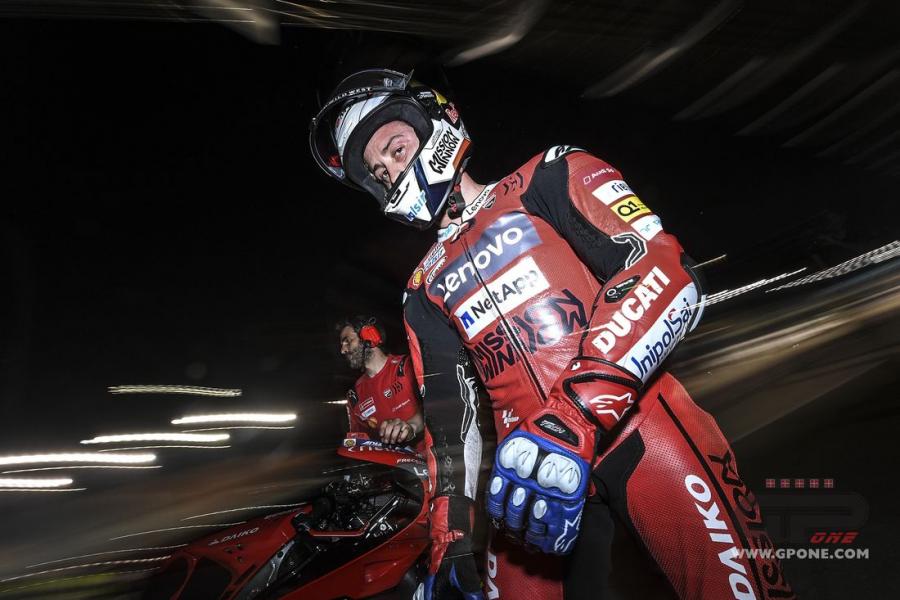 Dovi is not looking far ahead, he's staying here, anchored to the present. His future cannot be far from MotoGP…
"My desire is to race and compete. But it makes sense in MotoGP in general, it makes sense to be in a certain situation that allows you to fight for it. I have an open window. I will make a decision based on the offers. But this situation does not exist yet for next year, we will soon make a decision on what I will do. Wild card next year? If there were no wild cards it would bother me, but I honestly don't think it will affect the choice of my future ".