A six-rider duel, all with their sights set on the win and the Georgia sun shining down on every pass at Road Atlanta. If the race on Saturday held some surprises in reserve, the one on Sunday was just as entertaining for MotoAmerica fans in the stands and following from around the world: the gaps between the riders were microscopic at the finish line, and the first name at the top of the list was Toni Elias.
The number 24 Suzuki is finally back to its winning ways, with the Spaniard looking great. The team Yoshimura rider and his factory GSX-R won the race with an extremely narrow gap ahead of Mathew Scholtz and Cameron Beaubier, but the Yamaha R1 machines were beaten. Mission accomplished for Toni.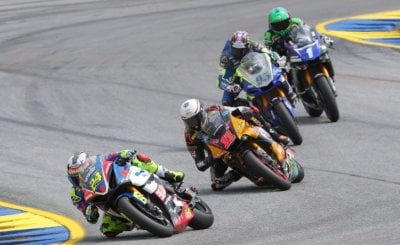 Another important point is that the former Moto2 and MotoAmerica champ also bested JD Beach and his teammate, Herrin. It's always nice to finish ahead of younger and highly competitive rivals. Anyone who thought the arrival of a newborn in the Elias home would slow down Toni's pace was dead wrong: "Everybody was telling me that - the Spaniard revealed - Instead, now I have a really strong reason to fight. I'm super motivated, so I'm happy. Anyway, for today I was going to use the same tire as Dunlop wanted, and it was really good. The tire has been super consistent all the race, but we still have to improve in some areas. Anyway, yesterday 20 points. Could be zero. Now 25 (points), so perfect Sunday."
The extremely tall South African, Scholtz, gained the upper hand against the number 1 rider, Beaubier, in an all-Yamaha battle. Beach finished fourth and Herrin fifth: both were hungry for the podium, but it just didn't happen for them. Gerloff was slowed by a front fender flapping in the wind and, despite repeated attempts to kick the bodywork off his bike, he eventually had to pull over to remove the fender. The Texan continued onward and eventually finished in the points. 
After the nice result in his opening race, Wyman and his Ducati took home a zero in Race 2, with rider and bike ending up in the gravel. Jake Gagne had a DNF due to technical problems, but Kawasaki and BMW finished in the top ten, to the delight and entertainment of the fans in the stands.
Rider standings: Elias, Scholtz, Beaubier.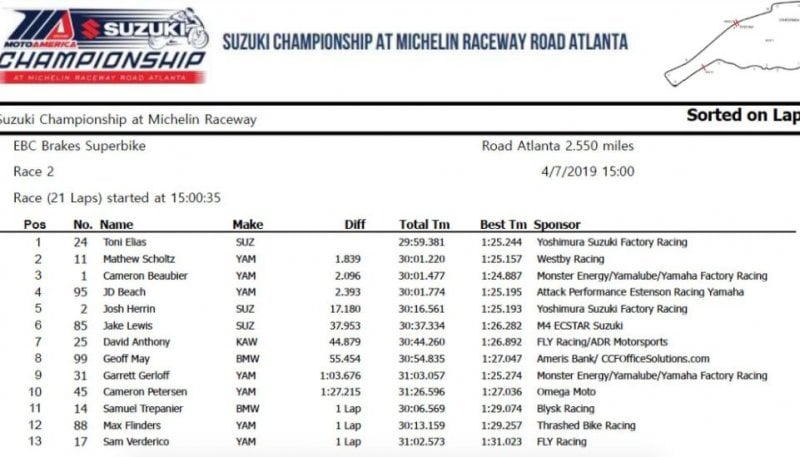 Share