During an official ceremony held at the Hilton Columbus Polaris hotel, the AMA federation has welcomed several American stars to its Hall of Fame, riders who have stood out for the stellar results they have achieved during their respective careers.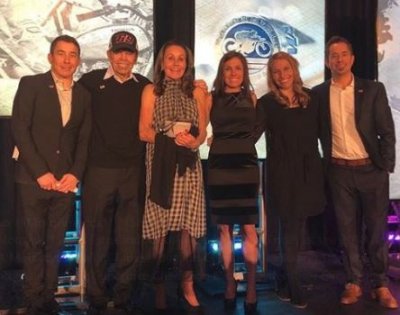 Of the six riders selected across different disciplines, the best-loved, most popular and most successful - with a MotoGP world title won in 2006 - is sadly with us no more: Nicky Hayden joins the special list of names who have made American motorcycling history.
Two of the Kentucky Kid's Hondas were unveiled, the 2018 CBR1000RR and a 2018 Honda XR650L, both featuring the 69 plate and personalised by Tony Prust at Analog Motorcycles and Jason LeCavalier at Artistimo Customs.
The bikes will now tour and be exhibited at the AMA Motorcycle Hall of Fame at the AMA campus in Pickerington, Ohio, and they are part of a raffle. The money raised will  be going to the American Motorcycle Heritage Foundation. You could buy raffle tickets HERE.
The Hayden family attended the ceremony, receiving a warm welcome from participants who remembered Nicky, winner of the AMA Supersport 600 championship in 2000 and the hard-fought US Superbike series in 2002. He won both on board a Honda, the same manufacturer with which he moved to the world championship, as part of the Repsol team, who supported him all the way, right up to October 2006 when he achieved the ultimate win at Valencia.
Hayden also proved himself in the world of flat track, a specialism in which he won the AMA Horizon Award as a youngster. He developed his own off-road riding technique, one he then brought to his track racing.
Tommy, one of Nicky's brothers, had this to say: "it's difficult to imagine someone who loves motorcycle racing more than Nicky did, he ate, slept and breathed bikes 24 hours a day, seven days a week. Many of his idols and heroes are members of the AMA Hall of Fame. So for him to join them in the AMA Motorcycle Hall of Fame this evening is something I know he would be extremely proud of".