A true thriller with an extremely sweet finish for the Italian colours. This sums up the Argentinian Moto3 round, characterised by uncertain weather and asphalt conditions with a resulting Shakespearean dilemma of slicks or no slicks. Most of the riders on the grid opted for the more logical choice, namely rain tyres, and one of them, a true phenomenon, was Marco Bezzecchi.
The rider from Rimini rode the perfect race: starting from the second spot on the grid, he moved into the race lead after a few turns to then pull away and take the first victory of his World Grand Prix Motorcycle racing career all by himself. "I've already forgotten everything about the race – an ecstatic Marco explains – but I am truly happy. We began the weekend well, continuing in the right direction and with the right focus. The hardest part was the last 12 laps, because I had a good pace, but it seemed like it would never end. I would like to really thank everyone who made all of this possible, starting with my father who is the one who allowed me to begin."
Behind number 12 was Aron Canet, who rode an orderly and profitable race, given the fact that it placed him in the lead in the overall standings. "It was a very difficult race, given the conditions. My idea was to stay in the top five and I succeeded thanks to the good sensations during the race. I am happy and I want to dedicate this result to my grandmother who is in hospital." As we said, the day was good to the Italians, with third place going to Fabio Di Giannantonio, skilfully staying in the group that battled for the podium without making any mistakes. "I started with the rain tyres, but the conditions were at the limit. I pushed hard to stay in the group and in the finale I risked crashing when Masia made contact. I tried to catch Canet on the last lap, but I was difficult and in any case, I'm happy."
The Roman was the only happy note on team Gresini, with Jorge Martin committing race hara-kiri: in fact, the Spaniard decided to go back to the garage to put on slicks after the sighting lap, taking a gamble that did not pay off. In any case, he did make an impressive comeback, moving up as far as 11th place behind Tony Arbolino. The rider from Milan started with slicks and the gamble did not bear the desired fruit for him either.
Getting back to the rankings, Enea Bastianini made redemption for his zero in Qatar with fourth place followed by Norrodin and rookie Lopez, whereas the top ten was rounded out by Dalla Porta, Antonelli, Rodrigo and, as we already mentioned, Arbolino.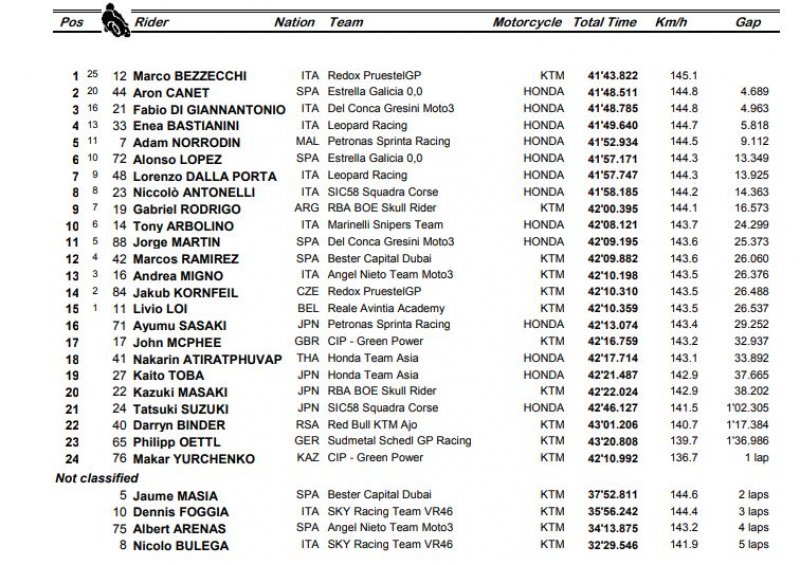 Share