Relatively speaking, with temperatures of two below zero Celsius, it is quite hot in Finland. They reach their lows in January up there, especially in Lapland, where everything turns white with ice and snow creating monochromatic scenery.
Mika Kallio knows this well and the guys from team Pramac remember it too, the team the Finn raced with in 2009 and 2010: "It was in January a few years go - Mika recounts - when a few team members came to see me. On a cool morning, the temperature outside was thirty-six below zero Celsius, frightening and freezing everyone except me. That's why I decided to always race with the number -36°, which then became my calling card (laughing)."
Twice runner-up in 125 and just barely missing a Moto2 title, behind Sarineen and Lansivuori, Mika is the most victorious and famous Finn in paved track motorcycle racing. "That's right, because there are also races on ice - he reveals - and those are the conditions we train in throughout the long winter. Despite the bitter cold, in Finland passion for motorcycling is still hot, thanks to Jarno and Teuvo and the Grand Prix that attracted crowds and interest in the '70s."
In 2019, Grand Prix Motorcycle Racing will return to Finland…
"I hope so for myself and for all the Finnish young people who want to shine. The most important teams in Grand Prix Motorcycle Racing are based in Spain, Italy, England and the neighbouring countries like France, Belgium and Germany. In Finland we have a lot of riders who are good, but not well known, because we don't have very strong marketing here. This is why the 2019 Grand Prix will be so important. A race like that would generate income and contacts that are indispensable for this sport."
After long and delicate development work, KTM results have improved…
"If I think that I jumped on the RC16 only in November 2015, in any case with good impressions, and 2017 was the first full year for the Austrian manufacturer in MotoGP, I must say that the improvements have been incredible. On my first contact, the bike braked well and was stable. The front end inspired great confidence, but it was hard to turn well. In the tests in Austria last year - with all the other bikes on the track - we realised that our starting base was good and we saw where we could improve performance. We are on the right path."
The best placement in 2017 was achieved by Pol Espargaró, who finished ninth at Brno and Phillip Island. Mika finished tenth in Austria and eleventh at Aragón - not bad for someone who will do five wild cards next year. "But it could be six - he specifies hopefully - because you can only compare our performance to that of our rivals in the race. We have improved the electronics section, the suspension and tyre wear, considering the fact that a racing bike is all a compromise of factors and details put together."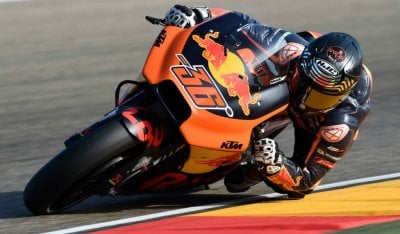 What goals have you set for yourself in 2018?
"To do my best to keep developing the KTM, of course. I know that the RC16 had even higher potential than what we have seen so far and I want to demonstrate that, taking it close to the best. I want to show that I can race for an entire season and not just for a few wild cards. I want to demonstrate that I am still fast and that I am at the level of a factory rider, racing the entire MotoGP season."
You have beaten some of the top riders in the past…
"Exactly, for example Dovizioso, Lorenzo and Marquez. In 250 and Moto2 I beat them often, winning races and keeping them behind me. Other riders in the MotoGP top five have also raced with me and I've beaten them too, so I want to do that again with KTM, a company that breathes great passion for racing where the technical, human and competitive skills are at a very high level."
You are an expert rider. Do you think that MotoGP is easier or harder now?
"Now the controlled Marelli electronics package has closed the gap between the factory bikes and the others - satellite and client - giving a lot of riders the chance to battle for the podium and for the top ten positions. In fact, getting into the top ten is more difficult now, because a lot of people can do it. The current level of MotoGP is very high and every position is earned through hard work and battling in the brawls from the first to the last lap."
Your brother Vesa has a team in Supersport. Would you like a future as a manager?
"The Kallio Racing Yamaha has achieved outstanding results in Supersport with podiums and wins and next year the project will be on the track again. The team's goal is to get into Grand Prix Motorcycle Racing as well, starting with Moto2. I want to keep racing, I don't know for how many years… If you think about the fact that Valentino Rossi is 38 years old, only three older than me, and he is still at the top… I think that I can still allow myself a few more racing seasons."