England waited 38 years for another rider to win a title in the world championship. The last was Barry Sheene and then Danny Kent, last season, was able to repeat the feat. Having won the Moto3 title, the 22-year old from Chippenham has now moved up - together with team Leopard - to Moto2, a class in which he already raced back in 2013 but without much success.
Danny, after winning the title, has your life changed?
"I wouldn't say it has changed, I'm a normal 22-year old. Of course , as the first English rider to win a championship in this paddock in 38 years so there was a lot of media attention, papers and TV shows wanting interviews, but apart from that life's just the same. I'm at home, chilling out with friends and family."
Your name's been linked to that of Sheene, as two Brits, but which rider inspires you?
"I'm a big fan of Lorenzo, I like the way is riding is so smooth. He's like a computer, every lap is consistent and there's no stopping him. He gets a lot of criticism on social media and from fans, but as a rider I know it's not a good feeling so for him to be able to do what he does each week, despite the criticism, is impressive. As a rider myself, I consider him to be one of the best."
He won the MotoGP title last year, do you think Moto2 is still an important step to get to the reigning class?
"I would say it helps, yes. The weight of the Moto2 bike is very similar to the MotoGP, so you almost know what to expect when you get on a MotoGP, you can physically prepare yourself. I think Moto2 prepares you well for the step to MotoGP."
What are the biggest differences between Moto2 and Moto3?
"I think it's perhaps a bigger step to move from from Moto3 to Moto2, than it is from Moto2 to MotoGP. The weight difference is almost double, as is the power. It's physically a lot harder for the rider in moto2, and you have to think a lot more too. It takes some riders longer than others in order to become fast and adapt to this class."
How has the start of the season been for you?
"It's not been what we expected. As a team we wanted our results to be a lot closer to the front group, but Moto2 is a very difficult class. I have so much to learn as a rider, and the team has been away for four or five years too, and in the meantime a lot has changed – like the Kalex chassis, the Dunlop tyres - so we're learning as a team. It's taking longer than we'd hoped but we're taking it step by step and continuing to learn. The time will come when we'll have some good results."
In what areas are you feeling confident and where do you think you need to improve?
"So far this season I seem to be faster at tracks with faster corners, while at tracks like Le Mans I struggle more. The main problem through the slower corners is that I have no feeling on the front, when I release the front brake and get on the gas, there's almost too much grip at the rear which pushes the front, and then I lose the confidence. We need to work on this but I have a great team behind me and we'll find the right direction.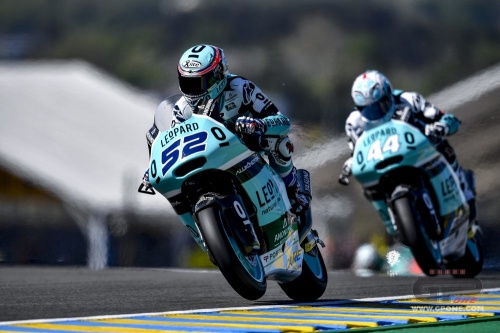 How do you get on with the team?
"Very well, I'm happy with the team and am in my second year with them. Last year was a dream year of course, becoming champions in our first year together. This year is a lot harder but we expected this. We're good friends and there's a good atmosphere in the team, and also with Oliveira".
Is your Kalex identical to those of your rivals?
"Kalex is very fair and everyone has the same material and gets given the same options. It just comes down to whether teams want to pay for the new upgrades. I'm lucky enough to have a well-funded team. We're racing against a lot of teams that have competed for many years and that have a lot of experience in setting up the bike. It's my first year back to Moto2 after two years in Moto3, and the team's also been away, so it's just taking a while to find the best set-up for this year."
You said your goal was top ten, but are you thinking about the podium?
"We have to be realistic and first get closer to the front. We made a step at Mugello and despite me finishing down in fourteenth, we were fighting for seventh place, which means we're working in the right direction. We need to keep working like this and then we'll see. Who knows what will happen later in the year."
Share