Body language: Ducati, you've won, now show you know how to take advantage of a victory
Riders' world titles in two categories, MotoGP and Superbike, entry in MotoE, second place in MotoAmerica. Is this the golden age for the Rosse di Borgo Panigale? No: now it must show that it knows how to dialogue with Dorna, the FIM and the Japanese manufacturers to bring MotoGP back to the splendour of the last twenty years at the time of their gradual disengagement

Submitted by

Paolo Scalera

on Thu, 17/11/2022 - 18:21
Share
I took my time before writing about Ducati's return to the riders' title with Bagnaia, and not because I was waiting for the almost obvious double win with Bautista in Superbike.
It's only because we've been waiting for it for years; but not since that 50 years ago, marking the return of an Italian rider on an Italian bike to the top of the world championship with Agostini and MV Agusta, because the times are too different to be compared.
The benchmark, of course, is that one world title won by Casey Stoner in 2007. With a very different rider from Pecco, with a very different bike from that of Filippo Preziosi. Even if the DNA of innovation with Gigi Dall'Igna is the same.
Today's Ducati reminds me a bit of Ferrari, especially due to the constant criticism its managers receive. Claudio Domenicali, the CEO, Paolo Ciabatti and Davide Tardozzi are often victims of the barbs of the fans for behaviour or choices. Often the head of one or the other is asked for, as recently with the case of Binotto, but unlike the Rossa on four wheels, a press release never comes out of Borgo Panigale. And curiously only Gigi Dall'Igna goes through the rain without getting wet. But even Domenicali seems impervious to criticism.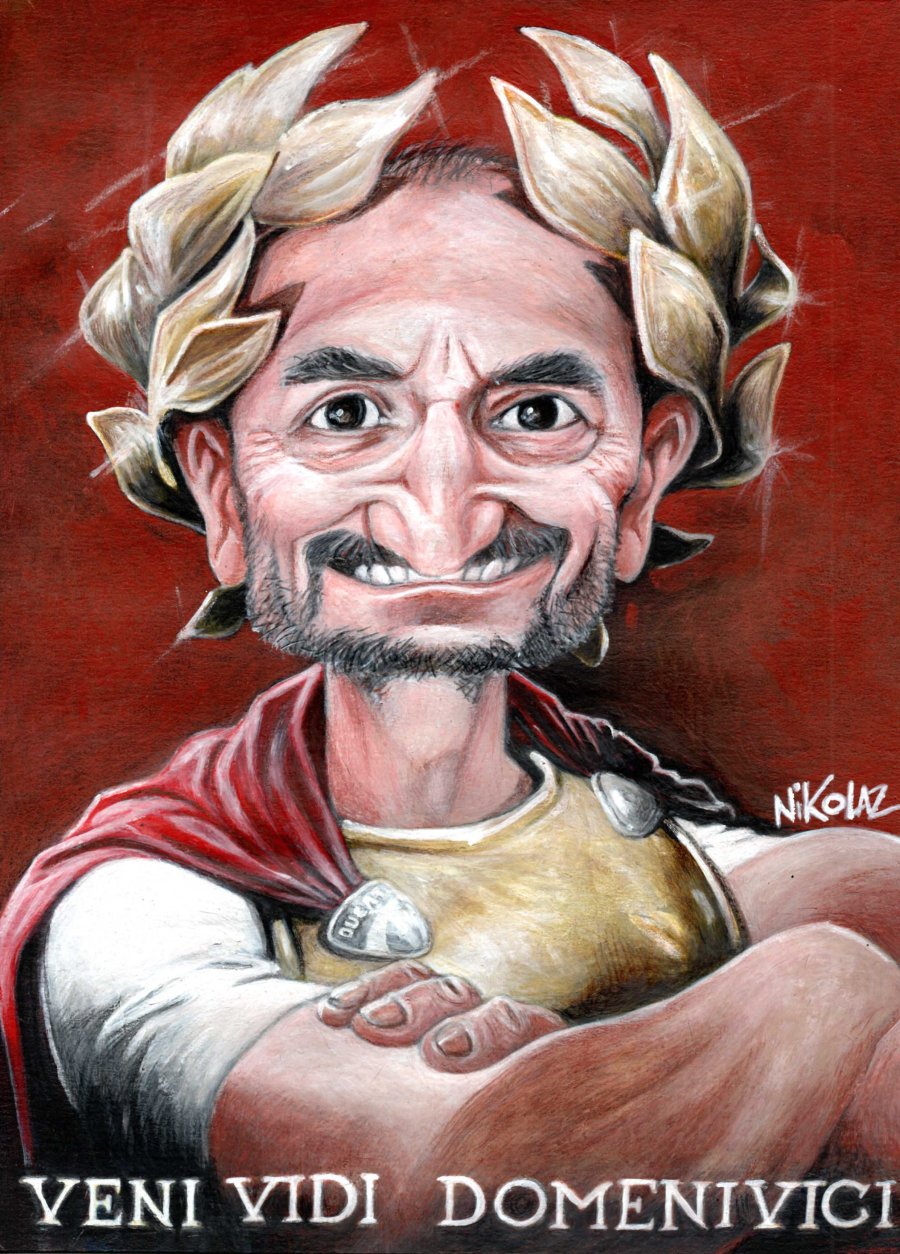 This is because both the Conduc(a)tors have a firm grip on the tiller and are always themselves. For better or for worse.
In some cases, the criticism is understandable: this year we have seen a bit too much coming and going from the Ducati garage to those of some satellite teams, culminating in the three-way meeting on the pit wall between Gigi, Paolo and Davide. Was it because of a radio malfunction?
Domenicali, on the other hand, did well to express his nervousness on some occasions: motorcycle racing desperately needs someone who stands up to the bar and takes responsibility, even when that means exposing his side to criticism: Claudio did it. Motorcycle racing needs headlines (in the press) and a sport cannot live on its sportsmen alone. We need the protagonists... who don't ride… to be better represented.
Criticism of the armada fielded by Borgo Panigale in MotoGP was completely pointless: eight bikes. It has always been Ducati's prerogative to line up as many bikes as possible, it also did it in the golden days of Superbike and despite the risk of cannibalizing the results this year the strategy paid off with first and third place in a championship dominated by the Desmosedici with 12 victories and 20 podiums. I can understand the nervousness of the last few Grands Prix, because letting this title slip away would have been quite a joke.
On the other hand, more than since 2007, this milestone had been missing since 2017 when Ducati reached competitive maturity and for three seasons had to settle for the runner-up slot behind Marquez.
The most bitter defeat was undoubtedly the one in 2017, because the two rivals remained separated after 18 races by just 37 points, both with 6 victories each, Marquez even with one more DNF, offset by a greater number of podiums, 6 to 2.
The Italian's defeat in the next two years - 2018 and 2019 - was more clear-cut, until in 2020, the year characterized by Covid with just 14 races, Dovi's fourth place convinced Dall'Igna to change rider.
While it might have been possible to be beaten by the Marquez phenomenon, defeat by Mir and Suzuki was totally unacceptable and in fact the following season, with Bagnaia it became clear that Ducati was on the right track given that Quartararo won his first title by just 26 points and a better points average and one zero less.
A world championship won by Yamaha, but without trouncing everyone and without a true dominator
These last three years have been characterized by the forced absence of Marc Marquez, who in his golden age was a bit what boxing was in the years of Mike Tyson. It's hard to say what would have happened if 'Magic' had been satisfied with the podium that fateful day in Jerez, but there is also no point in wondering.
Dovizioso's years were exciting seasons, but at least one title should have been achieved. The same could be said for Jorge Lorenzo's two-year period, those two seasons, 2017-18, in which the Spaniard was slow to get to grips with the Desmosedici, and the Ducati management slow to understand him. It happens. But there is no doubt that the team benefitted from the contribution of Porfuera who, instead of always pointing the finger at the problems, worked to solve them with an approach that at the time – it seems incredible to say so a few seasons later - had been defined as unusual if not worse and that today, instead, all the riders have taken up. Blessed ergonomics, fatally necessary and indispensable at a time when these bikes have become more physical to the point of being ridden 'like a car in certain situations, such as braking', to use a declaration made by Andrea Dovizioso during his tests with the Aprilia at Mugello.
Of course now the truly difficult work begins: to confirm the feat, but after having been a leader in innovation over all these years, so much so that it has been shamelessly copied by its rivals especially in the aerodynamics, the Bologna-based manufacturer will also need to assert itself politically because there is no doubt that it is a difficult moment. Dorna has done a lot in motorcycle racing, but it has been sticking to its schemes and too self-referential for too long. Too closed. Some things are opening up, but it is still too little. And unfortunately the Japanese manufacturers are not much of a stimulus, because they are used to adapting, unlike the European ones.
There is an air of demobilization from MotoGP. After Suzuki's withdrawal, Yamaha remaining with only one team and Honda apparently left looking in through the window, more concerned with the medium-term future of the world of two wheels than with its role as leader in MotoGP, mean that everything is concentrated in the hands of the Europeans: Ducati , KTM and Aprilia. Those that least seem to care about the global market.
Thinking about it, the reasons are simple: Ducati is the leader of one niche, KTM of another, while for Aprilia the sale of motorcycles under this brand is residual. For them, the brands that matter are Piaggio, Vespa and Moto Guzzi.
Once again, however, in Bologna they are thinking with one eye on the future and entry into MotoE with its prototype should be seen in this sense. Of course, having an electrification giant such as Audi behind you helps, but two wheels are not four and in the (unfortunate) possibility of a de profundis of endothermic engines in Borgo Panigale they want to maintain their status as leader in the world of sport. What do you reckon? …. Maybe at track days in the future we will have to connect not only the tyre warmers but also a charging socket to the electricity grid!
Thanks Thomas Baujard for the caricature
Share