The video below, which just started circulating on the web, leaves no doubt, and it reveals a behind the scenes paddock that no one would have ever wanted to see. In the video, we see Tom-Booth-Amos – who was racing for the CIP team in the Moto3 at the time – as he returned to the paddock and was then assaulted and insulted by one of the team members.
Video
The British rider was in his first full year in the World Championship and intervened on his Twitter profile to clarify and comment on what had happened: "The video that appeared is from the 2019 Thailand Grand Prix. There were a lot of issues with the team that year, which were never spoken about. I kept quiet just to try to keep my ride for the 2020 season, as it was my dream  to stay in that paddock. This happened after the race, when my bike broke down due to a mechanics error.  I was asked not to say anything and to keep quiet. I never told anyone, including Dorna, and my management at the time. That's just one thing that happened that year. People don't know what goes on behind the TV screen."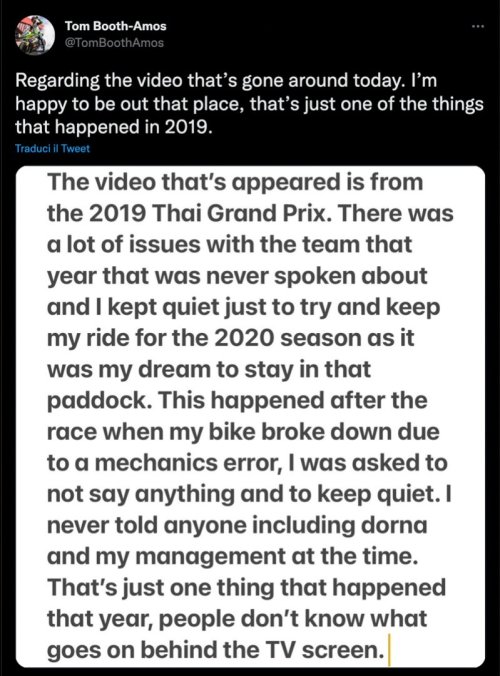 Any comment is rather useless, because the mechanic's verbal and physical behavior cannot and must not be justified, in any way. After that horrible experience, Booth-Amos moved into the SBK paddock. Last year, he finished 2nd in the Supersport 300 Championship and moved onto the Supersport this season.