17:00 - We learned a few minutes ago that the 5:00 pm team manager meeting has been cancelled. However, there will be a new meeting, staggered in three sessions of 15 minutes each, reserved for the riders of the three categories (SBK, SSP, SSP300), starting at 18:30 to define tomorrow's program.
15:45 - According to what has been learned, the teams will meet at 17 to decide whether or not to continue track activity on Sunday. In the meantime, many teams have already left the circuit to return to the hotel. A truly tragic day in Jerez, where the racing world mourns the death of Dean Berta Vinales, aged just 15. Obviously we will keep you updated on the evolution of the situation. On the web teams and riders are already expressing their condolences to all the loved ones of Dean Berta.
15:10 - At this moment it has been communicated that Dean Berta Vinales has passed away. The Spanish rider of the Vinales team died following the crash he suffered during Race 1 of the SuperSport300. At this moment we cannot help but express our condolences to all his loved ones. We also inform you that at 5 pm, the teams will meet to decide whether or not to race on Sunday.,
15:00 - According to what was learned a few moments ago, the helicopter never even took off from the Jerez circuit!. We bring you this news, because after the accident of Dean Berta, the Superbike race was postponed and the reason was the lack of a helicopter on the circuit. Then, in a second moment, the news has arrived that all further activities today have been cancelled.
14:40 - At the moment there is no communication from Dorna regarding the incident and the evolution of the situation of Dean Berta. In the paddock, however, there is considerable discontent on the part of several riders for what happened, given that the category is not used to such incidents.
14:30 - According to what we could gather a little while ago in the Jerez paddock, it seems that Dean Berta Vinales crashed and was hit by some other riders who were on his trajectory. The incident happened when there were three laps to go before the end of the race. The father of Maverick Vinales, visibly shaken in the back of the box, is receiving hugs from riders and professionals.
Dean Berta Vinales was the victim of an accident during the SuperSport300 race and was transported to hospital in Seville
Maverick's cousin, a Vinales Racing Team rider, racing in SuperSport300, was the victim of an accident during Race 1. For this reason, SBK Race 1 was initially postponed.
At 13:45 pm the news came that all further activities of the day had been cancelled. There are no images at the time of the accident involving the riders.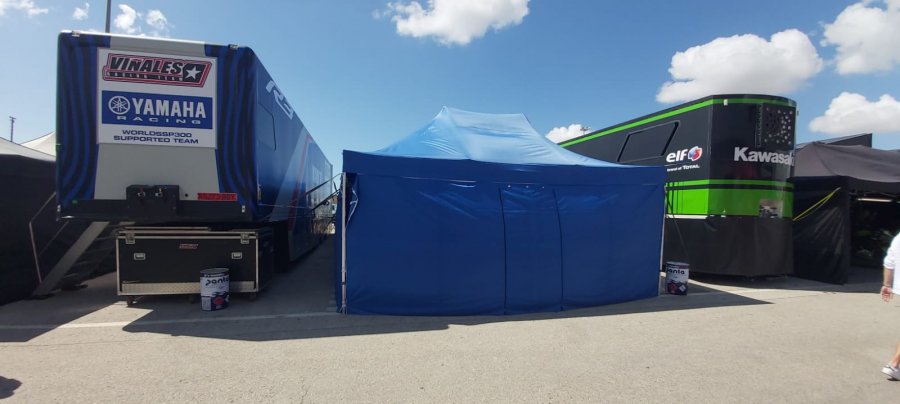 Obviously we will keep you updated on the evolution of the situation.